Ever wonder what a famous artist's graduate school work looked like? Before they hit it big? The Guardian asked some of the UK's biggest art stars to reminisce on their MFA days, and recount the work of their final degree shows. Below, some select highlights from answers by David Shrigley, Gillian Wearing, Tracey Emin, Gavin Turk, Nicole Wermers, and Tacita Dean.
David Shrigley
Glasgow School of Art BA, 1988-91
Mr. Shrigley is a visual artist known primarily for his simple but caustic cartoons. At his final art show, he exhibited several photographs of his installations, such as Leisure Centre, a white box markered with the title in an empty lot, and First Hurdle, a sculpture of a large hurdle.
I thought my degree show was brilliant, but the people who were marking it didn't. I got a 2:2. They didn't appreciate my genius.
Gillian Wearing
Goldsmiths MA, 1987-90
Gillian Wearing is an award-winning conceptual artist and known for being one of the Young British Artists (YBA), a group of artists—many of whom attended Goldsmiths—who first showed together in 1988 in an exhibition organized by artist Damien Hirst. Ms. Wearing made a series of crates with objects inside for her final degree show at Goldsmiths. According to her account in The Guardian, nothing came of the show save for a compliment from Michael Landy. She destroyed everything after the show.
The first conversation I had when I arrived at art school was that when we left we most likely wouldn't be artists. I remember saying, if I have one exhibition when I leave I will be happy. That's all I expected.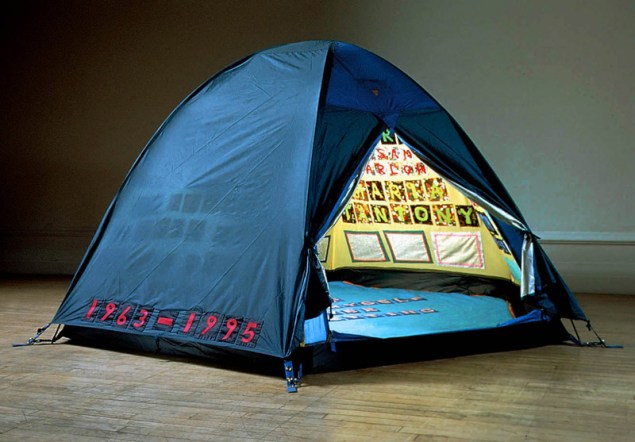 Tracey Emin
Royal College of Art MA, 1987-89
Tracey Emin, also a YBA, is best known for her work "Everyone I Have Ever Slept With 1963-1995,"  a tent appliquéd with the name of every person she had slept with to date, though not all of them were individuals she's had sex with. The piece was acquired by Charles Saatchi before a warehouse fire destroyed it in 2004. At the RCA, Ms. Emin presented five large oil paintings, which she described to The Guardian as "a cross between Edvard Munch and early Byzantine frescos."
I was terribly scared about my future. I sold some paintings, and made about £2,500, but nowhere near enough to pay back the bank. After I left, I was homeless, became pregnant and had a total breakdown. Eventually, I got a job working for Southwark council as a youth tutor and did a part-time philosophy course. I got my brain back into shape, paid back all my debts and started making art again.
Gavin Turk
Royal College of Art MA, 1989-91
Mr. Turk actually failed his degree at RCA after presenting a blue plaque at his final show. Inspired by the English Heritage ones dotting South Kensington, the piece is a comment on tradition. But, according to Mr. Turk, the newly appointed head of the English Heritage, Jocelyn Stevens, thought it was about him.
I failed my degree, and it became news—that you could make art, and it could be judged as not good enough. I felt terrible at the time. I just wanted to be like everybody else. I didn't want to be singled out. I had plans of going traveling round the world, and consoled myself by canceling all my trips. But in hindsight, I wouldn't have wanted it any other way. It seemed more interesting to talk about the fact that there was an edge of acceptability. That there was art that could go wrong. It became more positive than if I'd been waved out with a clap, clap, clap.
Nicole Wermers
Central St Martins MA, 1999
Ms. Wermers is a german born installation artist and sculptor whose work focuses on appropriation. In her final piece, she presented "vacant shops," waist-high models based on empty and vandalized shops. She is a nominee for the 2015 Turner Prize, Britain's most prestigious art award.
For the last three months of the St Martins MA, students were given these super lovely, big studios in Soho. I had a really big one on the eighth floor, overlooking the rooftops, and I adored it. I was there every day and every night…Unless you become very rich, it's impossible to live like that afterwards. It was a very brief moment when I had the chance.
Tacita Dean
Falmouth Art School BA, 1985-88
Not only is Ms. Dean a YBA, but she also received first place in her final degree show for drawings. She was trained as a painter, but now works in a variety of mediums, including photography, film, and painting.
I'm glad I was a student in the analogue era. We had no television, no phones; there was one telephone box that we had to queue up for. It was freeing to have no hope. I studied from 1985 to 88. Damien Hirst was 86-89. It was the generation that were about to change everything.
Read the complete stories of each artist in The Guardian's June 23 article, "Before they were famous: art stars on their final degree shows"