At the end of a dimly-lit street a buzzing crowd, bright lights and thumping music stood out against the quiet backdrop of the neighborhood.
The boisterous party celebrated the launch of Seaport Studios, a pop-up store that features a rotating mix of fashion designers, artists and food. However, the was event was more than just another opening—it was an important part of a vision led by the Howard Hughes Corporation to revitalize New York's oldest neighborhood, the Seaport District, after the area was devastated by Hurricane Sandy more than two years ago.
"This is such a great opportunity for us to restore the vibrancy back to this part of the city that really goes back to the root of the city" Chief executive of the Howard Hughes Corporation David Weinreb told the Observer. "This is a great example of the kind of energy and the kind of unique, best-in-class experiences that we intend to bring to the district."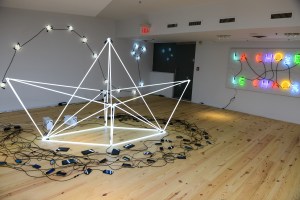 Designed by creative agency Guild, the building is an airy space with a distinctly nautical aesthetic inspired by the District itself. Downstairs, guests sipped drinks at a bar overlooking the neighborhood's cobblestone streets and ships before perusing curated selections of clothing and accessories from each of the Studio's featured designers. In front of a huge, backlit canvas, artist Shantell Martin hectically drew a black-and-white sketch; she prefers to work live, she explained, channeling the energy of those around her and infusing it into her art.
Upstairs, guests admired a glowing sculpture made in the shape of a paper sailboat by artist Esmeralda Kosmatopoulos, ran their hands over a display of surfboards crafted by Union Boards, and relaxed in the space's lounge area which contains photography books and fashion magazines. Among the guests was designer Olivia Palermo, who wore a black, leather-centric outfit, saying "even though we're in summer, it hasn't really felt like summer all year."
Glass, a swimwear company in its third season designed by native New Yorker John Glass, hosted a an eye-catching display of colorful men's' board-shorts. Though many of the shorts featured prints inspired by Japanese culture such as sushi, ninjas and waves, ("I was reading Shogun at the time" Glass explained) they should have no trouble fitting into the usually more understated wardrobes of New Yorkers.
"Swimwear is the one item that men can wear and get really funky with the prints and designs" Glass told the Observer. "It's very representative of me and who I am."
Glass swimwear displayed colorful board shorts infused with Japanese prints. Mens' luxury brand Rochambeau displayed summer items in neutral tones like chunky knits, eclectic shorts and leather embellished hats. Surprising details such as oversized tops and side zippers added an edgy New York feel. "This was kind of our interpretation of the city dweller on the beach" designer Joshua Cooper told the Observer.
"It was super exciting to do something downtown, and in this area especially, because not much happens down here" Mr. Cooper said. He added, "It exposes us to a new market and brings some fun down to the Seaport. I feel like normally it's a lot of financial people and college kids and this brings the downtown, cool hip crowd.
Designer pair behind Baja East Scott Studenberg and John Targon describe their brand's aesthetic as "loose luxury," taking an "ambisexual" approach to fashion with androgynous pieces designed to be worn by people of all genders. Their selections featured shades of blue and crisp whites in knit sweaters, loose pants and patterned wraps.
"We started our brand on Wall Street and we'd always come over here for dinner but there was never anything to do during the day" Mr. Studenberg said. "[Seaport Studios] is an awesome addition to the area and we're excited to have our product down here."