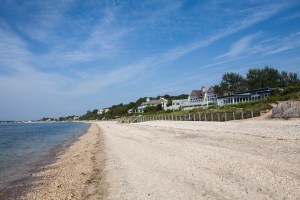 The nation's housing market continues a slow and bumpy recovery, but you'd never know it from spending time on Long Island's East End, where in the past year alone, median prices rose approximately 10 percent, from $858,500 to $947,500. Particularly dramatic areas of growth occurred in East Hampton Village, which saw median prices soar from $1.98 million to $2.6 million (30 percent); Quogue, from $1.15 million to $1.51 (31 percent); and North Haven, from $1.831 million to $2.275 million (24 percent).
But for buyers longing for a Hamptons hideaway and willing to live off the beaten path a bit, there are still pockets of good value relative to price. To wit: In Southampton Village, the median price for a house last year was $1.85 million. But areas on the outskirts, such as Tuckahoe and North Sea, packed approximately half the wallop to the wallet, with a median price of $825,000. 
Slightly less than five square miles, northwest of the Village and bordered by the Shinnecock Canal on the west, North Sea Road to the east and Peconic Bay to the North, Tuckahoe is home to four famous golf courses—the National Golf Links of America, Sebonack Golf Club, Shinnecock Hills Golf Club and Southampton Golf Club—and to former Mayor Michael Bloomberg's 35-acre Ballyshear estate, which he bought for $20 million in 2011.
There's no oceanfront in the hamlet, but that did not deter artist and avid surfer Paton Miller, who moved with his family to Tuckahoe in 1974. Their three-acre property, which they bought 20 years ago, includes  circa-1935 shingle-style farmhouse, painting studio, pond and plentiful trees and gardens where they raise vegetables and bees. The home is equidistant to the ocean and the calmer waters of the Peconic Bay; even closer, there's the cut at the National, where the couple taught their two sons to swim.
"It's always been more affordable and there's no village taxes," Mr. Miller told the Observer. "Plus, there's not a lot of traffic."
House prices in the area range from $545,000 for a 767-square-foot, one-bedroom, one-bath cottage to $9.5 million for a 6,100-square-foot, six-bedroom, four-and-a-half-bath estate on 22 acres. A 1,500-square-foot shingled saltbox cottage on North Magee with four bedrooms and three baths on .56 acres is listed with Katie Milligan of Corcoran for $549,000.
Another less expensive area still relatively accessible to Southampton is neighboring 12-square-mile North Sea, which rose to uncomfortable prominence last summer, when the Kardashians took up temporary residence in a just-shy-of-$300,000 seasonal rental. Situated between North Sea Road on the west and Deerfield Road on the east and bordered by Route 27 and Peconic Bay to the south and north, North Sea was an unlikely choice for that particular family, since it is known primarily for its quiet lifestyle and abundant water access. Some of the freshest catches of the day around can be had at Schmidt's Seafood outpost on North Sea Road.
A good find is 17 Shore Road, offered for $649,000 and including three modest cottages that are fronted by Alewife Drain, which dumps into North Sea Harbor. Listed with John and Bill Wines of Saunders Realty, the potential rental properties come with a total of four bedrooms and three baths and sit on .30 of an acre.
The total population of the neighborhood has hovered at approximately 4,500 people for the past decade, according to the U.S. Census Bureau. Prices in the hamlet range from $399,000 for a four-bed, two-bath fixer-upper with deeded water access, to $9.5 million for a 6,100-square-foot, six-bedroom, four-and-a-half-bath estate on 22 acres.
"It's very private, but accessible to Sag Harbor, Bridgehampton and Southampton by land and even all the way to Hampton Bays by boat or jet ski," said Corcoran agent Jonathan Davis, an area native. "And the sunsets are spectacular—better than you can get on the ocean."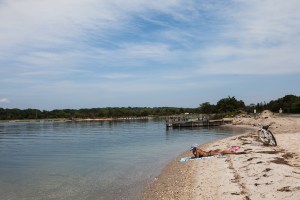 But if you must have the ocean, you've got another option: unassuming Hampton Bays, which stands in stark contrast to the hubbub further east. Home to baymen and others who fish the area waters, as well as large numbers of service workers, "da Bays" might be the most working-class community on the South Fork. Settled originally as "Good Ground" in 1740, the 18-square-mile west of the Canal expanse boasts boatloads of surrounding waterways—quite literally. More than 15,000 people call the hamlet home, so there's a thriving restaurant business and nightlife. Hot spots include Rumba, Cowfish and the Canal Café, all on the water.
Homes built for middle-class families are the norm in Hampton Bays, think contemporary colonials, ranches and two- and three-story saltboxes, and the median price in 2014 was $375,000, the least in all the Hamptons. But that figure will surely rise like the tides as new waterfront developments—such as Ponquogue Point and a planned $60 million residential overhaul at the historic former Canoe Place Inn—take off. In the meantime, there are still bargains to be had. Listings range from $278,000 for a renovated single-story, three-bedroom, one-bath Cape-style house up to $4.75 million for a bluff-top English country-style estate on 1.6 acres with 260 feet of Peconic Bay beach frontage, six bedrooms and five and a half baths.
Fifteen Old North Highway is typical mid-priced listing ($374,000) with Priscilla Kallio of Douglas Elliman. The 1,000-square-foot, two-bedroom, one-bath home sits on just over a quarter of an acre near Meschutt.
Meantime, Remsenburg, south of the Highway and just west of Westhampton Beach and West Hampton Dunes, stands to gain from the proposed helicopter ban in East Hampton, which could spell big traffic trouble for points farther east.
The median house price in the 3.7-square-mile, tight-knit Moriches Bay-bordering community, which was once home to English writer P.G. Wodehouse and Broadway songwriter Frank Loesser, was $680,000 in 2014, down from $898,500 the prior year—a dramatic number, but volume is meager, around 40 houses a year.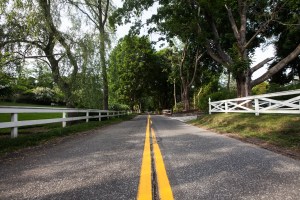 "Remsenburg is off the beaten path and very quiet, but close to the beach and the excitement. And the taxes are low," said local expert Jude Lyons of WHB Real Estate, who's been in the business for 30 years. A lot of people who come out from the city have never heard of it, but once they see what they can afford, they fall in love."
Best-selling children's book author Wendy Wax and her husband, real estate agent and photographer Jon Holderer, have been full-time in Remsenburg for 13 years.
"When our son, Jonah, was 2, our apartment seemed to be shrinking and we decided to move out to our Remsenburg house full-time. It was one of the best choices we've ever made," said Ms. Wax. "The people who live here care about their neighbors and the picturesque, New England-like surroundings. We couldn't think of a better place to live." 
A 1,500-square-foot contemporary ranch with a private dock on Moriches Bay, with amenities that include two large decks and a fireplace on .43 acres is listed with Gayle Osman Lopata of Brown Harris Stevens for $898,000.
The farthest trek from the city is, of course, the one with the most cache and water accessibility: the Springs, northeast of East Hampton Village. The 9.2-square-mile former artists' enclave offers no ocean frontage but a plethora of water access, including Gardiner's Bay, Napeague Bay, Three Mile Harbor, Hog Creek, Acabonac Harbor and Fresh Pond. It's woodsy, rustic and private.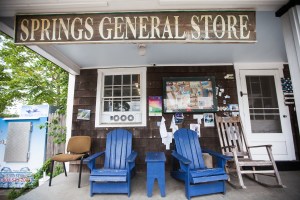 Current prices in the hamlet range from $365,000 for a two-bedroom, one-bath summer cottage on a quarter-acre lot to $3.6 million for a 6,000-square-foot, five-bedroom, five-bath on 4.5 acres. The median price here and other East Hampton Village outliers was $825,000 last year, far less than the village median. A 1,000-square-foot, one-bedroom, one-bath, solar-powered cottage on a .7-acre flag lot overlooking a horse farm and 16 acres of reserve land is listed for $850,000 with Ed Bruehl of Sotheby's International Realty.
Buzz-worthy bites can be had at seasonal Bay Kitchen Bar and Harbor Bistro. Year-round, there's nearly always a regular rubbing elbows with a famous face at Wolfie's Tavern. And there's great food to go at the Springs General Store, which still has old-fashioned (but refurbished) gas pumps right out the front door.
Actress and Neo-Political Cowgirls founder Kate Mueth and her husband, Josh Gladstone, the artistic director of East Hampton's Guild Hall, have lived in the area for 14 years, having migrated to the Springs from the city when they were expecting. "The beautiful natural, the 'un-Hamptons' feel, and its unique history with artists being part of this community" made them want to stay, said Ms. Mueth.
Steve Haweeli, founder and president of WordHampton Public Relations and a Springs resident for the past 23 years, cited similar reasons for choosing to make his home and business here.
"The people, beaches and general down-to-earth atmosphere have held my attention," he said, adding that he fell in love with the "woodsy, low-key environs that have remained relatively unchanged since the time that Pollock and de Kooning roamed the roads."