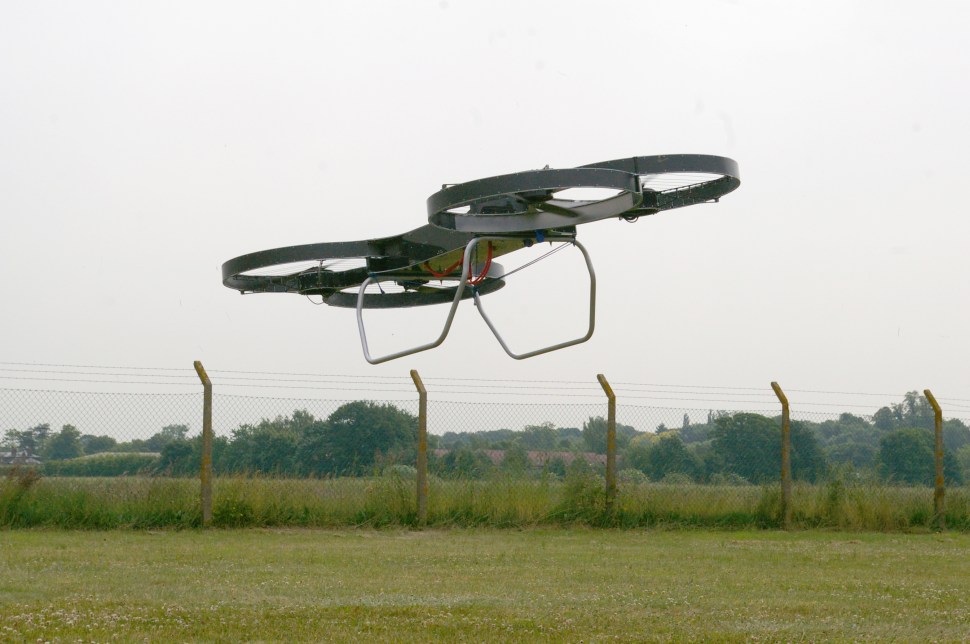 Malloy Aeronautics, a UK firm with a Maryland office, is developing a legitimate hoverbike: a hovercraft that rides like a motorcycle, powered by four high speed fans that work as quadcopters do. The U.S. military is interested, but Grant Stapleton, a co-director of the company, is more excited by its humanitarian applications, according to a story in The Guardian.
No one but a 3D printed dummy named Buster has actually ridden their device yet, but, another company, Aerofex, has shown a commercial version that people have been taking it for a spin (at least in YouTube videos). It's due to hit the market in a couple of years, according to the company's promotional materials. While we look forward to a future filled with aspiring Anakin Skywalkers doing wheelless wheelies across the Bonneville Salt Flats, here's a roundup of some of the great pop-culture hoverbikes that fueled these dreams.
5. The Hovercruiser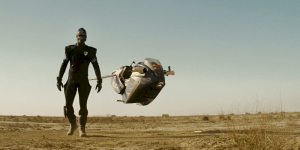 In the 2009 reboot of the Star Trek film series, a cop in Iowa rode this bike to chase down a young James T. Kirk, before he was Captain James T. Kirk, but still doing what James T. Kirk's do (stealing cars, bucking authority).
4. The Atomic Steed.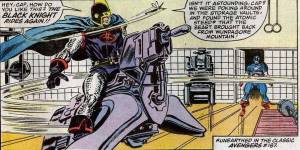 Ridden primarily by the Dane Whitman incarnation of The Black Knight, a member of Marvel Comics' Avengers in the late 80s and early 90s.
Prior to riding this mechanical steed, Whitman had ridden a winged horse named Valinor.
The atomic steeds were originally invented by a classic villain named The High Evolutionary, and ridden by his henchmen, the Knights of Wundagore. One of the Avengers stole one on an earlier mission, and Mr. Whitman found it after losing his pegasus.
3.  The Battletoads Hoverbike level
Known as one of the best and hardest games of the 8-bit NES system, Battletoads had a level played entirely on a hoverbike. The player had to navigate a series of obstacles on the bike while it went faster and faster. Various sources call it one of the most notoriously difficult levels in a notoriously difficult game.
Which does raise an important question: How does one brake on a bike that floats?
2. The Dreadnok Air Skiff
The Dreadnoks were a group of mercenaries loosely allied with Cobra, the mortal enemy of G.I. Joe, the classic 80s toy line and after school cartoon from Hasbro. Zanzibar was a later release in the subset of villains. His action figure was first available exclusively with the Air Skiff, which I remember buying and being kind of stunned that a figure and vehicle together cost only maybe two weeks' allowance.
1. The Speeder Bike
[youtube https://www.youtube.com/watch?v=4wSG3m4VNlo]
Remember that time in Return of the Jedi when Leia hopped on a motorcycle that could fly and Luke Skywalker jumped on behind her and they chased down Storm Troopers in the forest? Yes. You do.
That's the speeder bike. It is the original cinematic hoverbike, or at least the one that made also all go, "Holy …" when were still too young to know what followed.
The team at Malloy Aeronautics remembers. No word yet on whether the company is yet looking past the quadcopter design and thinking about how it can get to true repulsorlift engines.