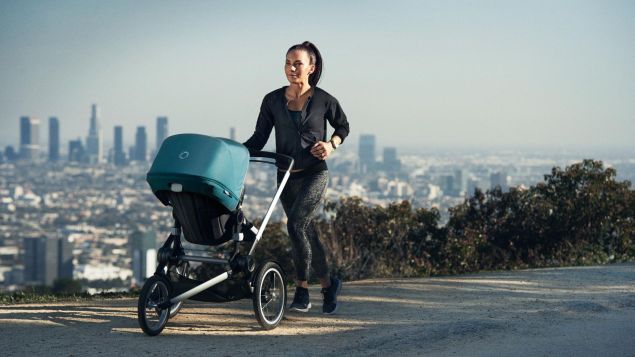 It's tough to stay in shape as a new parent, what with balancing work and home life, and the total physical exhaustion spawned from endless sleepless nights. And that's totally fine—you're in charge of taking care of a baby human, after all.
But for those intent on keeping up with working out, Bugaboo has just debuted the Runner, an innovative jogging stroller designed specifically for active parents. The complete stroller is available for $800, or as an extension to pre-existing Bugaboo strollers for $425.
Max Barenbrug, founder of the Amsterdam-based stroller company, was inspired to create the Runner during visits to the U.S., where he noticed an increasing number of parents incorporating their kids into their active lifestyles.
"Parents are always looking for bonding activities for their children while incorporating their personal passions, such as running," he told the Observer via email. "I didn't want to create just any jogging stroller. It was important to me to design a running stroller that complemented their current lifestyle but also appealed to their active lifestyle while connecting with their kids."
The Runner is also designed to accommodate even your longest, most treacherous runs through the streets of NYC. Tracking controls in the front wheel ensure the wheel doesn't deviate from a 90-degree angle, and there's built-in suspension to absorb shocks.
"When you add speed, the comfort of the child and parent are increasingly important," Mr. Barenbrug explained. "The large wheels, air-filled tires, combined with a three-wheel base allow for the most stable and smooth runs."
It also has an adjustable handlebar, with a connecting brake for one-handed speed adjustment.
"[It's] is the first and only product with this unique feature," Mr. Barenbrug said.
The Runner also has a reversible seat—a feature Mr. Barenbrug particularly likes.
"My favorite feature about the Bugaboo Runner is the ability for the child to face the parent or the world," he said, "two different types of bonding experiences."