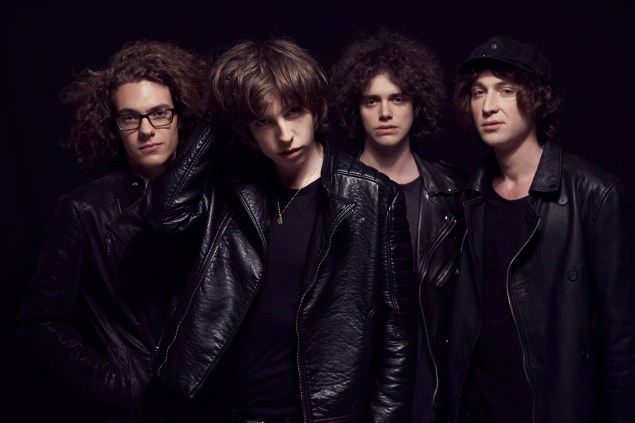 For those not yet enamored with Catfish and the Bottlemen's enormously catchy Britrock, the name seems out of place for a quartet of Welsh 20-somethings, who formed the band in their teens and released their debut, The Balcony, last year, and are behind the irresistible Strokes-like hit, "Kathleen." After all, catfish are not native to Wales … and "bottlemen" are likely rare.
"It's pretty much the furthest you can get from Wales," says co-founding member, bassist Benji Blakeway. The band also includes co-founder, singer Van McCann, guitarist Johnny Bond and drummer Bob Hall. "It's from Van's life when he was younger," Blakeway tells the Observer, speaking from Minneapolis at the start of their second U.S. tour this year, just days before they head to play their first Bonnaroo festival. "When he was living on and off in Australia there was literally a street musician called Catfish the Bottleman, who played bottles with varying amounts of water in them. He'd play stuff like "Inspector Gadget." It was pretty much his first memory of seeing music. When we came to name the band, it seemed apt to name it after his first memory."
[youtube https://www.youtube.com/watch?v=Va75GaPv5jY&w=560&h=315]
Has Catfish the Bottleman heard how big you are, and is he suing for using his name?
Whenever we mention him, we joke and say please don't sue us for taking you're name. When we were in Sydney in January, we went to do a session at Triple J radio and they brought him in as a surprise. So we got to meet him. He's just seeing it as exposure. We want to bring him with us when we next tour in Australia.
You are from Llandudno; it's a quiet sleepy seaside town. Were you screaming to get out?
Yeah, pretty much. It's touristy and full of families and day-trippers. There's not much for someone who's lived there for 24 years to do, if you get me. We was [colloquial conjugation] about 16 when we started this band, and we've been relentlessly writing and touring since then. Not because we don't like Llandudno, just because you reach that age and it's that kind of town where everyone knows everyone's business and you can't have any secrets there. We wanted to get out, but not because we hate it.
'If [you're] getting drunk every night there's no way you're going to end up playing stadiums, and that's what we wanted. So we were just like, "pack that in." '
You have Rolling Stone touting you, the front cover of NME—what do you think when you see that or read it?
It's bit surreal really. Van pretty much did all the interviews until recently—this is one of my first interviews. We all know what he's like, so when you see him on the front cover, it's like, I've known you since you were 14, way before this. So when I go into the shop, it's just like funny. Yeah, funny is the word. We made a conscious decision, Van talks the most and he likes doing it, so we just let him do the interviews. But now we're more well known, the rest of us can start chipping in.
Are you enjoying chipping in?
I am, but I don't like talking on the phone, not even to my mum and dad. It's a weird thing I have. But I quite like this: it gives you a weird rush because you don't know what you're going to be asked. If I have to phone to go to the dentist or something, it takes me half an hour to build up the courage. I don't know what it is, I have to be pacing when I'm on the phone. Pacing around the room.
Growing up hearing about iconic U.S. festivals like Lollapalooza and Bonnaroo, how does it feel to be playing them?
It really is amazing. There's this Kings of Leon video we always used to watch of them performing at Bonnaroo in 2004. That's one of our favorites live videos and now we're going to be doing that. It's always just a thing until you're there and you do it, though. Then it'll be surreal.
Do you celebrate such milestones?
Not really. Obviously we're always buzzing, but we're not a big party band. When you're younger you try and do the whole rock star thing. Years ago, we got a bit of drunk before a show and played shit. So now we're like, "no drink." It's not a rule, but it's a job, isn't it? You don't go to your job drunk.
That's a very mature attitude.
It took us time to learn this, but if you were getting drunk every night there's no way you're going to end up playing stadiums, and that's what we wanted. So we were just like, "pack that in."
So before you were rock stars you were acting like rock stars and now you're rock stars you're just getting on with the job?
Pretty much, yeah. It's a bit backwards, but it's working.
Catfish and the Bottlemen perform at the Bowery Ballroom, June 16