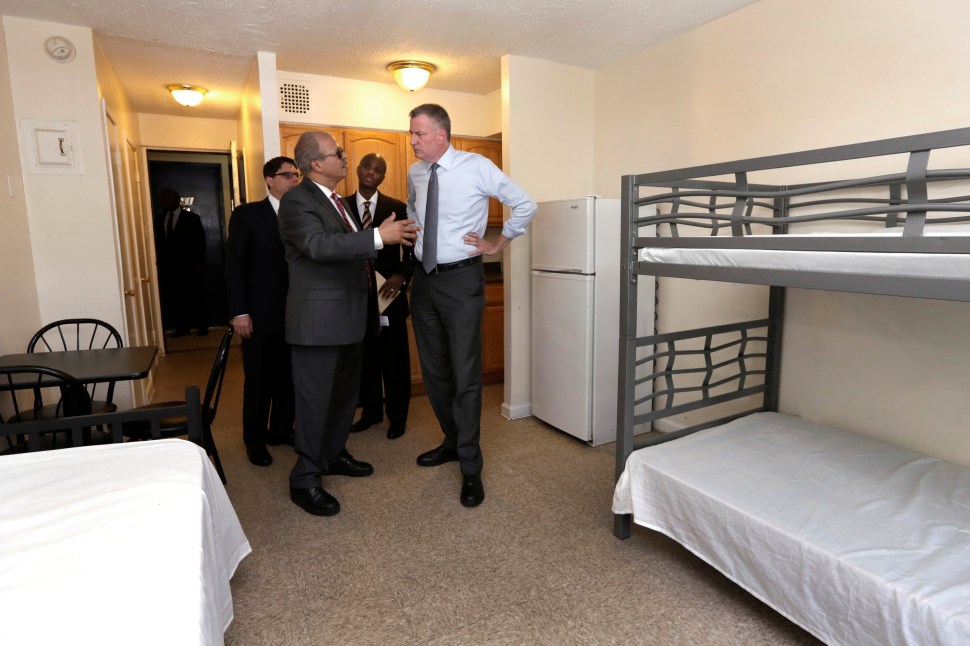 A debate about sexual predators in a homeless shelter in Manhattan has gotten meta. A new annotation service has been used to challenge a news story about an online petition. Adding layers upon layers of HTML on an issue where neighbors appear to be confused about the facts on the ground.
The commissioner of NYC Homelessness responded to a Change.org petition that inspired a 184 word New York Post story about neighbors scared by living close to a homeless shelter with a 508 word statement. What's more interesting, however, than an excess of copy from a political appointee is that a de Blasio Administration press secretary used the Genius Beta system to annotate any web page to refute the story point by point.
Annotation can be used to challenge a text directly on the same page upon which people are reading it, which is much more satisfying than writing a separate blog post or disappearing into the land of trolls (aka comments sections).
Concerns about the shelter have been heightened since a resident, Rodney Stover, allegedly raped a woman in a Flatiron bar in April, according to the Post. In the administration's corner, Ishanee Parikh, a deputy press secretary, made five annotations on the brief story (see all of them here), the second of which directs readers to Department of Homeless Services Commissioner Gilbert Taylor's statement.
The critical takeaway from the Commissioner's statement, which addresses both communities in question, runs as follows:
New York City's Department of Homeless Services has a legal mandate and moral obligation to shelter all those who need it, and we don't take this responsibility lightly. We are committed to both reducing homelessness and improving the lives of those throughout our shelter system, and we work to ensure that families and individuals with nowhere else to turn have somewhere to go as they rebuild their lives. …
Since the Stover incident, however, we have heard a number of concerns from the Kips Bay community, and we take them very seriously.
In response City Hall's willingness to use his company's new product to address the record, Tom Lehman, Genius CEO and cofounder, wrote in an email "Genius is excited to empower different users, institutions, and publications to fact-check the Internet," via a spokesperson.
While Observer was writing this story, Ms. Parikh moved one of her annotations of the words "sex offenders" from the fourth paragraph to the headline. It's now here. She writes, "FACT CHECK: There are no sex offenders at this site." While it serves the public interest for the Administration to advise the community that known sex offenders have been relocated, the fact in question, as reported in the story, is not erroneous. In the original annotation, it was true that someone feared there were sex offenders there. It is also true, in the new annotation, that people claim there are sex offenders at the site. Those are the facts reported, which are accurate, based on the read of the Change.org petition and quotes from neighbors in the story.
That people believed and claimed these things are both facts, whether or not the beliefs or claims were based on facts. Sometimes it is the job of reporters to cover people's fears, whether or not they are justified.
The relevant question would be: Are there any sex offenders still living in the shelter?
The administration asserts that there no sex offenders there any longer. Following the April assault, the Administration removed all sex offenders from the shelter in question, according to the New York Post, which Ms. Parikh acknowledges in her last annotation.
In this last annotation, the Post wrote that the site had once been home to 60 known sexual predators. Ms. Parikh annotates that it was 17. Neither report sites a source. It could have been that the Post was reporting on the number of sexual predators in residence over time while Ms. Parikh's annotation refers to the number removed immediately following the Stover incident. In other words, both facts could be correct, but neither shows their work to assess one way or the other.
Notably, the shelter is also the official intake point for all homeless men in the city, according to NYC.gov, which may explain why residents think there are more homeless men residing in the neighborhood than there actually are.