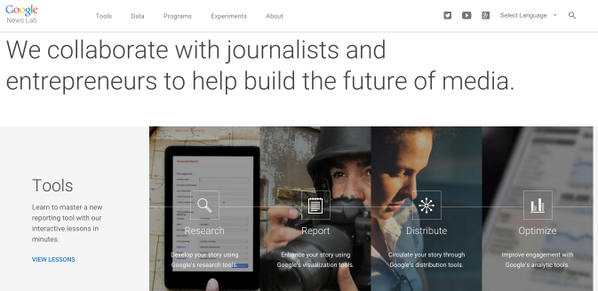 This morning Google (GOOGL) unveiled a new suite of tools for journalists called Google News Lab. Following up on last week's partnership with YouTube, which will offer a curated video wire service verified by outside experts, the News Lab ostensibly offers reporters the full complement of Google's services, so they can research, write, present and promote their stories in the most accurate, aesthetically pleasing way possible.
Every journalist (heck, almost every person on Earth) knows how to use Google, but the architects of News Lab want reporters to know how to use it well. In a promotional video tied to News Lab's release, program director Steve Grove describes it as a melding of journalism and technology which will lead to the "innovation and empowerment of journalists" and prove that "anything is possible in media."
This is a great idea and an admirable pursuit in theory, but in practice things get a bit more dicey. The site will be an invaluable creative resource for deep dives and longform pieces, but for day-to-day journalism News Lab is not much help yet.
Search, Maps and Images have become classic tools for reporters and regular Joes, and all of them (along with their advanced search tools) are still available in News Lab—if you need a refresher course the lab offers tutorials. Given that these programs have become second nature for most people, it's strange that they're part of News Lab at all—besides the added explainers, there are really no new features.
There are some cool new technical bells and whistles—the News Lab allows users to create custom maps and videos, and even put in ads so you can make money off your work (yay, more YouTube ads). The New York Times has been perfecting this multimedia model since "Snow Fall," and work that involved is well-suited to longform journalism. But very few stories require that approach, so as cool as these tools are to look at and learn about, their applications are limited for most reporters.
The biggest problem with News Lab, however, comes with the research tools made specifically for journalists. Google Media Tools Alerts purports to be Google's answer to Digg, aggregating news articles from trusted websites. There's one big problem with that, however—the site has not been updated since May 26, and indeed seems to only be updated three or four times a month (only 212 updates in the last six years). The last batch of articles is about the Nepal earthquake—nothing about the shooting in Charleston or other breaking news from the past month. Any reporter wanting supplemental information on these topics is out of luck—bad news for a site purporting to be a top source for journalists.
Another area of the site that needs a lot of work is the Public Data Explorer, which gathers data sets that reporters can mine to create graphics. The types of data present, however, are limited and random—anyone wanting statistics on racial violence in the wake of the Charleston attack is out of luck, as this is not provided. There are charts that cover various national and international topics of general interest (the economy, health, GDP, etc), but there are many more subject areas that could and should be covered here. This data is a good start, but by no means provides the full story.
Unlike Apple, which only unveils products when they are totally finished, Google works like an app developer—it unveils a beta version and works with its community to work out the kinks. This tendency to show the struggle is seemingly an attempt to humanize a gigantic company, but this would be more believable if News Lab wasn't a half-finished product that is not valuable to most journalists as of yet.
No doubt Google will continue to update the News Lab model and address user concerns, and hopefully one day it will be the go-to source for reporters seeking information. But here and now, in the world of Twitter, News Lab's impulse to ignore breaking news in favor of sweeping visuals and longform reporting is a weakness, not a strength.