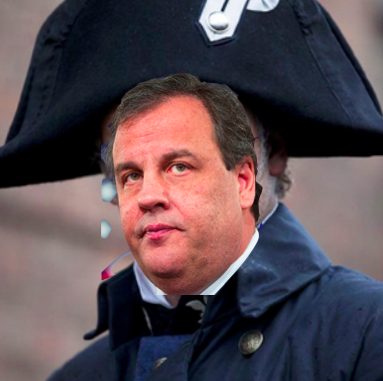 The last time Governor Christie met with Hurricane Sandy victims in the shore town of Belmar, he yelled at local resident Jim Keady to "Sit down and shut up." Mayor Matt Doherty stood by the governor's side as Keady, who runs an advocacy organization called Finish the Job, held a sign and shouted: "Do your job!".
The governor is well-known for his brash and in-your-face attitude. In the past, he has called Assemblyman Reed Gusciora "numbnuts'; referred to New Jersey school children as "drug mules" for the NJEA, and told the media to "take a bat" to Senate Majority leader Loretta Weinberg.
So, how do you channel all that hostility for a good cause?
Barbara Shack Keane, artistic director of the Shack Theater of Cape May had an idea for a fundraiser: Ask the Governor to play 'Inspector Javert' for one performance of Les Misérables, and donate the money to Hurricane Sandy victims, that's what.
"Who better to play a tyrannical man obsessively concerned with the pursuit and punishment of Jean Valjean? Someone who '… is rather tragic in his misguided and self-destructive pursuit of justice, …..and someone for whom reflective thought is an uncommon thing, and singularly painful…' ", said Ms. Keane, quoting Les Misérables author Victor Hugo.
The performance will be held late July on a Sunday afternoon, with tickets going for $125 a piece. All funds will be donated to the Hurricane Sandy Fund of the Jersey Shore. The governor is working with renown New Jersey vocal coach Maximillan Dolcelli to prepare.
Mr. Dolcelli was the vocal coach for tenor Hector Rodriguez, when he starred in last year's memorable performance as Tevye in the Ironbound Theater Company's original sequel to Fiddler on the Roof, entitled"What, We're Moving Again??!!".
In other news, the governor's  anger management coach is now receiving his second round of unemployment checks after being laid off early in March from the governor's office.