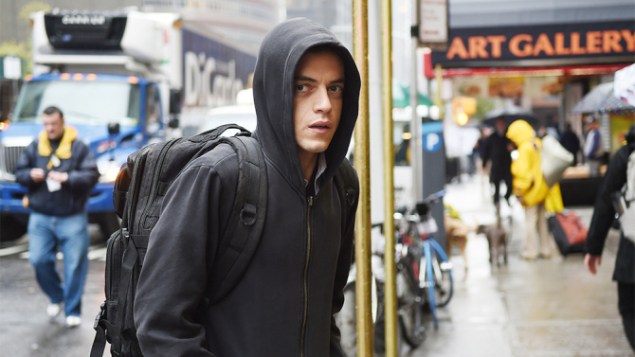 Buckle up people, because Wednesday night every question and/or fear you have about hacking will be explored.
The USA drama Mr. Robot follows Elliot, a young programmer who works as a cyber-security engineer by day and as a vigilante hacker by night.  Elliot finds himself at a crossroads when the enigmatic leader of an underground hacker group recruits him to destroy the firm he's being paid to protect.  Compelled by his personal beliefs, Elliot struggles to resist the chance to take down the multinational CEOs he believes are running, and ruining, the world.
Mr. Robot creator Sam Esmail cites his love of technology and a political uprising as his inspiration for creating the series. "I'm a techie and I wanted to do something in that world. I've primarily worked in feature and have never done TV before, but I knew that by doing a series rather than a feature I could really develop the characters and I could take some time in crafting their evolution as well, and that was very appealing to me."
As the central character of the series, Elliot isn't a hero, but he's not an anti-hero either, rather falling somewhere within a crevasse of ethical ambiguity.  "He has a lot of power, but he's very flawed," says Esmail. "Not everything he does is good and not everything he does is bad. Because of his knowledge he has a lot of power, and with power comes a lot of choices, really tough choices. I wanted to really show how this character negotiates that power. That was a great starting point to me."
In developing Elliot's character, Esmail found himself thinking about the Arab Spring and how it came to be and all of its implications within not just the political landscape, but society as a whole. "There's something about angst and anger when channeled for some sort of position change that I think is universal," explains Esmail. "The Arab Spring showed us that when passion and intent are there we want to believe in people. But, the truth is, sometimes to elicit change, people have to do some very unethical things and that certainly happened then. Now, having said that, there's something about that revolutionary sprit that we see in these people that we admire and gravitate to and that's the part we root for. That's where Elliot is coming from. His methodology to get to what he thinks is the best outcome in certain situations shouldn't detract from what he's trying to overcome and the changes he's trying to make."
While the series uses technology to help drive the narrative, Esmail assures viewers that non-technical folks needn't worry about aspect of the series being over their head. "Well, I don't know anything about medicine, but if you watch a show about medicine I think you understand the stakes. You understand the relationships are what's important. It's the same thing with police shows and legal shows; you don't have to understand all of the job specific lingo to enjoy the story that's being told. At the end of the day, it's about the people, and the world in which those relationships form and evolve, in this case it's the tech world, is just the conduit to tell the story."
Esmail points out that the series does try to dispel some long held myths about hacking, saying, "I think hacking has gotten a reputation as this mystical thing and it's often misrepresented on television and in the movies. It's not always planting a bug in a system or writing a complicated code to get to something. Hacking is really most often the act of social engineering and we show that. Some things don't require a lot of technical savvy to put together, they just require some thoughtful, intelligent mining of information that's out there, you just have to look and really see it."
Discussing the incidents of hacking in the news recently, Esmail noted, "I was cutting the pilot around Thanksgiving of last year and that's when the Sony hack happened. It started as this thing what was really only mentioned on a few tech blogs, but then it became national news and Obama became involved and it just exploded. I don't know if that pushed USA over the edge to pick up our show, but the timing of all of that was a little unreal."
He went on to add, "It's a little scary if you think about it. A few weeks ago there was that big story about a security breach that resulted in government employees' personal information being hacked and then just recently The St. Louis Cardinals were supposedly hacking into the Houston Astros system, so this is has been peculating for the last several years and now it's happening a lot. I hate to say we're benefitting from it but when you're a show about hacking, I can't deny that all of these stories about hacking being in the news does help. People are tweeting me that every one of these incidents is good for me. I don't know when we cornered the market on hacking but all of this happening now does seem, well, let's say, interesting. It's good viral marketing that we didn't ask for and that we don't really want because it's really screwing things up for a lot of people, but it is happening and we can't stop that. All of this does make the series seem extremely timely."
Esmail also wants to go on record as saying that he's very extremely happy to have Christian Slater on board as the title character and he thinks fans of the actor will agree as the series progresses. "Seriously, if you're a Christian slater fan and you loved him in Heathers and Pump up the Volume, this character is of that ilk. If you liked him in those roles, I think you'll have a fucking great time watching our show."
Portraying the complicated Elliot is Rami Malek, an actor that Esmail has nothing but praise for. "The show wouldn't be great without Rami. The pilot is very heavy and full of Elliot and I knew if we didn't cast that part well the whole thing would fall apart. Rami exceeded and elevated everything and believe me, he's going to be a big star. You're going to see some amazing things from him."
Teasing what's to come this season on Mr. Robot, Esmail stumbled a little. "Ah, I…well… this is hard, I don't want to give anything away because I just think it's so fun to go on the journey without knowing really anything, but I will tell you this; for the first season it's about Elliott and his relationship with Mr. Robot. This is not the hack of the week – there is a driving narrative. All of the characters end up in interesting situations – good guys are revealed as bad guys and vice versa and there are a lot of surprising twists like that that happen. We set up a lot of things, and we do pay those things off. You'll get answers, really you will. It's a quite a ride and if you really get into it, it's totally worth your time."
Mr. Robot premieres on USA Network Wednesday night at 10/9c.