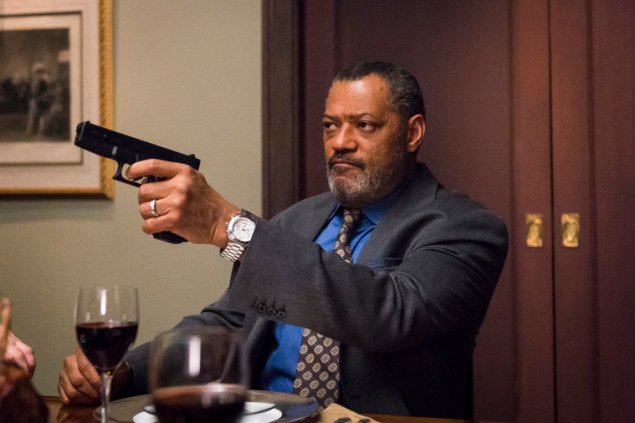 Episode 4, "Aperitivo" of the now canceled (!) series  abandons the show's titular character and focuses on the trail of broken bodies he left in his wake. Of course, the absence of Hannibal also makes room for the substantial information dump that comprising this course.
Although Will and Jack are both significantly scarred by Hannibal. Jack in the neck and Will across the abdomen, their wounds are considerably easier to conceal than the damage wreaked on Mason Verger and Alana Bloom.
Speaking of Verger, this episode serves as our introduction to actor Joe Anderson taking over the role vacated by Michael Pitt. Anderson's imitation of the 30's movie gangster cadence Pitt sometimes comes off like a Scarlett O'Hara type Southern belle, especially in the "you show me yours, I'll show you mine" scene where the two compare the disfigurements brought on by Hannibal Lecter, and by proxy, Miriam Lass. Anderson does an adequate job straddling the line between bringing his own interpretation to the character and doing an impression of Pitt's portrayal, however the kind of unbridled glee Verger took in his own sadism seems to be gone. However, you could argue that being manipulated into feeding your own face to a dog would do that to a man.
In re-introducing the characters "Apertivo" revolves around their search for alliances. Chilton bounces from Hannibal victim to victim in a kind of exposition tour looking for a partner to help bring the doctor to justice. He's constantly rebuffed, partially due to his sleazy maneuver of trademarking the phrase "Hannibal the Cannibal." There's also the great effort Chilton undergoes to conceal his damage, including make-up, a plate with false teeth and a fake eye to cover the one that was effectively rendered useless by a bullet. That kind of concealment are luxuries unavailable to Mason now uses a wheelchair and wears a sort of porcine mask to cover the fact that he no longer has a nose or lips, and Alana who couldn't get around without a wheelchair, and finally, a cane.
Although Alana is unimpressed with Chilton, she does take a more promising meeting with Mason Verger, who is offering 1 million dollars for information leading him to Hannibal, so that cam ultimately eat the man who ate countless others. Verger is aided by his physical therapist Cordell, who doesn't even wince when Verger gives him the order to start making preparations for a meal consisting of Hannibal being eaten alive. He just asks how he'd like the good doctor prepared. This kind of task was probably already explicitly laid out in the job description.
Given her brief, but fortuitous meeting with Margot, Alana seems like she's destined for an alliance with Mason's sister as well as a good old-fashioned double cross with the man himself. Surely getting tossed out of a window will give a lady a taste for "old testament style vengeance." And the severity in which Alana is styled and lit does give a nod to her newfound bitterness and bile, in addition to all the marrow seeped into her blood, which she attributes to her considerable attitude shift. The shade of red lipstick against her pale skin gives her face a hard edge to match her interior darkness.
We've been reacquainted with Jack, but we haven't seen much of what he's endured in between getting stabbed in the neck and arriving in Italy in pursuit of Will. Although Jack recovered from his injury, you could argue that he lost the most out of anyone, what with Bella dying and being forced into early retirement from the FBI due to funds being reappropriated from the behavioral science division over to homeland security.
During the flashback where Jack buries his wife, he notices a bouquet of flowers adorned with a handwritten note of condolence from Hannibal himself. That guy won't let the fact that there's an entire ocean between him and his victims stop him from taunting a grieving man, especially a man he took on an assumed identity to evade.  Talk about balls. Anyway, that dick move seems to give Jack the boot in the ass to seek out Will, despite the fact that it's Will who set the bloody dinner party into motion by giving Hannibal the head's up that he was caught.
As for Will, he'd rather fix boats and talk to dead people than pay any heed to the living, especially the ones who endured the worst night of their lives along with him. Then we're supposed to believe that he sailed across the Atlantic Ocean on his lonesome with nothing but the bloodied apparition of Abigail Hobbs to keep him company. And as always, the question lingers, who the hell is taking care of his dogs?
This episode was clunky and bogged down in flashbacks and gives more fuel to the argument that this season is lacking in actual action and is overly concerned with visual flourishes rather than advancing an actual plot. Also, the absence of Hannibal himself was palpable. However, this episode does do the heavy lifting of setting up the alliances that will ultimately bring about a spectacular downfall for the cannibal. There are only nine episodes left, on NBC, at least, so hopefully Bryan Fuller makes each remaining one count, especially as hen introducing the new big bad Francis Dolarhyde.