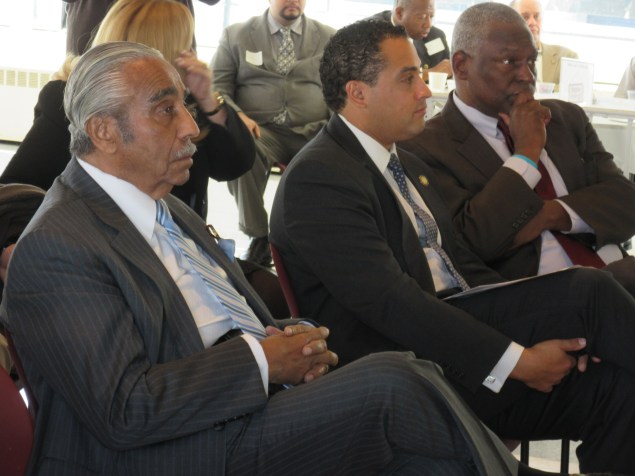 Manhattan Assemblyman Keith Wright today kicked off his campaign to succeed Congressman Charles Rangel—who has announced his intention to retire—at a "prayer breakfast" at Union Baptist Missionary Church in the Bronx.
Joined by a large contingent of pastors from his native Harlem, as well as by former Gov. David Paterson and Councilwoman Inez Dickens, Mr. Wright pitched himself as an accomplished legislator in the Assembly who has supported stronger rent laws and helped pass legislation improving wages for domestic workers. On this basis he asserted he was prepared to take on what he described as the problems facing the district and the nation.
"The evils of racism, the evils of poverty, the inexcusable reality that our educational system fails our children, the concentration of wealth in the hands of too few, and the experience of deprivation in the lives of too many," he said, alluding to the outbursts of racial violence following the deaths of black men at the hands of police in Ferguson, Mo. and Baltimore. "Looking over my life of service, I have decided to take the next step. Confident of your prayers and inspired by your faith, I am announcing right here, today, right now, that I am indeed a candidate for the United States Congress, for the 13th Congressional District."
Mr. Wright has never represented the Bronx, which makes up a relatively small portion of the district. The Bronx County Democratic organization, which Assembly Speaker Carl Heastie formerly chaired, reportedly agreed to support Mr. Wright for Congress in exchange for his backing Mr. Heastie to succeed scandal-scarred ex-Speaker Sheldon Silver earlier this year.
Once overwhelmingly black, the district today is majority Hispanic. But divisions between the newer Dominican and the older Puerto Rican communities—the latter of which Mr. Rangel has represented for decades—coupled with strong turnout among black voters allowed the incumbent congressman to twice quash challenges from Dominican-born State Senator Adriano Espaillat.
Mr. Wright acknowledged the potential for division among ethnic communities, but argued race should not be a factor in primary next year.
"I'm not born yesterday, I know sometimes that political fights can get contentious. I don't foresee this to be contentious at all. I hope not," he told the Observer.
Mr. Rangel has not made any endorsement yet in the race, but Mr. Wright is a longtime ally of the octagenarian lawmaker, and former Rangel campaign advisor Charlie King is running Mr. Wright's bid for Congress. The assemblyman told the faith leaders of his longstanding ties to the 45-year incumbent.
"Charlie Rangel has enriched my life in so, so many ways," he said, recalling going to the lawmaker for advice after graduating from college. "Congressman Rangel has been my mentor for so many years."
Former Manhattan Assemblyman Adam Clayton Powell IV—son of Mr. Rangel's predecessor Adam Clayton Powell Jr., and a rival-turned-ally to the congressman—and stay-at-home father Mike Gallagher are the only other announced candidates.
But Mr. Espaillat told the Observer earlier this year he was "very interested" in seeking the seat again, and Manhattan Assemblyman Robert Rodriguez is also rumored to be considering his own bid.