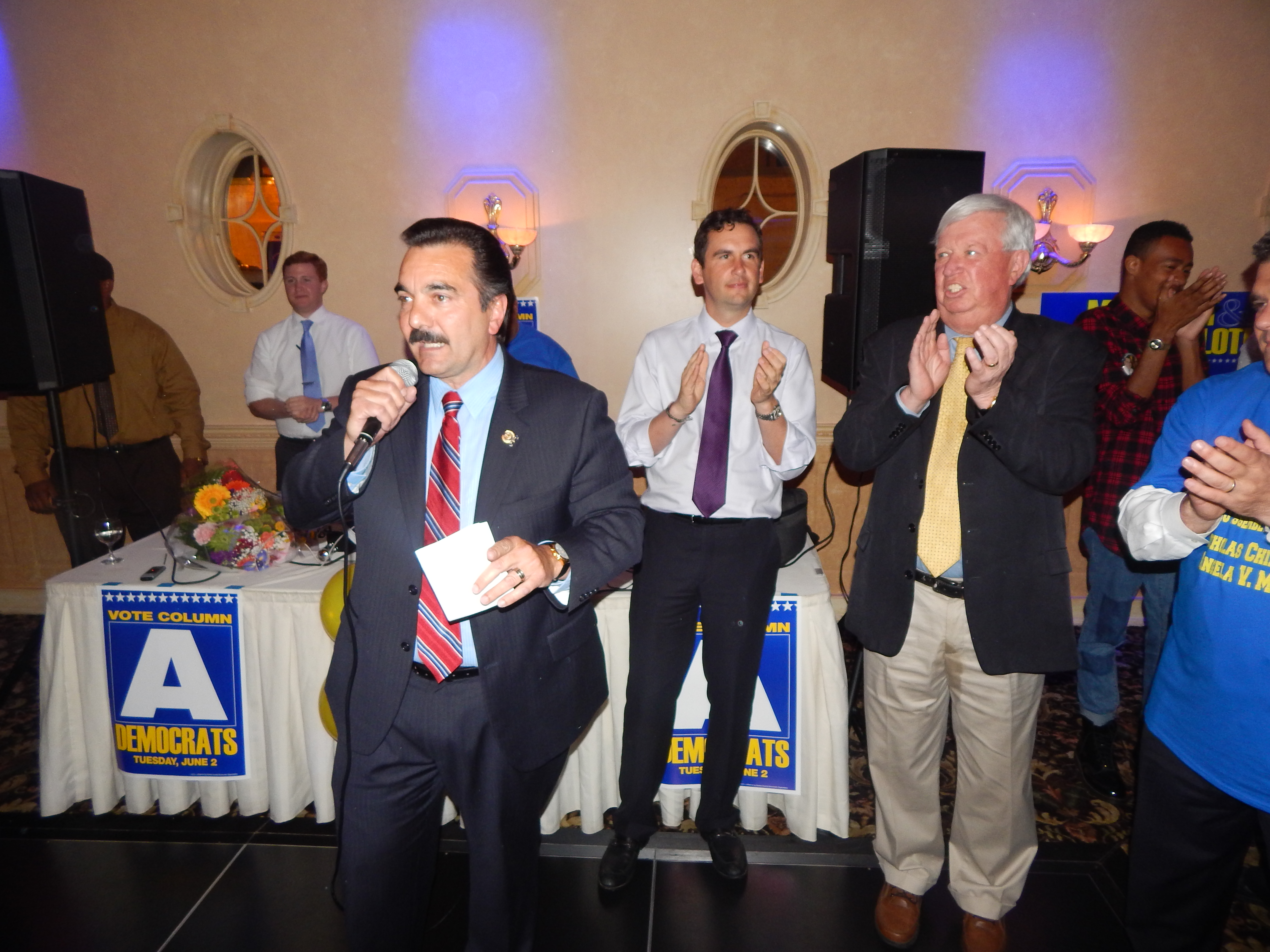 BAYONNE – The leaders of the Hudson County Democratic Organization (HCDO), irked by hearing about what they once were, shouted out to a crowd of supporters following the organization slate's win in the 31st Legislative District Democratic primary on Tuesday about what they are now, and will be for statewide contests to come.
"There is no doubt that you kicked some ass," said HCDO Chairman and state Assembly Speaker Vinny Prieto (D-32) before more than 300 people packed into the ballroom of the Chandelier catering hall in Bayonne on a rainy Tuesday night, referring to the close to 4 to 1 overall margin of victory achieved by the HCDO-supported slate of Nicholas Chiaravalloti and Angela McKnight in LD 31. "This is what makes the HCDO a powerhouse, the plurality that we deliver. And we will deliver statewide – 2017 goes through Hudson County."
Unofficial results from Hudson County Clerk's Office showed that voter turnout on a sodden primary day did not exactly saturate the polls: only about 11 percent of Democratic registered voters came to the polls in LD 31, which includes all of Bayonne and parts of Jersey City.
But among the voters that did turn out, the HCDO Column A candidates won by a wide margin. McKnight was unofficially the top vote getter, with around 5,400 votes and 35 percent of the vote. Chiaravalloti followed with 5,000 votes and 32 percent of the vote. Joseph Conte was third with 1,600 votes and 10 percent of the vote; Ramon Regalado, Conte's running mate, was fourth with 1,300 votes and 8 percent of the vote. Bruce Alston was fifth with 950 votes and 6 percent of the vote; Washington Flores, Alston's running mate, was sixth with just less than 800 votes and 5 percent of the vote.
The LD 31 Assembly Democratic primary winners expressed gratitude and hope for the future in their collective moment of victory.
"I can't wait to win in November, then get sworn in in January so we can go down to Trenton," said Chiaravalloti, of Bayonne, as his wife and children looked on, offering extra thanks to Bayonne Mayor Jimmy Davis, his close political ally. "Our job in this campaign was to reach out to every single community. When we go down to Trenton, we will be their voice."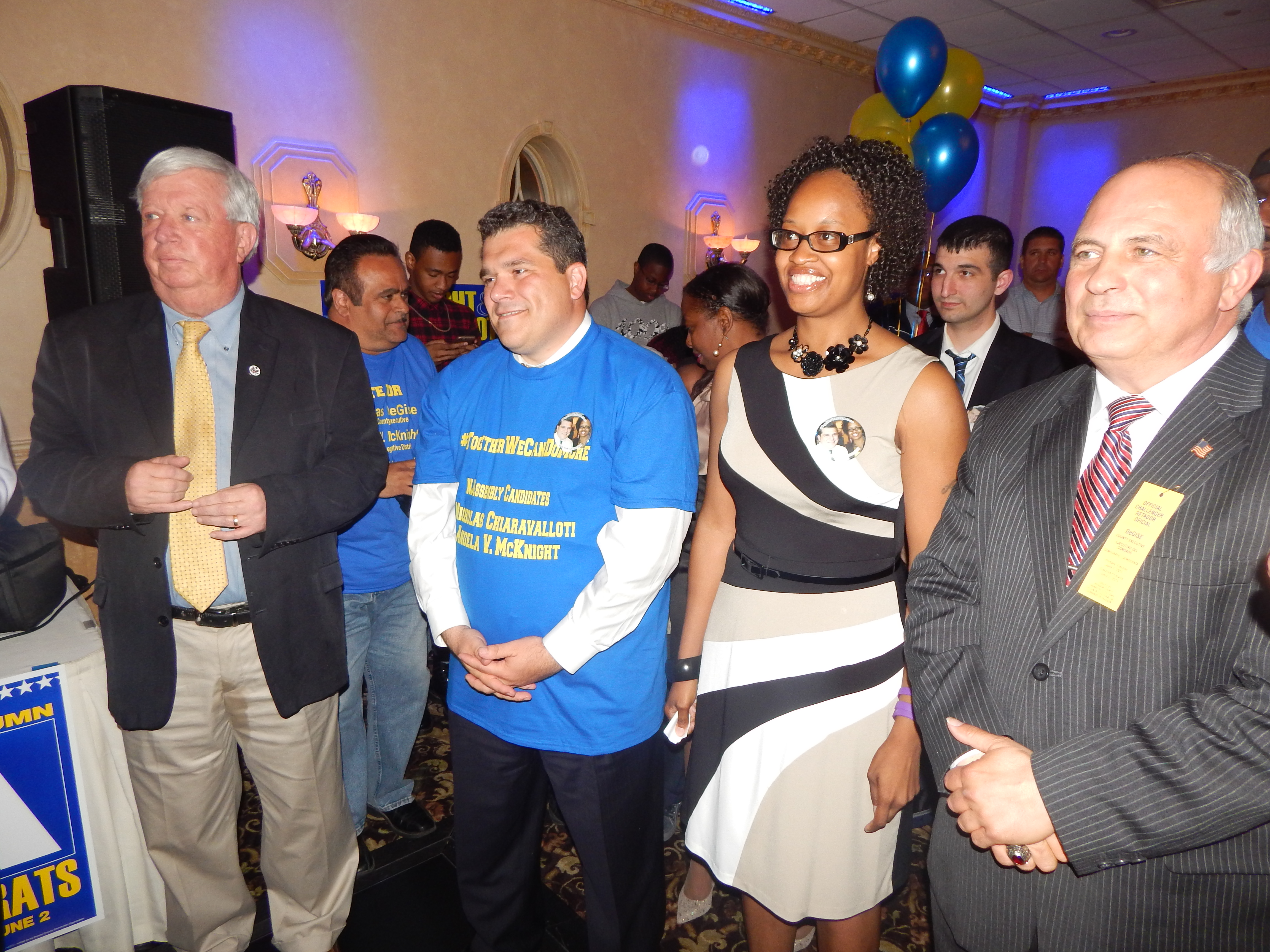 "We did it. We did it together," said McKnight, of Jersey City, thanking the HCDO, friends and family for their support. "We got across the finish line."
Hudson County Executive Tom DeGise, who won his Democratic primary contest on Tuesday with an unofficial 99 percent of the vote, made sure to mention another political finish line, alluded to earlier by Prieto, that might be further away, but that is close to the surface of New Jersey's political consciousness.
"This is the most united this party has been in thirty years. Wait to you see what we can do in 2017," said DeGise, nodding to the year when Jersey City Mayor Steve Fulop, a potential Democratic gubernatorial candidate, could become the first mayor of New Jersey's second-largest city to get elected governor.
Fulop, in an interview with PolitickerNJ, lauded what he sees as the resurgence of the HCDO, left by some political observers for dead in recent years.
"The organization is alive and well. It is actually thriving, growing and united," said Fulop, with Prieto nodding by his side in a back room of the Chandelier. "The last test of this was today. The county not only delivered pluralities, but massive pluralities."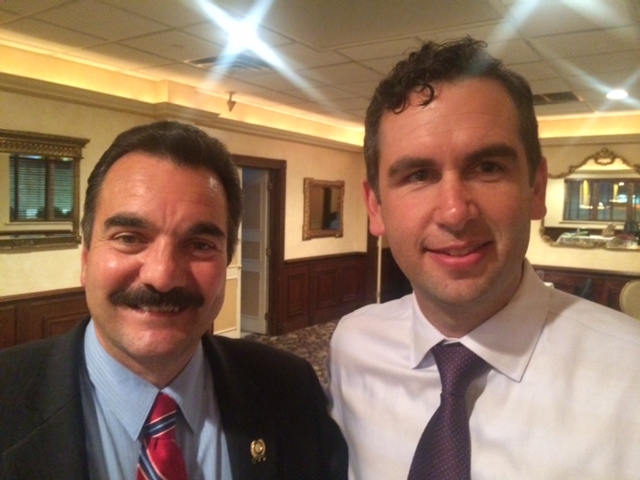 Fulop's allies were well aware going into Tuesday's primary that many outside eyes would be on LD 31, looking at the Hudson County-based contest through the lens of the 2017 Democratic gubernatorial nomination race. The friends of other potential Democratic candidates, including former U.S. Ambassador to Germany Phil Murphy, state Senate President Steve Sweeney (D-3) and state Senator Ray Lesniak (D-20), were looking for a loss, a split or a closer-than-expected win for the Fulop-supported slate.
Before he rejoined the LD 31 HCDO candidate victory party, Fulop sent a message across New Jersey to those looking to block his future ambitions by taking another look at his Hudson County base.
"Every county has its own personality and its own strengths and weaknesses," Fulop said. "The bottom line is this: Hudson County is strong. We're not winning small. We're winning big. And we are all on the same page."