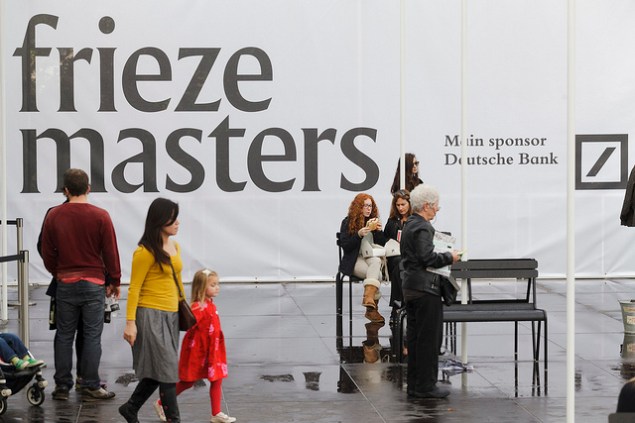 Frieze London, the city's leading contemporary art fair will return to Regent's Park for its 12th edition, from October 14 through October 17, with a new director and 160 international art galleries. This year, the fair—which was started in 2003 by Frieze magazine editors Matthew Slotover and Amanda Sharp—will be overseen by an entirely new team helmed by Victoria Siddall, who launched the highly popular satellite fair Frieze Masters in 2012. She'll be joined by Abby Bangser, artistic director of the Americas and Asia, and Jo Stella-Sawicka, artistic director of Europe, the Middle East, Africa, and Russia.
This year's exhibitor list will span 30 countries, and features newcomers Cheim & Reid, Galerie Kamel Mennour, and Simon Lee Gallery. "The great response to the redesigned Frieze London last year has attracted an exceptional list of galleries for 2015 and I am thrilled to announce what I believe will be a really strong fair," said Ms. Siddall in a statement.
Opening alongside the main fair will Frieze Masters, from October 14 through October 18. Now in its fourth year, the fair features vetted objects from leading international galleries dealing in antiquities, ethnographic art, illuminated manuscripts, Medieval, modern, Post-war, Old Masters, and more. The 2015 edition is set to include 131 galleries, and a new section called Collections. Curated by London-based curator and consultant Sir Norman Rosenthal, Collections will showcase eight galleries showing with Frieze for the first time and bringing objects that haven't previously been exhibited.
Below, the galleries participating in the 2015 editions of Frieze London and Frieze Masters:
Frieze London 2015
303 Gallery, New York
Galería Juana de Aizpuru, Madrid
Ancient & Modern, London
The Approach, London
Laura Bartlett Gallery, London
Galería Elba Benítez, Madrid
Blum & Poe, Los Angeles
Marianne Boesky Gallery, New York
Tanya Bonakdar Gallery, New York
The Box, Los Angeles
The Breeder, Athens
Gavin Brown's enterprise, New York
Buchholz, Berlin
Cabinet, London
Campoli Presti, London
Canada, New York
Galerie Gisela Capitain, Cologne
Casas Riegner, Bogotá
Cheim & Read, New York
Sadie Coles HQ, London
Contemporary Fine Arts, Berlin
Pilar Corrias Gallery, London
Corvi-Mora, London
Galerie Chantal Crousel, Paris
Thomas Dane Gallery, London
Massimo De Carlo, Milan
dépendance, Brussels
Galerie Eigen + Art, Berlin
Foksal Gallery Foundation, Warsaw
Galeria Fortes Vilaça, São Paulo
Marc Foxx Gallery, Los Angeles
Carl Freedman Gallery, London
Stephen Friedman Gallery, London
Frith Street Gallery, London
Gagosian Gallery, London
Annet Gelink Gallery, Amsterdam
A Gentil Carioca, Rio de Janeiro
Goodman Gallery, Johannesburg
Marian Goodman Gallery, London
Greene Naftali, New York
greengrassi, London
Galerie Karin Guenther, Hamburg
Hauser & Wirth, London
Herald St, London
Galerie Max Hetzler, Berlin
Hollybush Gardens, London
Gallery Hyundai, Seoul
Ibid., London
Taka Ishii Gallery, Tokyo
Alison Jacques Gallery, London
Galerie Martin Janda, Vienna
Johnen Galerie, Berlin
Casey Kaplan, New York
Georg Kargl Fine Arts, Vienna
Anton Kern Gallery, New York
Galerie Peter Kilchmann, Zurich
Tina Kim Gallery, New York
Johann König, Berlin
David Kordansky Gallery, Los Angeles
Andrew Kreps Gallery, New York
Galerie Krinzinger, Vienna
Kukje Gallery, Seoul
kurimanzutto, Mexico City
Simon Lee Gallery, London
Lehmann Maupin, New York
Galleria Lia Rumma, Milan
Lisson Gallery, London
Kate MacGarry, London
Mai 36 Galerie/Victor Gisler, Zurich
Maisterravalbuena, Madrid
Mary Mary, Glasgow
Galerie Greta Meert, Brussels
Mendes Wood DM, São Paulo
Galerie Kamel Mennour, Paris
Galerie Meyer Kainer, Vienna
Victoria Miro, London
Stuart Shave/Modern Art, London
The Modern Institute, Glasgow
MOT International, London
mother's tankstation, Dublin
Taro Nasu, Tokyo
Galerie Nordenhake, Berlin
Galleria Lorcan O'Neill, Rome
Office Baroque, Brussels
P.P.O.W, New York
Pace, London
Maureen Paley, London
Peres Projects, Berlin
Galerie Perrotin, Paris
Galeria Plan B, Berlin
Galerija Gregor Podnar, Berlin
Project 88, Mumbai
Rampa, Istanbul
Galleria Raucci/Santamaria, Naples
Almine Rech Gallery, London
Anthony Reynolds Gallery, London
Rodeo, London
Galerie Thaddaeus Ropac, Paris
Salon 94, New York
Esther Schipper, Berlin
Galerie Rüdiger Schöttle, Munich
Sfeir-Semler, Beirut
Shanghart Gallery, Shanghai
Sommer Contemporary Art, Tel Aviv
Sprüth Magers, Berlin
Standard (Oslo), Oslo
Stevenson, Cape Town
Galeria Luisa Strina, São Paulo
Supportico Lopez, Berlin
T293, Rome
Take Ninagawa, Tokyo
Timothy Taylor, London
The Third Line, Dubai
Vermelho, São Paulo
Vilma Gold, London
Vitamin Creative Space, Guangzhou
Michael Werner, New York
White Cube, London
Wien Lukatsch, Berlin
Wilkinson, London
Zeno X Gallery, Antwerp
David Zwirner, London
Focus Section
47 Canal, New York
Antenna Space, Shanghai
Bureau, New York
Callicoon Fine Arts, New York
Carlos/Ishikawa, London
Clearing, New York
Croy Nielsen, Berlin
Experimenter, Kolkata
Fonti, Naples
Freedman Fitzpatrick, Los Angeles
Freymond-Guth Fine Arts, Zurich
François Ghebaly Gallery, Los Angeles
Grey Noise, Dubai
Dan Gunn, Berlin
High Art, Paris
Hopkinson Mossman, Auckland
Jan Kaps, Cologne
Koppe Astner, Glasgow
Galerie Emanuel Layr, Vienna
Limoncello, London
Galeria Jaqueline Martins, São Paulo
Misako & Rosen, Tokyo
Múrias Centeno, Lisbon
Night Gallery, Los Angeles
Simon Preston Gallery, New York
Project Native Informant, London
Dawid Radziszewski, Warsaw
Jessica Silverman Gallery, San Francisco
Société, Berlin
Gregor Staiger, Zurich
Stereo, Warsaw
Simone Subal Gallery, New York
Sultana, Paris
The Sunday Painter, London
Rob Tufnell, London
Leo Xu Projects, Shanghai
Live Section
Arcadia Missa, London, Amalia Ulman
Luhring Augustine, New York /
Franco Noero, Turin Tunga
Meyer Riegger, Berlin, Eva Kot'átková
Misako & Rosen, Tokyo, Ken Kagami
Southard Reid, London
Edward Thomasson & Lucy Beech
Kate Werble Gallery, New York,
Rancourt / Yatsuk
Frieze Masters 2015
Galerie 1900-2000, Paris
Didier Aaron & Cie, Paris
Acquavella Galleries, New York
Applicat-Prazan, Paris
Ariadne Galleries, New York
Bacarelli Botticelli, Florence
Jean-Luc Baroni, London
Bernheimer, Munich
Berwald Oriental Art, London
Blum & Poe, Los Angeles
Ben Brown Fine Arts, London
Cahn International, Basel
Cardi, Milan
Castelli Gallery, New York
Caylus, Madrid
Le Claire Kunst, Hamburg
Jonathan Clark Fine Art, London
Colnaghi, London
Galleria Continua, San Gimignano
Paula Cooper Gallery, New York
Corbett vs. Dempsey, Chicago
Alan Cristea Gallery, London
Daniel Crouch Rare Books, London
Dan Galeria, São Paulo
Thomas Dane Gallery, London
Daxer & Marschall, Munich
Dickinson, London
Didier Claes, Brussels
Galerie Bernard Dulon, Paris
Andrew Edmunds, London
Donald Ellis Gallery, New York
Entwistle, London
The Gallery of Everything, London
Eykyn Maclean, London
Richard L. Feigen & Co., New York
The Fine Art Society, London
MD Flacks, London
Sam Fogg, London
Eric Franck Fine Art, London
Peter Freeman, Inc., New York
Gagosian Gallery, London
David Ghezelbash Archéologie, Paris
Galería Elvira González, Madrid
Richard Green, London
Dr. Jörn Günther Rare Books, Basel
Johnny Van Haeften Ltd, London
Hauser & Wirth, London
Hazlitt Holland-Hibbert, London
Edwynn Houk Gallery, New York
Sebastian Izzard Asian Art, New York
De Jonckheere, Geneva
Annely Juda Fine Art, London
Jack Kilgore, New York
Tina Kim Gallery, New York
Kohn Gallery, Los Angeles
David Kordansky Gallery, Los Angeles
Kukje Gallery, Seoul
Lampronti Gallery, London
Kunstkammer Georg Laue, Munich
Les Enluminures, New York
Dominique Lévy Gallery, New York
Salomon Lilian, Amsterdam
Lisson Gallery, London
Luhring Augustine, New York
Luxembourg & Dayan, London
Matthew Marks Gallery, New York
Marlborough Fine Art, London
Barbara Mathes Gallery, New York
The Mayor Gallery, London
Anthony Meier Fine Arts, San Francisco
Galerie Meyer Oceanic Art, Paris
Mnuchin Gallery, New York
Moretti Fine Art, London
Richard Nagy Ltd, London
Helly Nahmad, London
Galleria Franco Noero, Turin
David Nolan Gallery, New York
Stephen Ongpin Fine Art, London
Pace, London
Franklin Parrasch Gallery, New York
Benjamin Proust Fine Art, London
Almine Rech Gallery, London
Robilant + Voena, London
Carlton Rochell Asian Art, New York
Salon 94, New York
Galerie G. Sarti, Paris
Schönewald Fine Arts, Dusseldorf
Karsten Schubert, London
Bruce Silverstein Gallery, New York
Skarstedt, London
Sperone Westwater, New York
Sprüth Magers, Berlin
Stair Sainty Gallery, London
Craig F. Starr Gallery, New York
Timothy Taylor, London
Galleria Tega, Milan
Tomasso Brothers Fine Art, London
Tornabuoni Art, Florence
Ubu Gallery, New York
Van de Weghe, New York
Vedovi Gallery, Brussels
Axel Vervoordt, Antwerp
Rupert Wace Ancient Art, London
Offer Waterman, London
The Weiss Gallery, London
Alan Wheatley Art, London
W&K – Wienerroither & Kohlbacher, Vienna
David Zwirner, London
Collections
Bazaart, London
Daniel Blau, Munich
Galerie Chenel, Paris
Bernard De Grunne, Brussels
Mohtashemi, London
Sydney L. Moss, London
Sycomore Ancient Art, Geneva
Simon Theobald, London
Spotlight
Gallery Paule Anglim, San Francisco Jess
Baró, São Paulo David Medalla
Stephen Friedman Gallery, Friedman Melvin Edwards
Goodman Gallery, Johannesburg David Goldblatt
Alexander Gray Associates, New York Jack Whitten
Christopher Grimes Gallery, Santa Monica Allan Sekula
Hakgojae Gallery, Seoul Chung Sang-hwa
Gallery Hyundai, Seoul Hyun-ki PARK
Nanzuka, Tokyo Keiichi Tanaami
Galerie Nathalie Obadia, Paris Sarkis
P420, Bologna Ana Lupas
Galeria Nara Roesler, São Paulo Tomie Ohtake
Richard Saltoun, London Henri Chopin
Anita Schwartz Galeria de Arte, Rio de Janeiro Wanda Pimentel
Sprovieri, London Boris Mikhailov