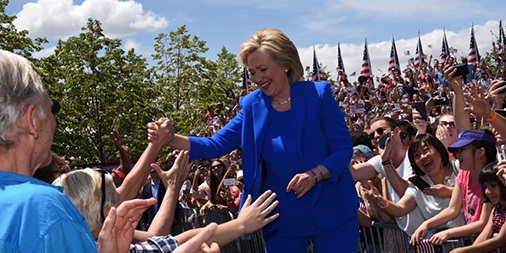 Annotation service Genius was once the go-to site for those who wanted to decipher obscure rap lyrics, but in recent years the site has been diversifying its offerings. Its most significant stride in the political arena occurred this past weekend, when the site partnered with Hillary Clinton's campaign to allow users to annotate and comment on the text of the campaign kickoff speech Mrs. Clinton delivered Saturday on Roosevelt Island. The annotations come from sources within Mrs. Clinton's camp, along with Genius staff and members of the American public.
Unsurprisingly, the notes made by Mrs. Clinton's digital team try to make their candidate look as good as possible. Some add details about the issues central to Mrs. Clinton's platform, like global warming and paid sick days, others are stories of personal trial (such as Mrs. Clinton's struggle to raise her daughter Chelsea while her husband was running for office) and some are just marketing tactics—the team announced a "Texts from Hillary" campaign that capitalizes on the picture of Mrs. Clinton that went viral. Finally, the campaign did some merchandising, introducing the PossibiliTee, a shirt featuring inspiring messages for young girls.
The staff of Genius added some historical context to the speech on their annotation page, including the history of the lace mill where Mrs. Clinton's grandfather worked, information about companies that implemented equal pay and LGBT-inclusive hiring strategies and commentary on the rapidly ballooning tax code, which is now over 73,000 pages.
Mrs. Clinton's possible future constituents also got in on the action—and unlike most Internet commentators, they kept things civil. Some posted about the ineffectiveness of trickle down economics, others hoped that Mrs. Clinton could balance the budget as her husband did while continuing the education hallmarks she began in Arkansas, and even more confirmed a sobering statistic from Mrs. Clinton's speech about the difference in pay between hedge fund managers and kindergarten teachers.
Ilan Zechory, co-founder and president of Genius, told the Observer that the site's partnership with Mrs. Clinton's digital team paid dividends for both the candidate and the voters.
"There's a whole additional conversation," Mr. Zechory said. "People can give more detail and tell stories or backstories when there's not room in the speech. There's also a dialogue between the constituents and the campaign" (local politicians like Congressman Charles Rangel have also embraced the concept of digital dialogue).
Mrs. Clinton's campaign has been employing other digital platforms as well, going beyond the conventions of Facebook and Twitter by curating a Spotify playlist and hosting events with campaign staff on Periscope.