IN TERMS OF GLAMOUR, ARTHUR KILL ROAD in Staten Island is no Hollywood Boulevard.
Take a drive down Arthur Kill and you won't see lush hills in the distance. Instead, you get a glimpse of gas silos over treetops, long ago rusted to a brownish red. Get even closer and you'll glimpse, and most likely smell, a small sliver of the Arthur Kill ship graveyard, where ages ago boats of all shapes and sizes went to die, just barely visible now over the surface of the Hudson. Continue on down the road and you'll notice the constant sound of traffic. The Pioneer Transportation Corporation's Arthur Kill location ensures that there is always a steady stream of yellow school buses coming and going, their bulk taking up the roads and their engines rarely quiet.
One could imagine that this constant reminder of a life on the move was at one point a torturous tease for the residents of Arthur Kill Road's most ominous landmark—the Arthur Kill Correctional Facility, a sprawling 70-acre prison that, in 2011, was one of seven state prison facilities shut down under Gov. Andrew Cuomo.
But it's exactly this empty prison that one day might make the comparisons to Hollywood a little more apt. In February of last year, Broadway Stages, a full service film and production studio operating out of Greenpoint, Brooklyn, announced its plans to invest a minimum of $20 million and redevelop the site into yet another booming studio for TV and film production. (Shows like CBS' The Good Wife and Blue Bloods, USA's Royal Pains and NBC's Smash have filmed at its Brooklyn home.)
Immediately, terms like "Hollywood East" began to be whispered hopefully out on the island. Buzz among not only locals in the entertainment industry but businesses and labor workers was at a fever pitch; it was estimated the project would bring 1,500 jobs to the borough. But a year has passed since the initial announcement, with little obvious progress. So the $20 million question is this: Is Hollywood still coming to the Hudson?
***
"I DON'T KNOW WHY, QUITE FRANKLY, THIS PROCESS is taking so long," State Senator Andrew Lanza told the Observer, with some frustration. Mr. Lanza, who represents the 24th District encompassing most of Staten Island, has been a cheerleader of sorts for the Broadway Stages-Arthur Kill Project from the start. In fact, it was Mr. Lanza who coined the phrase "Hollywood East" at the first press conference for the project back in February 2014.
"It seems to me, and I don't want to be so jaded as to be negative, but it does seem to me that there's something wrong with our system," Mr. Lanza continued. "Especially when you have an idea this good, that is being slowed down to the extent that it is."
The system Mr. Lanza is referring to is an unsexy one—certainly less savory than the phoenix story of an abandoned jail rising to a movie studio—but it is still a necessary one, for both legal and safety issues. Since its inception, the Arthur Kill Prison project has been bogged down by the mandatory land review process that comes with all major real estate purchases. The environmental and social impacts of a full-blown movie studio being plopped dead center into a community must be taken into account. And researched. And debated.
Joe Chan is the executive vice president of real estate development for Empire State Development, the development agency working alongside Broadway Stages to close the deal. He broke the process down for the Observer in layman's terms.
"We kind of have to run the gamut of all the potential impacts this might have on Staten Island," Mr. Chan said. "This includes everything. Does it have any impacts on air? Does it have any impacts on noise? What sort of jobs does it generate? Are those jobs permanent jobs?" The devil is in the details—namely, every single detail humanly imaginable. "We have consultants standing by the side of the road with clickers," Mr. Chan continued. "They'll be out there for a couple of days, analyzing how many cars go down Arthur Kill Road." There's also research going on into environmental impact, on the condition of the facility itself, and into whether a light rail may be needed to service the area.
The feeling this news inevitably invokes—besides, perhaps, pity for the consultant whose job it is to count cars on the side of a road—is that somebody better hurry. Because as Arthur Kill redevelopment hangs in stasis, the film and television industry, bolstered by attractive tax incentives and perhaps even quality-of-life issues, has arrived in New York with a vengeance.
Years ago, a murmur of disquiet echoed throughout the state's acting, directing and film production community in 2010 with the downsizing of the Law & Order franchise—after all, without Law & Order how would there be TV in New York? But, since 2010, according to the Mayor's Office of Film, Theatre & Broadcasting, the number of episodic TV series being filmed in New York has ballooned to 46, more than double the amount in 2010. Then, pile this number on to the 242 films given permits in New York in 2014, up from 200 in 2010. The truth is, New York needs Broadway Stages to open its Staten Island facility not only for the prestige it may bring to a little known corner of the state, but just for the sheer demand that is present in the New York production community.
'It's such a nice-sized area that you can film car scenes; you can have chases, explosions. Underwater scenes. If you want, you can build the Midwest,' said Broadway Stages' Gina Argento. 'You can build Morocco.'
"Once we hand over the keys, and [Broadway Stages] starts building their stages, the productions will be lining up front all the way down Arthur Kill Road, waiting to get in and use them," Mr. Chan predicted. The plan, Mr. Chan said, is tentatively set for Broadway Stages to claim ownership of the site in the fall of 2015, with film productions beginning as quickly as six months after that. (A car chase already filmed there last March.)
So what then? The Observer pinned down Broadway Stages co-president Gina Argento to inquire about her plans.
Her answer, as most answers in life should, involved New York boosterism, and explosions.
Because as it turns out Gina Argento's vision of a Hollywood-style back lot studio has as much to do with taking back the film industry as it does giving back to the community.
"A lot of people don't realize that the movie industry began in Brooklyn, with the black and white and silent movies," Ms. Argento told the Observer from her Greenpoint offices. "We wanted to bring back that movie industry.
"From the very beginning," she continued, "we envisioned bringing Hollywood style back to New York."
An agreeable goal, for sure, but what is it logistically that could lure filmmakers from the sunny shores of Pacific SoCal to the sludgy overcast of Arthur Kill Road? Well, as mentioned, there are those sweet, sweet tax incentives. According to the governor's office, Empire State Development offered tax credits of $462 million to 123 projects in 2014 alone.
But inside the confines of a redeveloped Arthur Kill Prison is an even more attractive offer for a filmmaker—the offer of a blank slate.
"The site is an artists' canvas. It can become a director's canvas, and they can do whatever they want to do," Ms. Argento said. "It's such a nice-sized area that you can film car scenes, you can have chases, explosions. Underwater scenes. If you want, you can build the Midwest. You can build Morocco."
"One of the buildings has this great pool, that we can do a lot of pool shooting. Most of the buildings have these great hallways, where you can do wonderful long shots," Ms. Argento said. "And, of course, most of the buildings have cells in them. There's a huge demand to shoot in prison cells, but it's so hard to shoot in an actual prison."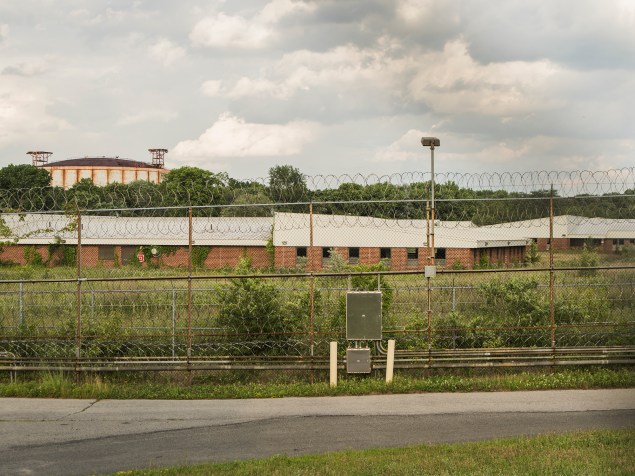 But not yet. The drive down Arthur Kill Road offers little hope for transformation. On the first warm day of the spring I pulled up to the empty prison. I'm met with a 15-foot-high chain-link fence, beyond which the once bustling courtyard is an overgrown mess, with intermittent brick guard towers rising tall above the brush. Before this, though, the first thing I see is a sign. Unlike on the West Coast, this sign does not spell out "H-O-L-L-Y-W-O-O-D." This sign says, simply, "No Trespassing. Violators subject to immediate arrest."
We obviously still have a long way to go. Among the most excited is local Theo Rossi. Mr. Rossi is recognizable to most as Juan Carlos "Juice" Ortiz from the recently completed FX series Sons of Anarchy, but is also in fact a born and bred Staten Islander, who still lives and shoots films through his production studio, Dos Dudes Productions, in the area.
"This entire project, it's so exciting," Mr. Rossi told the Observer over the phone, and based solely on his voice you believe what he's saying. His pride for Staten Island is palpable. But his voice slows as he continues. "That's if it happens. And I think it's going to happen."
***
BROADWAY STAGES HAS COMMITTED to building a minimum of five stages inside the site, totaling 100,000 square feet of space, but also plans to leave as many original buildings standing as possible, to be retooled as needed.
But beyond even the chain-link of Arthur Kill Prison, Staten Island is a sort of under-the-radar filmmaker's dream, as close to the suburbs of New Jersey as it is hundreds of acres of state park and thick forest.
"We have access to Manhattan, access to the mainlands of New Jersey. You go down to the Mount Loretto overlooking the Raritan Bay, and it's like being on the West Coast of San Diego," Sen. Lanza enthused. "We have state parks on Staten Island that go for hundreds of acres, you could be in the middle of the Adirondack Forest or somewhere out West. You have the more urban setting of the North Shore. You can have it all."
Mr. Rossi agreed: "When we shot [the Rossi-produced] Bad Hurt here, we had to take a beat every so often and say, 'Wow, here we are,' " he continued. "Being a New Yorker in itself is a pretty prideful thing. It's something we carry with us everywhere. But shooting a film here, you feel like you're stepping into an iconic piece of history every time you roll the camera. Having stages here, it just continues the legacy."
Vincent D'Onofrio, as both a Brooklyn native and a 10-year veteran of the aforementioned quintessential New York franchise Law & Order, has an insider perspective of the slow migration back East of the film community.
"I was lucky enough in the '80s to make a lot of films that shot in the big studio lots—the Warner Brothers, the Paramounts—they were always amazing to walk around. There's history there, a lot of history there," he said. But "when you make a film you never make it in Los Angeles anymore. It seems you make it anywhere but there," Mr. D'Onofrio went on to say. "I'm a New Yorker so of course I'm going to say this, but it's true—New York has the best crews in the country. The best people, the best crews, the best art directors, the best first ADs, the best cinematographers, everything."
Mr. Rossi echoed this sentiment, and chalked it up simply to a certain state of mind. "Staten Island especially. This whole town reminds me of an old Bruce Springsteen song, where everyone is working hard, doing their thing. We're worker bees. We get things done."
***
I EVENTUALLY DROVE AWAY from the emptiness of Arthur Kill Prison, back down the road, past the gas silos and the countless school buses. I hadn't stayed long, a little bit because I don't think I could have taken the irony of being arrested for trying to get into prison. But mostly because, truthfully, at this point, there really isn't much to see besides a lone security Jeep and greenery so overgrown it's hard to discern the brush from the barbed wire.
But pending some "highly unlikely" circumstances, according to Empire State Development, that will change, and soon. And if Sen. Lanza is to be believed, Staten Island may even get its Hollywood sign after all.
"I've been plotting for a sign to happen," he said. "I do genuinely believe there should be a signature marquee there. Whatever it says, whether it's Hollywood East or something even more ingenious, it needs to be something iconic, and something signature."
Iconic, yes, and signature easily. More welcoming than a promise of swift incarceration would be a plus, as well.