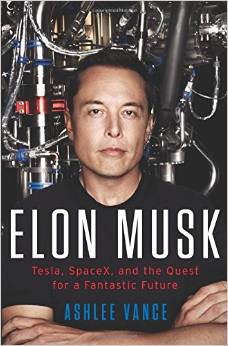 Elon Musk: Tesla, SpaceX, and the Quest for a Fantastic Future
Ashlee Vance
Ecco, 2015. $28.99, 400 pages.
U.S. senators remain split in 2015—they still cannot agree that humans have played a role in climate change, even with decades to absorb NASA's '88 congressional testimony to that effect. So it's not news when a recent Harris poll reveals that nine out of ten Americans consider Washington out of touch, particularly when the report also states that more than half the country feels we should broaden our focus on the environment.
What is surprising? A private-sector industrialist in America is poised to fill this leadership vacuum. The titan in the clutch is Elon Musk, the storied entrepreneur and sustainability engineer now at the helm of Tesla, SpaceX, and SolarCity.
Journalist Ashlee Vance's biography Elon Musk: Tesla, SpaceX, and the Quest for a Fantastic Future begins with the well-trodden territory of Musk's childhood in South Africa ("It was just like nonstop horrible"), his teenage flight to Canada, where he worked the requisite odd jobs (cutting logs, cleaning boilers), and his early Silicon Valley startup ventures with his brother Kimbal (a singular constant, present in boardrooms, control rooms, and holiday lanais alike).
READ ALSO: Business Insider Deleted Elon Musk Posts After Bio Author Complained
As this first half of the book tracks the trajectory of the anguished nerd reared on space comics and Encyclopedia Britannica into a shrewd business tactician, we see an ambitious, unprecedented mission taking form: Following the sale of his second company, the online payment service PayPal, to eBay in 2003, Musk began fighting his three-front offensive to alter the energy economy in toto.
Musk poured his Internet fortune into three new organizations, all aligned with the starry-eyed commitment Vance says Musk made as a child. "It seemed like one should try to make the world a better place because the inverse made no sense."
Tesla: Musk's team builds electric cars that will be powered by a burgeoning network of free Supercharging stations. Tesla expects to introduce the Model 3, its third and most affordable electric car at $35,000, in March 2016.
SpaceX: Consider this organization a streamlined, in-house rocket factory and service, or Musk's phase one foray into our collective Plan B. Musk earnestly wants to establish a civilization on Mars—if all goes as intended, our human evolution into a multiplanetary species will transpire well before the very last Earth glacier has calved.
SolarCity: Musk and his cousins conceived of SolarCity on a 2006 jaunt to Burning Man, and he continues to serve as the chairman of the board. Its imperative is to make solar power more accessible to more people, thereby improving the planet's prospects for clean energy.
If Vance tangles the lines of these various corporate chronologies set before the reader now and then, it's likely because no single person should possibly be stewarding all three of these business propositions at once. It is Justice League stuff, difficult even to report in an orderly fashion.
While much ado is made in the book of Musk's ostensible role as the original Tony Stark, his lavish thrillionaire lifestyle, or his mercurial management approach, something more interesting is being revealed in the throughline. The biography details many individual milestones that make each respective company a leader in its field. And like a palimpsest of best practices, this diverting inventory exposes the selective innovations that got them there as well—whether it be leveraging the nimble adaptivity of tech startups, electrifying a generation of coders and mechanics with a genuine New Deal sense of purpose, or retrieving the long-forgotten Manifest Destiny zeitgeist of endless exploration. The result? Green business is finally growing in several new, rarefied atmospheres of possibility simultaneously.
At times, environmental coalitions can feel as if they're buckling beneath the weight of hopeless quests to shame a dauntless corporate culture, to sway politicians with petitions, or to march in the streets to inspire change. But Musk's answer to peak oil? Work. His organizations take a refreshingly basic approach to the world's most complex problems. Identify each problem (running out of hydrocarbons). Methodically reduce to the best possible workflow (create efficient vehicles dependent on reliable, sustainable energy). Then just pursue it like a raptor. And do it for less, do it better, do it safer, do it sexier. And Musk, profligate risk taker though he may be, appears to be succeeding against odds on many fronts.
Vance notes that Musk "has visited the White house several times and has the ear of President Obama." Just a few months after dining with Musk in San Francisco this year, President Obama gave the commencement address at the U.S. Coast Guard Academy, and he advised cadets in no uncertain terms: failure to respond to the threat of climate change would amount to "dereliction of duty." Perhaps Musk and his squadron of 1,500-strong are beginning to shift even the political rhetoric. Skeptics may be stalwart, but history has not yet favored those who underestimate Elon Musk's influence.