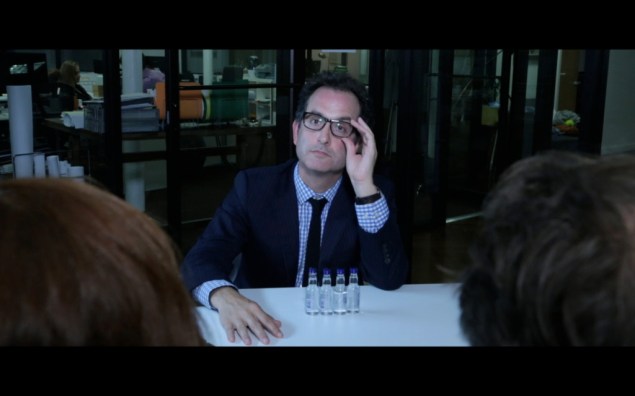 Andrew Goldman has made a career out of asking powerful people uncomfortable questions. And in his new documentary, The Desk, he seeks to answer the most uncomfortable question of all: why he was fired from The New York Times.
In The Desk, directed, written and starring Mr. Goldman, the unseated journalist traces the Twitter scandals, mistakes and behind-the-scenes manipulations that led to him losing his job. His road to infamy is bumpy.
A regular freelancer for the Times, he was chiefly responsible for the Times magazine's "Talk" section. He helmed the popular Q&A page from 2011 to 2013. But, in October 2012, he was sucked up into a Twitter tornado. In one of his columns, he had asked actress Tippi Hedren if she ever considered giving in to director Alfred Hitchcock's incessant sexual advances to further her career (it was the second time he had asked a woman that question).
The author was labeled a misogynist on Twitter by many in the media chatterverse, most notably by best-selling author Jennifer Weiner, and then, in what would prove to be a big deal, he tweeted an offensive reply to Ms. Weiner joking that he sensed she wished she could have slept her way to the top, too.
Mr. Goldman, who later apologized to Ms. Weiner on Twitter, got a burst of infamy and a relatively light sentence—an unpaid one-month suspension—before resuming his regular duties at the Times magazine. Then, in the summer of 2013, Mr. Goldman was fired. He believes it was because he offended someone much more influential than a popular author—namely Diane Von Furstenberg, a Times advertiser, A-lister, and wife of media giant Barry Diller.
Mr. Goldman's ultimate dismissal was met with much less fanfare than his suspension, though. "When I left, the world yawned. It's like I was watching a trolley come down one way and got smacked in the head by one going the other way," he said. Not long after, he began to write a movie about it all.
(Full Disclosure: This reporter also had a falling out with the Times, which resulted in his dismissal, over a so-called breach of ethics. He recounted this in a novella and then turned into a solo show entitled The Junket. This reporter performed The Junket Off-Broadway at the Lynn Redgrave Theater last spring. This reporter is only mentioning this for purely ethical reasons.)
The documentary, which premiered in April at the Florida Film Festival, uses the quiet, behind-closed-doors dismissal at the Times as the central story. But it also, somewhat messily, addresses Jill Abramson's brief tenure as executive editor of Times, the death of Mr. Goldman's mother, and his friendship with Paul Henry, an outspoken morning news host who was fired for making fun of an Indian politician's name on air.
But the crux of the movie is him delivering his side of the "getting fired" story. Explaining the reasoning behind his question to Ms. Hedren, he points out that he was simply referring to an account detailed in the nonfiction book about Hitchcock, Spellbound By Beauty by Donald Spoto (and subsequent HBO film, The Girl). Likewise, he explains away a similar question he asked the comedian Whitney Cummings, saying that it was in reference to jokes made by fellow female comedians on one of the Comedy Central celebrity roasts.
"There's almost this nouveau Victorian idea that women are going to need smelling salts if they are asked difficult questions," Mr. Goldman told the Observer. "Willy-nilly accusations are not doing women any good in terms of the long-term goal to be treated equally in the workplace, paid the same and not sexually harassed. Which I share."
During his tenure as the Q&A interviewer, Mr. Goldman points out that he asked provocative questions of all his subjects, across gender lines—like when he asked Washington Redskins owner Dan Snyder how he felt that many fans wished for him to die. This was his role, Mr. Goldman believes, as a good interviewer.
He said he played "the equal opportunity asshole … That guy who had a couple drinks and is asking that obvious question everyone wants to know." According to Mr. Goldman, he was just doing what he was hired to do: His editors wanted him to be provocative. Besides, he said he always ran his questions by them for approval.
But then came that Q&A interview with Ms. Von Furstenberg. By phone, Mr. Goldman asked her the elephant-in-the-room question about her marriage to Barry Diller: why marry a man thought by many to be gay? (Mr. Goldman plays the audio recording of the ill-fated interview in the film. It's pretty juicy.)
A week later, and before the piece could run, he contends in the movie, he was let go. Mr. Goldman tried to find the exact reason, but the answers he got were Kafkaesque. (Ask him to tell you, and with the indignant energy of someone wronged, he will gladly explain in detail.)
But Andrew Goldman's near-conspiratorial compulsion to clear his name begins to make sense the more you delve into his story. The questions he asked Ms. Von Furstenberg were never printed, and Mr. Goldman contends that no one but he, Ms. Von Furstenberg and the transcriber knew of the phone call's content. So the only complaint possible, if one did prompt his firing, would have had to come from her.
"It's pretty clear either Barry or Diane had made a call. I had become inconvenient. Jill didn't want to hear from Barry, Arthur [Sulzberger] didn't want to hear from Barry."
This part of The Desk touches on issues that are pertinent in a media landscape rife with brands that are both advertiser and story subject, and at a time that there is ever more tightly controlled access to celebrities.
"I learned that rules don't matter," Mr. Goldman said. "What matters is if a rich friend calls up and gets you fired."
Or, at least that's what Mr. Goldman sees as the reason for his downfall. The fact that the magazine's executive editor Hugo Lindgren left soon after—and the magazine was re-launched under a new editor—is glossed over.
It is, after all, Andrew Goldman's story.
These days, Mr. Goldman is writing for other publications, including Elle magazine. His career is in less dire straits than it was in 2013, but it is still at risk, since, as we know, making a living is more and more challenging for a freelance journalist. (A recent essay he published on Slate about his Twitter ordeal paid $500—decent money for an article these days, but…).
Mr. Goldman said it is therapeutic to have the film out there. But has he moved on? "If I hadn't made this fucking film I would feel I am moving on," he joked. "Somebody I respect a lot said, 'You turned your misery into art.' That was heartening to me. Even if it was bad art, it was art."
The Desk is now making its rounds through the film festival circuit, and was recently screened at the San Francisco DocFest.