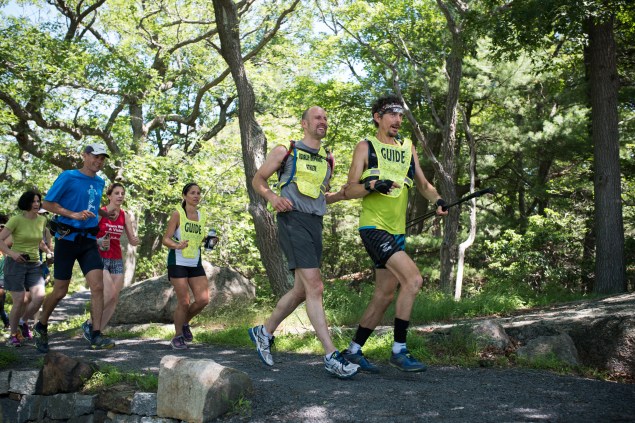 Late this morning near the west bank of the Hudson, two remarkable runners took off up the rocky terrain of Bear Mountain. One was ultra-marathoner Scott Jurek, currently attempting to break the world record for the fastest completion of all 2,189 miles of the Appalachian Trail—44 days. He'd been running the trail since the end of May, averaging 50 miles a day. The other was Thomas Panek, CEO of a nonprofit that provides guide dogs to people with vision loss, who also happens to be blind.
This was not the first time the pair—Mr. Jurek and Mr. Panek—had run together. This past April, Mr. Panek—who lots his vision in his 20s due to a genetic condition—completed the Boston Marathon in a personal record time, 3:42, with Mr. Jurek as his guide. They were tethered together by a short cord, with Mr. Jurek giving Mr. Panek constant verbal cues to inform him when and where turns were coming.
"You have to put a lot of faith and trust in your guide," Mr. Panek told the Observer yesterday evening, the night before the run. "When you lose your sight, it's a real challenge to think about how you're even going to cross the street."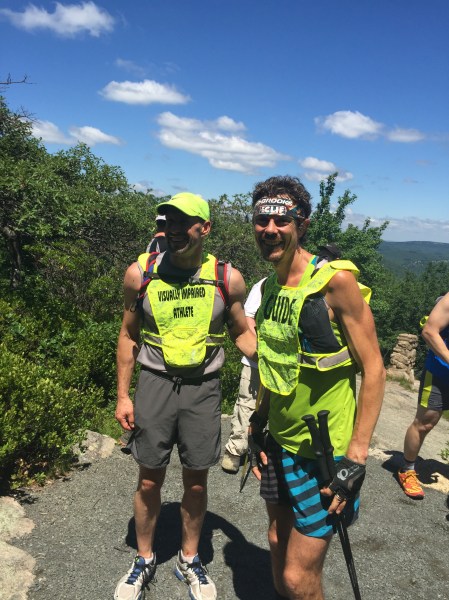 For those who are blind or visually impaired, staying active and healthy "is one of the greatest challenges," Mr. Panek said. If they're really determined to run, visually impaired athletes can find volunteer guides from sites like United in Stride or Achilles International. For many, however, it often feels easier to stay on the couch.
But in the quest to make it easier for the blind and visually impaired to get exercise, the run on Bear Mountain marked an important milestone. Mr. Panek's organization, Guiding Eyes for the Blind, has just produced its first guide dog specifically trained to lead a human on long-distance runs. The German Shepherd, Klinger, will go to a former marine in Sacramento, CA, who suffers from vision loss.
"[Mr. Jurek] and I really wanted to bring attention to the capabilities of people who are blind or visually impaired, when they have a little help," Mr. Panek said.
As he prepared to join his friend on Bear Mountain, Mr. Panek filled us in on what it would be like to traverse the mountainous route blind. Just like during Boston, Mr. Panek said, he'd be relying on Mr. Jurek for verbal cues.
"This is rocks, boudlers, precipices, cliffs—nothing is even, nothing is steady," he said. "If I'm going to go down six uneven steps that have different elevations, I'm going to be listening to every word he says as we fly over the mountain."
The process can be somewhat panic-inducing.
"It is scary. It's very, very scary," Mr. Panek said. But on the flip side, sometimes not being able to see pays off. Whereas people with sight might get vertigo peering over the edge of a plunging cliff, such is not the case for Mr. Panek.
"In a way, ironically, it's kind of good that I can't see," he said. "You're not afraid of what you don't see."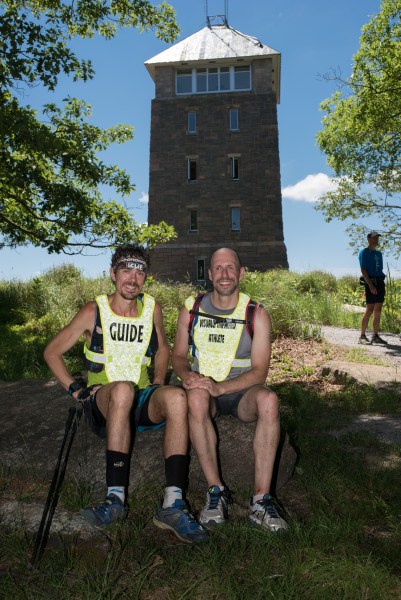 For the following morning's run, Mr. Panek said he planned to "go as long as I can." He's actually run Bear Mountain plenty of times before, and in a way, he said, would be guiding Mr. Jurek. "Although I can't see it, I know the elevation changes, the staircases," he said.
"There's a tower with beautiful vistas of Hudson," he went on. "I can't see them, but they're described to me."
But in other ways, Mr. Panek said, his running experience is not so different from those with sight.
"I can hear the cheering," he said, "like anybody else."