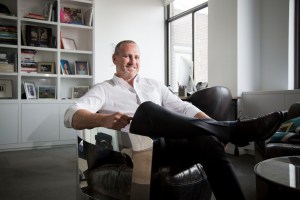 Shaun Osher, the founder and CEO of the 10-year-old Chelsea-based boutique real estate brokerage known as CORE, began his professional life, in Johannesburg, South Africa, as a child star. In the years since, he has devoted much of his energy to seeking ever-grander arenas in which to perform. And last October, Mr. Osher completed perhaps his greatest feat yet, arranging for the sale of a 50 percent stake in his agency to the Related Companies, the $15 billion multinational behemoth and developer of Hudson Yards—a union that, for various reasons, has some in the industry scratching their heads.
But Mr. Osher's first turn under the spotlight had less to do with ambition than with serendipity, and then, suddenly, with necessity. Mr. Osher's mother, who now lives in New York, in an apartment her son bought for her, worked as a television producer, and he began appearing in commercials at 6. Three years later, his father was struck by a bus, incapacitating him, and leaving Mr. Osher, by his own estimate, the family's primary breadwinner. (Mr. Osher has two sisters.)
"I became the man of the house at a very early age," he reflected not long ago, when the Observer visited him at CORE's Fifth Avenue office, an airy, light-filled space with glass walls, proffers of frosty bottles of Fiji water and a Silicon Valley-ish vibe. "For a lot of my life, I've been driven, really, by fear."
Luckily, Mr. Osher found that he could sing, dance and act. The stage suited him and so did the screen—he even won a leading role at 14 in a TV drama called Riding High, a kind of Dallas facsimile. He attended a private performing arts high school, securing bigger contracts and larger audiences. He took his family on vacation.
'I became the man of the house at a very early age. For a lot of my life, I've been driven, really, by fear.'—CORE's Shaun Osher.
Real estate has been Mr. Osher's nominal business for more than 20 years. But he regards his company, first and foremost, as a marketing operation—and as an extension and a reflection of self. He is a careful steward of the CORE brand, whose aesthetic identity takes some glossy pages from tech, fitness and travel giants—Apple, Equinox and Virgin, to name a few—and Mr. Osher little regrets that at the time of his earliest dramatic efforts, YouTube was still some decades away.
Still, he remains camera ready, with the air of someone long pleasurably—if a bit anxiously—accustomed to being watched. He is handsomely round-headed, with greenish eyes and perfect teeth and, lately, a flocking of stubble that makes him look just a bit roguish.
So it's not surprising that performing remained his primary vocation well into adulthood. At 13, Mr. Osher had picked up guitar, but in a twist that would strike odd many young American garage rockers, he yearned to join the woodwind family. "Saxophone was what I really wanted to play most," he recalled. "But they were not accessible," owing to short supply and high cost. A few years later, he managed to locate an affordable sax through a classified ad and began playing in pop and rock outfits. He spent two years in the South African army following graduation and found himself in the army's Light Horse Band. After turning 20, in 1987, he had gained admission to the Berklee College of Music, the prestigious school in Boston, and later to the New School, where he eventually earned a degree from the jazz division.
"I'm very competitive by nature," Mr. Osher said of his move, just after his 21st birthday, to the United States. "I was at that golden age where you're confident and you're arrogant and you're not constrained by knowing too much. The world stage was what I needed."
As it does to a great majority of new arrivals, New York proved both thrilling and humbling. "There was an incredible amount of energy at that time," Mr. Osher remembered. "It seemed like New York was filled with musicians. You'd hear music coming out of every window of every block in the Village walking down to the river."
He got a job tending bar at the now-defunct La Margarita, and played for the door at the Cupping Room, on West Broadway, and at the Village Gate, at Thompson and Bleecker. "You could walk around from any time of the night until sunrise and just break out your horn and start playing," he said. "The level of musicianship [in New York] was far beyond my expectations—there was astounding talent. The more you learn, the more you realize how little you know. It's an incredibly humbling thing."
A classified ad had facilitated his jazz career and another—this one in a 1994 issue of the Village Voice, for a position with the Soho rental shop Elias Bernstein—would lead him to place it permanently on a rear burner. The brokerage was unglamorous: a barren office on Greene Street with a dozen phones and as many brokers on a call wheel; a standard advertisement that consisted of a phone number and a single word, "Lofts." There were, however, strictly speaking, no lofts. "We had no listings—no inventory," Mr. Osher said, laughing. The atmosphere recalled Glengarry Glen Ross. But it stoked his competitive spirit and taught him to sift strong leads from weak ones. It suggested the possibility of applying creative sensibilities to the business world.
After several years in rentals, Mr. Osher moved to work in sales at Douglas Elliman, which he remembers at the time as a "boutique, Tribeca white-glove firm," and where he posted consistent results as a top downtown agent. Douglas Elliman's elite reputation exercised a deep attraction: "They didn't hire just anyone. For me, it was always very important to be the best." As his business thrived, he worked more in new development, employing pavement-pounding tactics to identify buildings ripe for residential conversion. Among his commissions was a condo on East 73rd Street, in which a company called Midtown Equities was an investor. After the original owner ran into financial difficulties, Midtown took over developer duties.
When the Observer reached him recently by phone, Jack Cayre, a scion of the family that owns Midtown, recalled a snowy Friday afternoon more than 10 years ago, when he called Mr. Osher to introduce himself and, more importantly, to fire him from the project, from which he planned to jettison all original staff. Mr. Osher requested a face-to-face meeting and came across town through the weather, whereupon he prevailed upon Mr. Cayre to keep him on.
As it turned out, the men knew many of the same people, and when Mr. Cayre ran an informal background check, he heard good things. "Shaun was the only person that we retained from that [original] team," Mr. Cayre said, and Mr. Osher and his Elliman team became regulars on Cayre developments. "We had a number of things in development, or in pre-development both in New York and elsewhere, and as time went on, we became very, very comfortable with Shaun, and would bring him on as a part of the diligence process. He became almost like our consigliere."
On the way back from a trip to a Midtown development in Baltimore, during which, Mr. Cayre said, Mr. Osher had "walked through the sales office and given us 30 great suggestions that the best of the best in that market had failed to come up with," Mr. Cayre asked whether he might like to run his own brokerage. And in 2005, CORE—that is, Cayre Osher Real Estate—was born, taking up the banner of innovation and "bespoke" service.          
Since then, CORE has done some $4 billion in sales and grown to include more than 120 agents stationed in three bright glassy offices—on Fifth Avenue, in Chelsea and on Madison Avenue. Presentation is Mr. Osher's forte and the firm's image has been central to its success. CORE's website is perhaps the most seductive in the industry, deploying super-high-quality photos of stylish, well-coiffed agents and meticulously staged luxury apartments in a clean, modern layout. It was an early adopter of social media, Streeteasy and blogging, and a producer for Selling New York, on which CORE agents have starred, has said that the brokerage won a spot on the show in part because of its "cool downtown vibe."
Notable successes have included CORE's rebranding and subsequent sellout of One Museum Mile—formerly known simply as 1280 Fifth Avenue—and the marketing of Walker Tower, the luxuriously catalytic Chelsea condo conversion. Nine new development projects totaling 608 units are due this year, including 15 Renwick, a Soho condo with an audacious, steampunk-themed marketing campaign. Jeff Blau, the CEO of the Related Companies, who originally sought to hire Mr. Osher as an in-house marketing and sales guru—rather than buy his company—told us that he was "one of the most creative marketing and branding people" he'd encountered in the business. And with the aid of fresh capital from Related, an additional CORE office is due to open in Flatiron in the fall, with a fifth office to follow next year.  
'When Fred and John left—that was a lot of our energy," said a former CORE employee. 'They left, and other people started to think, 'What's going on?" '
Mr. Osher insists that his company's boutique culture will be unaffected by the union with Related, which will have him handling the company's New York sales and providing expertise about condo resales, in addition to supplying marketing savvy. But some say that CORE's culture changed long before Related entered the picture. "[Shaun] is a good interview—he's a very charismatic boss and he can woo you in a major way," said one former employee, who joined CORE relatively early on. "He said, 'Listen, this is sort of like the wild, wild West.' It was more like a startup. And then the dynamics changed. It was very abrupt."
In 2010, Brittley Jarrell, who has since become engaged to Mr. Osher—then married to his first wife, the broadcast journalist Lauren DeFranco, with whom he has two children—was hired as chief operating office to manage the firm's expansion, and swiftly doubled the size of the management team. Some brokers felt hampered and under-funded in pursuing their own business; a number of them considered that they were undercompensated, including Joseph Bongiovanni, who sued for $51 million in commissions. (The suit was ultimately dismissed.) Mr. Osher acknowledged that CORE's management style evolved as the firm grew, but considers that even boutique brokerages cannot forever be steered as though they were startups. Still, for some, a bellwether came with the departure of celebrity brokers Fredrik Eklund and John Gomes. "When Fred and John left—that was a lot of our energy," said the former employee. "They left, and other people started think, 'What's going on?' "
CORE had a number of defections during a three-month stretch in 2012, when 10 brokers left the firm. The group included senior vice president Kirk Rundhaug, who went to Douglas Elliman, where he's currently handling a slew of ultra pricey buildings, including Ian Schrager's 215 Chrystie Street and 10 Madison Square West. After just months at the firm, Lawrence Rich, also a senior vice president, boomeranged back to Douglas Elliman.
The following year, Vickey Barron also left for Elliman, taking the last available—and most opulent—of Walker Tower's units with her. "[Mr. Osher] should have just let Vickey Barron do her job," sniped another ex-CORE broker, referring to an alleged disagreement over the pricing of the building's penthouses, one of which ultimately sold for $50.9 million, a downtown record. "He would never have lost that account." Ms. Barron, rather than CORE, was subsequently tapped to handle a pair of additional, similar Ralph Walker conversions, in Hell's Kitchen and in Tribeca. But Mr. Osher, who denies that CORE has an unusual rate of broker attrition, rejected his former employee's account of Ms. Barron's departure. "Nothing could be further from the truth," he said. "If anything, I'm the one who priced those units." The record appears to bear him out. In 2012, Mr. Osher told the Times that the penthouses might be priced at $10,000 per square foot, which proved to be ballpark for the record-setting unit.
Nonetheless, more recent departures include Jarrod Guy Randolph, now at Town Residential—and whom Forbes named to its "30 under 30" list in the real estate category—and Tom Postilio and Mickey Conlon, the dandyish duo known for their role on Selling New York, and CORE's top-producing team for 2013 and 2014. "The issue is that [Shaun] is not comfortable working with his equals," said a broker familiar with the firm's management. "It's the Shaun show. Everyone has their place with him, and it's beneath him. He's a brilliant marketer, but he does not know how to manage. He wants to take credit for everything, which, as the president of the company, is not what you do."
But Jack Cayre, who retains a small stake in CORE, came to his longtime partner's defense. "Look," he said, "Shaun is a natural leader. I saw him take CORE from just him and a few people, to a company that is running and executing on all cylinders."
Though Mr. Osher remains at the helm, Related's purchase of his company has him navigating, all of a sudden, in a much bigger pond. "I'm working now with smarter people than me," he marveled, as we prepared to take our leave. "People who have built empires."