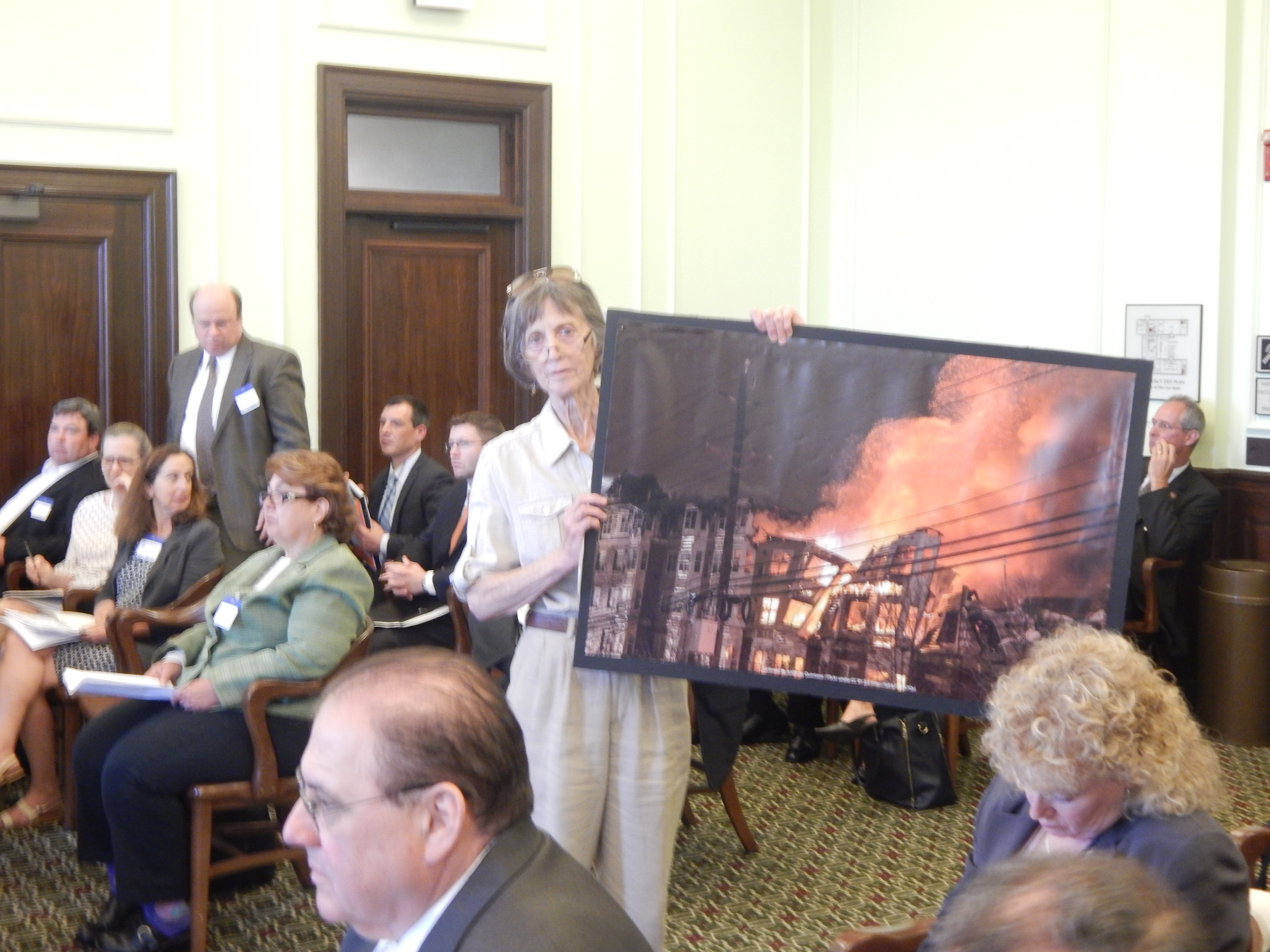 TRENTON – A mixed group of firefighters, labor leaders, local residents, architects and real estate developers descended on a state Senate community and urban affairs committee meeting in Trenton on Monday to debate an issue burning in their minds: should construction code regulations change statewide, especially in the aftermath of a Bergen County blaze earlier this year that torched an Edgewater apartment complex.
The proposed bill, S2824, requires certain new residential buildings to have fire barriers in cocklofts, concrete or steel frames, and fire stops. The measures are meant to deter the type of fast-spreading, five-alarm fire that consumed Edgewater's Avalon apartment complex in January, which left approximately 1,000 borough residents displaced. Local fire officials declared the blaze to be accidental.
"I've seen fires in my time as mayor that are just devastating when you don't have fire stops in poorly, cheaply constructed buildings," said state Senator Brian Stack (D-33), the prime sponsor of the proposed bill, and who is Union City's mayor, before about 50 people gathered at the State House. "We were fortunate that we didn't lose any lives in the Edgewater fire. If that wasn't an eye-opener for all of us, then nothing will be. I think this makes sense not just for property, but for life safety."
Mary Clurman, a Princeton resident, held up a photo depicting the Edgewater fire as she testified in favor of the proposed measure, saying better construction codes are needed all across New Jersey.
"It's been suggested that cheaper building materials made up of wood chips and inflammable resins could be protected by chemical treatments and sprinklers. It's not the case. There are massive fires anyway," said Clurman, concerned that a similar project to the Edgewater apartment complex is now being built in Princeton. "The way that these protections are put in [give] you one hour of time to get out of a building, and that doesn't include the cost of what happens to people, pets, personal possessions, and to firefighters who could lose their lives."
"I don't sit on a committee, I'm a firefighter. I might be one of those guys who might have to go into one of those buildings, or unfortunately stand on top of them," said Eddie Donnelly, president of the New Jersey State Firefighters' Mutual Benevolent Association. "We understand when costs are involved. But when are costs overridden by safety? Senator Stack's bill will save lives. It will protect property. And it will keep the men and women who are out there every day protecting our citizens safer."
George Vallone, president of the New Jersey Builders Association, said that while he supports a uniform construction code that promotes safety, he questioned whether Stack's bill will actually improve the situation.
"Some aspects of this bill, if adopted as currently written, would significantly increase the cost of the most affordable classification of multi-family housing," Vallone said. "Since the Edgewater fire occurred, our position has been consistent. We would like to know where the reports are that say what happened there. We haven't seen them yet. Were things inadequate in the code? If so, we would like to address those things. We still don't know what actually went wrong. The rumor is that it was human error."
"It's scary what's being allowed to go up in New Jersey," Stack replied. "I understand that developers and builders are in this to make a dollar. But we have to talk about the safety of the people who live in these buildings, and about firefighters who wouldn't have a chance because the fire spreads so quickly. We've got to make a change here. And it's not an ad hoc change."
Stack told PolitickerNJ after Monday's discussion-only Senate committee hearing that the proposed construction code regulation bill is expected to move forward toward possible passage after the summer.