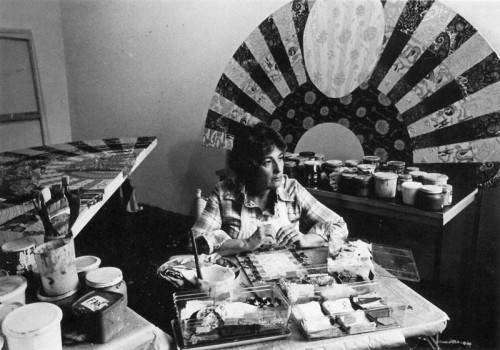 Pioneering figure of feminist art Miriam Schapiro died Saturday at the age of 91. The Elizabeth A. Sackler Center for Feminist Art announced the artist's passing on Facebook, saying, "We are deeply saddened by the passing of Miriam Schapiro whose enumerable contributions to feminism and art have transformed the lives of many."
Schapiro began her career in New York in the 1950s, where she counted abstract expressionist painters Joan Mitchell and Helen Frankenthaler as peers. Even in her early figurative work, she often focused on female subjects. She incorporated photography into her paintings, using images of celebrities like Judy Garland and Gloria Swanson, and appropriating significant artworks from art history that featured women.
When Schapiro moved to California in 1967 she was an early adopter of digital technology for art making. According to the Jewish Women's Archive, she collaborated with physicist David Nalibof to create geometric, hard-edge paintings and drawings using early computer software. She combined her digital experimentation with her expanding interest in feminist activism with the painting series OX (1967-68), a series of orange and pink computer-generated pieces that form X and O shapes, referencing the structure of female genitalia.
She is perhaps best remembered for her work as an educator at the California Institute of the Arts during the 1970s. Along with artist Judy Chicago, she founded the Feminist Art program at CalArts in Valencia, California in 1971—the first program of its kind. In 1972, they took the program off campus and co-directed the collaborative project/space Womanhouse inside an unoccupied, 17-room house in Hollywood. Students included artists Sherry Brody (who collaborated with Schapiro on the work The Dollhouse), Faith Wilding, and Nancy Youdelman. The women of the program transformed each room of the house into installations exploring various feminist issues, staged performances, and held group consciousness-raising sessions.
Schapiro and artist Melissa Meyer coined the term "femmage," in the essay "Waste Not, Want Not: Femmage" in the Winter 1977-1978 issue of HERESIES. They describe it as "a word invented by us to include all of the above activities as they were practiced by women using traditional women's techniques to achieve their art—sewing, piecing, hooking, cutting, appliquéing, cooking and the like—activities also engaged in by men but assigned in history to women."
The artist's work throughout the 1970s and 1980s fell largely into that category: collage with textile and painting, focused on themes of the domestic realm and women's role in society. She primarily used floral motifs, and layered and painted fabric swatches in fan and heart shapes, and lead the Pattern and Decoration movement from the mid to late 1970s.
Artist and writer Mira Schor remembered Schapiro in an essay on Hyperallergic this week, saying, "Her death brings up enormous issues about feminism, legacy, and about the role an artist plays in how she enters a history she helped to create."
Ms. Schor also writes:
She could be quite difficult and many of the important women artists whose lives she touched found themselves alienated from her and yet always retaining their admiration and sympathy for her, despite and perhaps even because of the complexity of her character. Her influence on many women artists' work and her role in many women artists' lives are both enormous.
According to Ms. Schor, Schapiro's dementia contributed to her declining visibility in the art world over the last few decades.
However, in 2011, New York's Flomenhaft Gallery mounted "Miriam Schapiro: Feminist Visionary," a survey exhibition of her work from 1962 through 2008, and her artwork was also included in the landmark 2007 exhibition "WACK! Art and the Feminist Revolution," the first major retrospective of Feminist Art, at MOCA Los Angeles.