Last month, Cannes was inundated with PYTs, models and actors, swanning about with their stylists and make-up artists in tow, flitting from one yacht party to the next, all in the name of the Cannes Film Festival. Fast forward to now and the scene hasn't changed all that much. Although there are far fewer celebrities in the South of France at the moment, plenty of important members of the media and the advertising field have taken over for the Cannes Lions International Festival of Creativity.
For seven days, creative types convene for the annual event, which features seminars, workshops, panels, and award ceremonies. Of course, that doesn't include after-parties, dinners and other alcohol-fueled affairs.
Since the festival kicked off on June 19, Mary J. Blige has belted out a few of her signature tunes at a beach party for AOL and NBC Universal while Pharrell had a total fan moment over Adele during a talk with Ryan Seacrest. Cosmopolitan's Joanna Coles quizzed the founder of Snapchat Evan Spiegel, about his rapidly growing startup and Marilyn Manson got emotional over his failed marriage to Dita Von Teese at a Grey Music Seminar. He somberly noted that they last time he was in town, he was with Ms. Von Teese.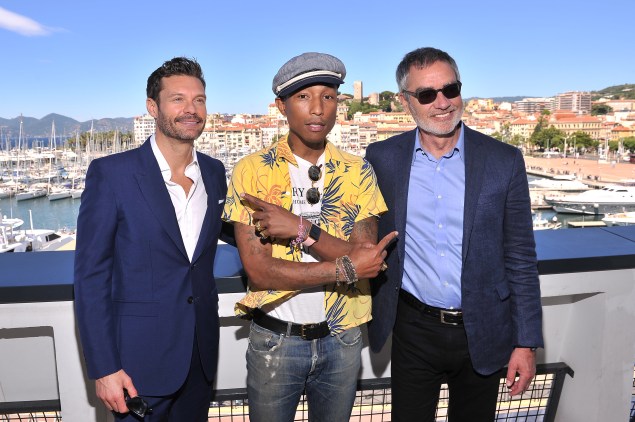 Quite a few more notables are set to hit the Crosiette before Cannes Lions wraps on June 27. That includes Kim Kardashian, who will talk about her hit mobile app game, and Monica Lewinsky, who will sound off on cyber-bullying. Other bold-faced speakers who will be in town include Al Gore, David Guetta and Julia Louis-Dreyfus.
With all that said, what really is the point of Cannes Lions? According to the official website for the event, it is "an unmissable seven days of networking, celebration, inspiration and learning under the Riviera sun."
Which may allow some to draw the comparison between this festival and SXSW, a likeness that isn't far off. While that Austin, Texas event is more about PBRs and Ubers, Cannes tends to favor rosé and yachts. Despite those differences in aesthetics, such a vast mix of musicians, tech entrepreneurs and celebrities seems to be a breeding ground for blood hungry networkers and FOMO-inducing social media posts.
While the festival is often compared to the Oscars – as it recognizes the creme de la creme of the advertising field – the week-long process of handing out awards isn't quite the same as suffering through one evening filled with scores of musical acts and speeches that drag on. Plus, there are far fewer gowns and tuxedos required.
Companies like Apple are reportedly hunting the seaside town for new talent to poach. Venture capitalist are also roaming among the ad execs and creative agency founders, looking to pimp out their latest projects. And this is the place where Vice and Unilever have announced their unlikely partnership.
But regardless of whatever strategic business plans are made or important awards are won, the party scene in Cannes is just as important. After all, the week is sandwiched by both an opening and a closing party. Ones that might be reminiscent of those attended during SXSW.