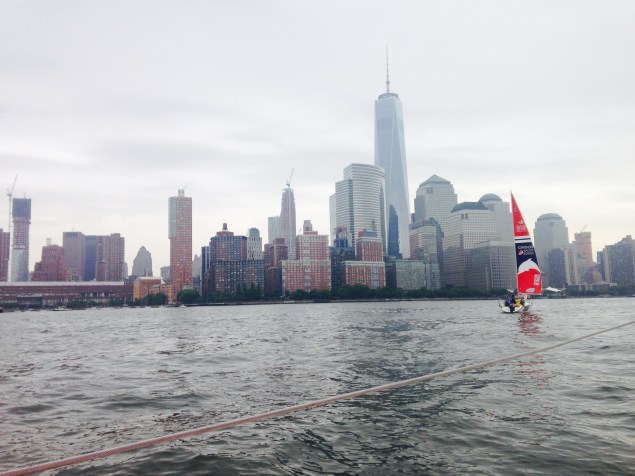 Doris Colgate, the CEO and President of Offshore Sailing School, is very kind. If for no other reason than she didn't mock me when, during a cruise in New York Harbor, the water got a bit choppy and my stomach followed suit. In fact, Ms. Colgate repeatedly made sure I was okay until we shared a collective sigh of relief when I was back on dry land.
The cruise celebrated the opening of a new branch of the sailing school at the North Cove Marina at Brookfield Place in Battery Park City, just one step in the harbor's gradual change from wasteland to playground. Ms. Colgate's husband Steve Colgate (yes, of those Colgates) founded the school 51 years ago, sailing from City Island. After meeting in one of Offshore's sailing classes—proof that one can learn to cruise and find love—a few years later, the Colgates dedicated their lives to teaching people to sail.
"[Our clients] really love when they get out on the boats," Ms. Colgate said. "The more kids and the more adults involved, the more sailing will grow."
At their newest of eight branches, including locations in Florida and the British Virgin Islands, the Colgates are continuing to strive to make sailing accessible. For their official opening this weekend, Offshore has $35 community sails, and is offering $325 weeklong sailing intensives for children aged 7 to 17 all summer long.
"[The children] will be learning how to sail, and that gives them a lot of team building skills and a lot of self esteem," Ms. Colgate said. "They learn to give commands to their peer group and their peer group responds, which is pretty impressive."
The Colgates hope that 50 percent of those kids will be on full scholarships. While there is no exact financial cutoff, Ms. Colgate laughed off one interested father who, at an income of $500,000 per year, hoped to qualify for a scholarship for his kid.
"We're just going to look at each application based on what they tell us," Ms. Colgate said.
"It's an honor system, just like sailboat races always were," added Mr. Colgate, who sailed in the 1968 Summer Olympics.
The Colgates are in way better shape than you've ever even thought of being in. "Sailing is collaborative," said Ms. Colgate as she adroitly pulled on ropes. "It's all about 'How are we going to get from here to there together?'"
The day of our cruise, it was foggy and cold on the water. And as the new students, sporting the yellow raincoats and lifejackets provided, stepped onto the boats—designed by Mr. Colgate himself—with varying levels of trepidation, Ms. Colgate promised that seasickness happens "very rarely."
At one point during the hour-long lesson, Ms. Colgate suggested I take over steering. Our main instructor, Bob Woodring, the Regional Operations Manager for New York Harbor, told us that there are two emotions on a boat—fear and panic. Fear was normal, even healthy he said. But during my turn to steer the boat my knuckles were a shade of blistering white—panic. I was, however, assured this would transform to fear the more time I spent on the boat.
"The more comfortable you are, the more fun it is," said Ms. Colgate, who likes to accessorize her nautical attire with a bright flower behind one ear.
It's impressive how much one can learn about sailing in an hour, but it's even more impressive how much there is to know about it as a whole. Thankfully, a fellow sailor who knew what they were doing soon took over the steering, and we glided back to the docks at a nice clip with a breeze.
Suddenly, I felt like a Kennedy in Cape Cod.