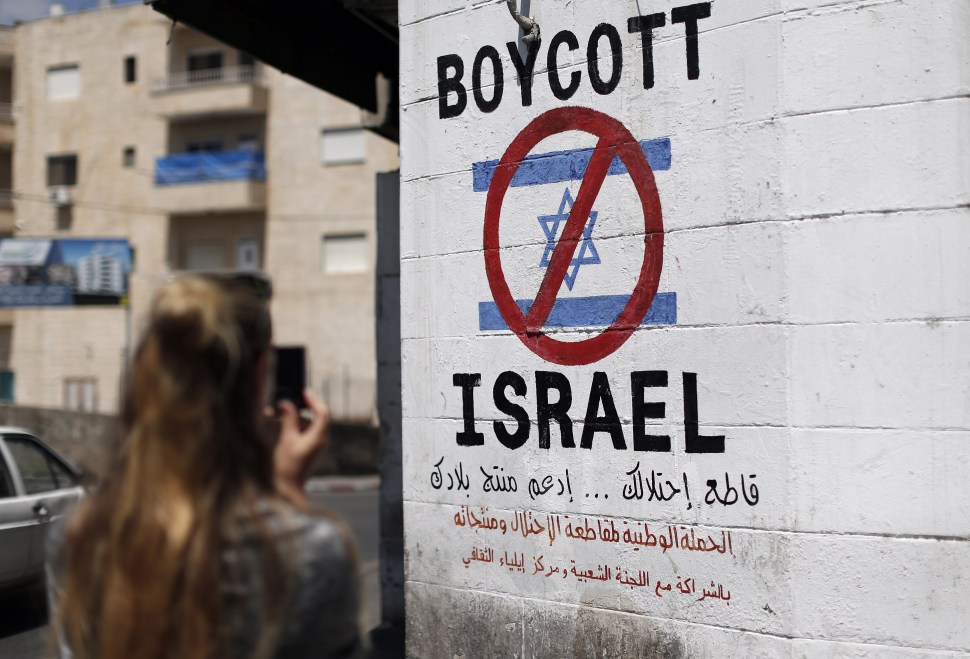 A funny thing happened last Sunday. In a mass email, J Street President Jeremy Ben-Ami attacked me, Sheldon Adelson, and Christians United for Israel for working to counter BDS at a Las Vegas Summit convened by Dr. Miriam and Sheldon Adelson, and attacked us in the name of students.
You would think that J Street, which says it is anti-BDS, would welcome any and all efforts to counter boycotts against Israel. You'd think that when the world's foremost Jewish philanthropist and his wife sit for two straight days listening to 50 presentations from organizations advocating for Israel to hear their funding needs, that even someone as spiteful as Mr. Ben-Ami would hold his fire.
But he couldn't. Worse, he became a double hypocrite.
First, he criticized us for speaking in the name of students, writing "Our students know best what's needed on campus…don't let Adelson and his friends decide for them." Meanwhile, he offers his entire condemnation in the name of students. So much for letting students speak for themselves.
Even more, he condemned "all this money" being thrown at the BDS problem, warning of "donors like Adelson [who] throw around millions."  Meanwhile, his entire attack on us is a bid to raise money. In his email he included an astounding three separate links to his donation page. So using money to solve a problem is good — unless, of course, Sheldon Adelson is doing it.
---

Attack me? I can live with it. But blaming Israel for BDS? That's going a bit too far.

---
I actually don't mind Mr. Ben-Ami's attacks on me. Ever since I forced him to apologize to Ambassador Ron Dermer on CNN in front of a national audience for falsely maligning him, he's been attacking me in a curiously enduring tantrum. Oh, Jeremy, It's time you got past it. You falsely accused the Ambassador. I called you out. You had no choice but to admit your error, and you did. Now, move on and get back to what you do best, which is to attack the Jewish State.
Which brings to me what really bothered me about Mr. Ben-Ami's letter. Attack me? I can live with it. But blaming Israel for BDS? That's going a bit too far.
Here's Mr. Ben-Ami: "It's clear who is most likely to be the biggest loser in all this: not BDS, but Israel, and the students who know that the best way to be pro-Israel is to be anti-occupation and pro-peace."
Get it? BDS is caused by Israel's occupation. Hence, it can be remedied, in Mr. Ben-Ami's vision, by students being anti-occupation.
To be sure, this is classic J Street, blaming Israel for everything. In the world of Jeremy Ben-Ami there is little that Israel can do right. Except, here especially, he does so even when all the facts are stacked against him. So Jeremy, put your animus toward Israel aside for a moment. Let us look at the matter critically.
BDS is not about opposing occupation. If it were then none of its proponents would ever use an iPhone since China has been occupying Tibet since 1951. Nor would they sip Turkish coffee since Turkey has been occupying Cyprus since 1974. They wouldn't even drink Stoli Vodka since it's made in Russia, which is occupying Crimea.
Less so is BDS about Palestinian rights because if it were it would be boycotting Egyptian cotton for their destruction of hundreds of Palestinian homes on the Gaza border last October to stop Hamas from smuggling weapons. Moreover, it would condemn Lebanon for employing a brutal Apartheid regime against Palestinians, who are forbidden from becoming doctors, lawyers, and bankers — and are subject to hundreds of other crippling restrictions.
BDS, moreover, has no interest in protecting Arab life. If it did it would be boycotting Syria for murdering 200,000 Arabs.
---

Yet, even as BDS leaders openly admit their goals to destroy Israel, and even as the movement's anti-Semitic lifeblood is perfectly apparent, J Street and Jeremy Ben-Ami still thinks this is about the occupation.

---
BDS has no interest in promoting Arab human rights. If it did it would be divesting from Saudi Arabia, Jordan, Egypt, Qatar, Syria, Lebanon, and every other Arab country where Arabs are denied the most basic rights like freedom of press, freedom to protest their government, and the freedom to vote — all of which are guaranteed to Arabs only in Israel.
Rather, BDS is driven by a malignant pulse of anti-Semitism, and its primary objective is the economic destruction of the world's only Jewish state and the Middle East's only democracy.
Having tried and failed to destroy Israel on the battlefield, they now intend to do so in banks, firms, and supermarkets.
BDS is akin to Napoleon's Continental-System, which sought to cut the English off from their markets, forcing them to deplete their gold reserves and succumb to economic submission. As in the case of BDS, Napoleon also tried to defeat England militarily, but had his Navy destroyed at the Battle of Trafalgar in 1805. Without any way of invading the English mainland, the Emperor and general sought to destroy the English nation by forcing continental-European nations to cut off all trade with England, isolating the island nation and forcing them into an inevitable bankruptcy. But it is, of course, far worse, since BDS seeks to demonize Israel utterly.
BDS is Hitler's U-Boats, which patrolled the Atlantic trying to sink any ships bringing supplies to England. Again, the objective was to isolate the nation and prevent it from obtaining the means to defend itself. BDS, which so often tries to get foreign governments to stop arms-sales to Israel, has a remarkably similar objective. So dire was Hitler's form of isolation-warfare that Winston Churchill would write "The only thing that really frightened me during the war was the U-boat peril.
In short, BDS is an act of war.
The movement's leaders, however, make no secret of the objectives of BDS. Omar Barghouti, one of the cofounders of the BDS movement openly calls for his version of the "one-state solution" — which, for him, means the disappearance of Israel and the establishment of a single state ruled by the Palestinians in what was Israel, the West Bank and Gaza Strip.
Yet, even as BDS leaders openly admit their goals to destroy Israel, and even as the movement's anti-Semitic lifeblood is perfectly apparent, J Street and Jeremy Ben-Ami still think this is about the occupation.
It's not, Jeremy, and opposing this "occupation" isn't going to change a thing. Not until the Israeli Occupation of Tel-Aviv, Haifa, and Beer Sheva is reversed as well.
Stop blaming Israel, if not in everything you do, at least in those moments where every fact is stacked against you.
Shmuley Boteach, "America's Rabbi," whom the Washington Post calls "the most famous Rabbi in America," is founder of The World Values Network and is the international best-selling author of 30 books, including The Fed-up Man of Faith: Challenging God in the Face of Tragedy and Suffering. Follow him on Twitter @RabbiShmuley.