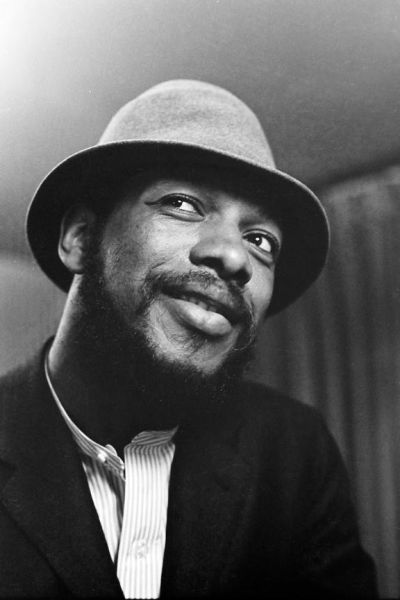 Ornette Coleman, the jazz musician and composer who freed jazz from the confines of chord changes in the late 1950s, died Thursday morning at 85. The cause was cardiac arrest. In his long, searching career, Mr. Coleman produced a staggeringly broad range of music, including his groundbreaking record The Shape of Jazz to Come (1959), the concerto Skies of America (1972) and Song X (1986), which he recorded with the guitarist Pat Metheny. His influence was far reaching, extending well beyond jazz to classical music and punk. But every jazz musician, it seems, has an Ornette Coleman story. Here are some of them.
James Carney
Pianist and founder of Konceptions Music Series
The first time I saw Ornette Coleman live was in my hometown of Syracuse in the summer of 1986; the next month I moved West to begin my studies at CalArts with Charlie Haden and the other fine faculty members.
I remember the concert vividly. It was the Song X tour with Charlie Haden, Denardo Coleman, Jack DeJohnette and Pat Metheny. It was at the Onondaga County Civic Center, and it was packed, probably sold out. I also remember that the concert had been heavily promoted on the radio using Pat's "Phase Dance" track from the first Pat Metheny Group album.
'We've all gained from Ornette's life and explorations, so we are not sad today,' said Sonny Rollins. 'We're appreciative and thankful.'
So, in a way it wasn't surprising when huge numbers of "over-challenged" people started to leave within 10 minutes, but it was also incredible to see the effect that Ornette had on those that stayed. As the concert progressed, people were standing and cheering like it was a Zeppelin show. It was beyond powerful. I didn't understand the music, but I knew it was the real thing, and it moved me. When they played "Kathelin Gray" I felt an incredible wave of emotion, and it seemed as if a bunch of auditory nerves collectively merged inside my body for the first time. It was truly devastating, and at the end of the performance I knew I had just heard a completely unique and incredible genius of improvisation and composition.
Josh Sinton
Saxophonist
I'm continually surprised by the power of humanity. That a man could extend himself through a reed and a cone of brass and communicate himself so fully and beautifully to me and so much of the world. It leaves me breathless and inspired and quite elated. I will carry some vibration of Ornette Coleman for the rest of my life. And isn't that a kind of magic?
Ohad Talmor
Saxophonist and founder of SEEDS in Brooklyn
About 15 years ago, I sat in between Ornette Coleman and Lee Konitz at a ceremony where Ornette received the French Légion D'Honneur. We started talking about orchestration. He asked me, "How many pieces you using right now?" Then went on to describe the weight and solar quality of the tenor saxophone versus a trumpet, carrying on for 20 minutes about the magic of each instrument. I drank every word with both delight and utter confusion. Ornette never used the words you'd come to expect in a conventional setting, rather borrowing ones from a universe he crafted himself. Same with his music, a music which has been part of the fabric of my own language since day one. A true creator whose path we all walk on today.
Nels Cline
Guitarist, member of Wilco
I am saddened by the news of the passing of one of the truest mavericks in the history of music—all music. Ornette Coleman was more than a musician, more than a composer. He was a visionary, a man who made real the most subtle of dreams, as well as those most powerful and earth-shattering. Today, as I sit here and try to come up some appropriate words, the word "courageous" keeps resonating. Uplifting, challenging, perplexing, inspiring; the deepest of blues, embracing life with the force of fire, a coolness of style, and tender tears of love.
Fred Hersch
Pianist
As I listen often to Ornette's early albums on Contemporary (particularly Tomorrow Is The Question!), it's hard to see what all the fuss and anti-Ornette sentiment was about. That music is beautiful, lyrical and swinging—and you hear a lot of Charlie Parker in it. If Louis Armstrong was the first great soloist to break away from the ensemble and raise the bar harmonically and technically; and be-bop (Bird, Diz and Monk) took jazz away from dance music and re-fashioned it as sophisticated listening music; then Ornette was the third great revolutionary who said "f&&k the changes, let's make them up as we go a long and create some new kinds of melodies." His sound and his soul and his impact will be felt as long as there is jazz music.
Calvin Weston
Drummer, played with Ornette Coleman
I was very, very young when I started playing with him, like 17. The influence that he had on me opened my mind, my soul, my heart to the sound of melody and music—to be free with what I'm playing through my emotions and what I hear. He taught me how to play melodies on the drum. He also influenced me through the trumpet and violin. I never took a lesson on either one of them, but listening and looking at him play these instruments, I had to go and buy them. Ornette set me free.
[protected-iframe id="43c9060696953552b41e6a9a7a26f82c-35584880-46107883″ info="https://www.youtube.com/embed/DNbD1JIH344″ width="635″ height="360″ frameborder="0″ allowfullscreen=""]
Kenny Wessel
Guitarist, played with Ornette Coleman
When I first joined the band, Ornette said to me, "You're playing road maps … I don't want you to play what you know, I want you to play what you don't know." That was challenging, frightening, expansive, inspiring, affirming and beautiful. This feeling was not unusual—often, conflicting or seemingly contradictory threads of thought, logic or music would weave seamlessly throughout interactions with Ornette. I would find that by opening up, some truths or surprising insights would be revealed that were right under my nose but blocked by preconceptions or linear thinking. Ornette was always pushing us to dig deeper to find the music. He embodied that spirit of searching, emotional truth and self expression. His words "Play yourself" have always resonated with me, and his music and life are a moving example of the power, depth and beauty of that lesson.
Jesse Stacken
Pianist
A lot is said about what Ornette did in regard to harmonic freedom. But to me, that freedom was really there to free the melody. Ornette was a master craftsman of melody. I love his melodies, both composed and improvised. He was one of those rare human beings who, when you heard him play or speak, made you realize how self-limiting your own thinking is.
Sonny Rollins
Saxophonist
We've all gained from Ornette's life and explorations, so we are not sad today. We're appreciative and thankful.
Peter Epstein
Saxophonist, director of jazz and improvisational music at the University of Nevada
It is of course very difficult to put into words—nothing about Ornette was ever easy to put into words! – but for me it's always seemed like he discovered some kind of rare alchemy where he managed to simultaneously play music/sounds no human had ever heard prior to them being made and then, at the same time, those sounds communicated more directly, made more sense intellectually and spiritually, were somehow more familiar, than any other musical example one might refer to.
Without a doubt, his influence goes far beyond jazz or even music. In a huge broad sense, Ornette has always represented for me a prime example of someone who is different, so different that for many he was seen as threatening, and yet he seemed to walk through the world with nothing but kindness and love. But that kindness and love never made him compromise in order to make the threatened feel more comfortable. Instead, he courageously maintained the highest level of artistic integrity for decades—on an extremely rare if not singular level. In short, I think he serves as an excellent patron saint for anyone who feels misunderstood, maligned, or unfairly judged—no matter how far from societal norms one may find themselves: philosophy, art, race, gender, whatever.
Joe Lovano
Saxophonist
From an early age I was in Ornette's audience. His tunes and titles gave me direction: The Shape of Jazz to Come, Tomorrow Is the Question!, Beauty Is a Rare Thing, Love Call, Broadway Blues, The Art of the Improvisers and New York Is Now are just a few. All of a sudden I was in New York, on the scene playing with Paul Motian, Charlie Haden, Carla Bley, Dewey Redman, Ed Blackwell, Billy Higgins and others folks from within his inner circle. Thank's Ornette for opening the door and letting me in!
Gilad Hekselman
Guitarist

One of the things Ornette taught us, I believe, is that no matter how different the music that you're hearing in your head is, if you do it from a place of complete honesty and a true place of humility and search, eventually everyone else will agree and follow. Thank you, Ornette, for that and everything else!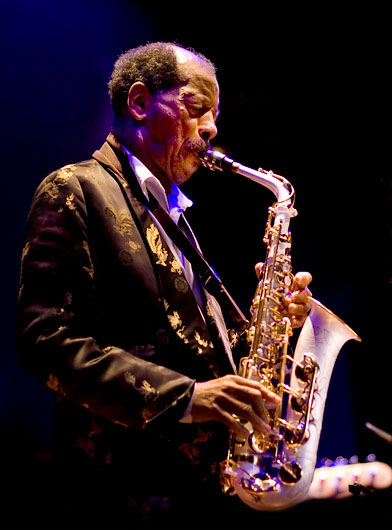 Vijay Iyer
Pianist
Ornette Coleman was one of the most important American artists of the last century. His influence runs far and wide—from the creative music movement of the 60s and 70s to Fluxus, punk rock and performance art. He was in dialogue with artists, scientists and poets, and his music reflected his world, connecting blues aesthetics to a cosmopolitan experimentalism. He was a musician of ideas, and yet, to borrow one of his titles, his music always was resplendent "Of Human Feelings." He lives on in the music of today—in the work of artists such as Wadada Leo Smith, Roscoe Mitchell, Henry Threadgill, Matana Roberts, Rudresh Mahanthappa, Greg Ward, Tyshawn Sorey, Hafez Modirzadeh and hundreds more.
Roy Nathanson
Saxophonist and poet
Listening to Ornette and his group at Slugs in the early 70s changed my life. I couldn't (and still can't) believe someone could be so passionate, lyrical and intelligent with sound. That a saxophone could be so personal. That it could float over a rhythm section with such majesty or embed itself into its propulsion with such original power. That melodies could be so complex or so simple or be both simultaneously. That anyone's music could explode with such a combination of precision and abandon that rules could be broken and adhered to with the chaotic logic of language itself and make such deep meaning. That a melody like "Lonely Woman" played the way Ornette plays it can even exist. His was the live music that made me want to devote my life to the saxophone and meaning surrounding music.
It's impossible to overestimate how important his musical and philosophical contributions have been to this world we all struggle with.
Jamaaladeen Tacuma
Bassist, played with Ornette Coleman
Ornette Coleman was a musical visionary, a teacher, a gentleman and a father figure to me. With his original and game-changing approach to Western musical formats, he changed the way we all listen, perform and appreciate music through Harmolodics. With this influence and understanding I was blessed to blossom as a bass guitar instrumentalist, composer and most importantly a better human being. Thank you God, and thank you, Ornette Coleman
Greg Osby
Saxophonist
But not for Mr. Coleman's tenacity, curiosity and fearlessness, modern music would not exist as we know it. As a generation, we all owe him a tremendous debt of our collective gratitude.
Ezra Weiss
Pianist and bandleader
You know, like Ellington and Bird and Miles and Trane, Ornette had something to say and knew how he wanted to say it. And the way he said it changed the course of music. He opened up doors for what is possible as a creative musician. He opened those doors long before I was even born, so I appreciate and admire all that in more of an academic way. But in a more visceral way, I'm struck by how even when you don't consider all of his innovation and influence, and you just sit and listen to his music, he still stands up as one of the most personal, dramatic, spiritual, joyous, and honest voices I've ever heard. Thank you for all the beauty, Ornette!
Greg Cohen
Bassist, played with Ornette Coleman
Coleman was a child of God.
And as such, he has returned to God's hands.
His belief helped shape his life and music.
His melodies were evocations of the spirit.
With deep roots in the Gospel.
Those melodies, woven together with the golden threads
of harmony, threads that only freedom knows in its robe.
He sought to play his music in his way.
And asked all of us lucky enough to join him,
to honor this belief.
And honor it by playing this counterpoint of freedom
without the constraints or dogma of other musics,
and construct it in a braid of pure light.
Coleman's voice always rang out loud and clear.
A beacon for us to follow. You could either follow that light … or not.
But if you could follow it, magic happened.
Ornette, I know you are following the sound.
Thanks for showing us the way.
Ralph Alessi
Trumpeter
Ornette showed us all what an improviser can be on the deepest level. A musician with an individual sound and expression, devoid of category, body and thought-provoking, joyous and free.
Josh Roseman
Trombonist
I have many stories, I grew up in his sound and it's impossible to pick out one favorite remembrance from this giant, but I remember one thing that happened back in the late '90s. He was playing onstage at the Berklee performance center with the Song X band—which was really so exceptional—and at the end of "Kathelin Gray," over a soft, shifting panoply of arco, cymbals, rumbling analog drumpads and perhaps a high-res, low-octave chamber string pad Pat had conjured—one gorgeous, sweet, willowing note escaped into the ceiling from Ornette's bell—his exact intonation sounded like every Christmas mouse, like a tendril from a pipe, so fun, tender, and everyone said "AWWW!" all together, every last person in the entire auditorium. I grew up there, and I'm sure that I fell deeply in love with my city that day for loving Ornette back, for getting it and for exhaling together.