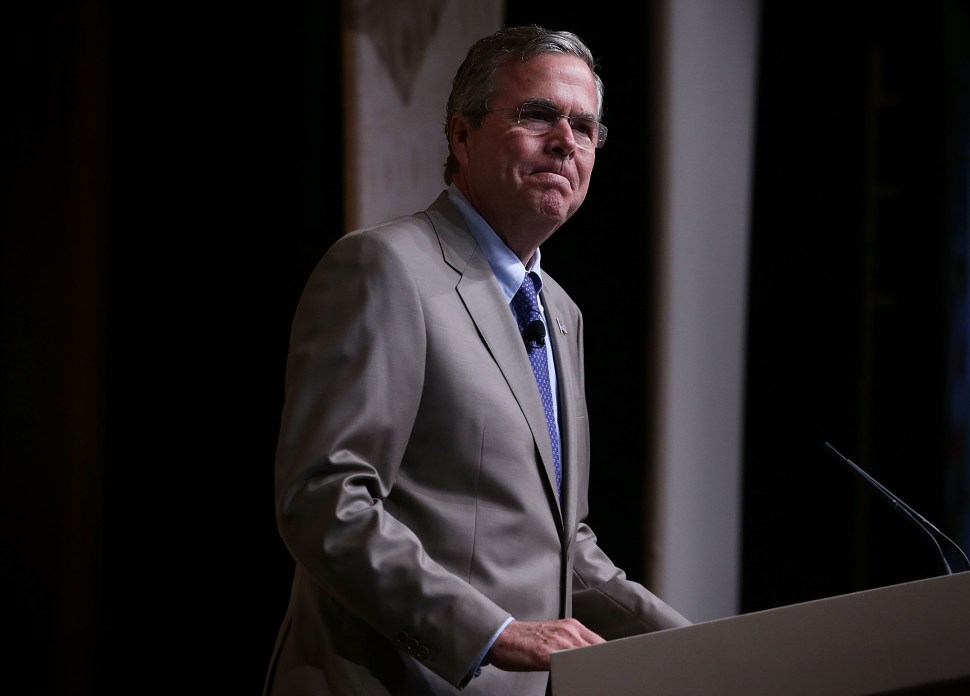 Jeb Bush has been Hoovering up campaign cash in the Northeast, surprising some with the strength of his appeal in what should be considered Chris Christie's neighborhood. Yesterday the money train continued, making two New York City stops.
The first was a breakfast at the Sheraton, hosted by a who's who of Republican money bigs. Event co-chairs included Mel Immergut, the super lawyer who is the former Chairman of Milbank, Tweed, Hadley & McCloy; Bob Foresman, who was Jeb's partner at Barclay's and is now CEO of the firm's Russia operation; hedge fund manager John Paulson, who CDS'ed his way to a $4 billion profit betting that the housing market would crash in 2007; and John Catsimatides, the supermarket and oil well mogul who ran unsuccessfully for the GOP nomination for mayor of New York City in 2013.
Also notable were the strong showing of New Jersey co-chairs and attendees, worth mentioning given the long Christie shadow. Woody Johnson, the Jets owner who is one of the national chairs of Jeb's campaign and Joe Kyrillos, the close friend of Gov. Christie who surprised many by supporting Mr. Bush were among the co-chairs. Gail Gordon, a prominent NJ GOP fundraiser who had been on Christie's finance committee, also attended, as did Ira Perlmuter of Triple Five, the private equity fund that owns the Mall of America and other colossuses.
In addition to the Jersey strength, Mr. Bush flexed real muscle among prominent Jewish donors, including George Klein, the developer and former president of the Republican Jewish Coalition and Jay Lefkowitz, the brainy Kirkland and Ellis lawyer who also had the easy-peasy job of being President Bush's Special Envoy for Human Rights in North Korea.
There were even some two-fers—Jews from New Jersey. South Jersey lawyer Hersh Kozlov was there, as was former Cliff Sobel, who squawked like crazy when the Observer identified him as Bush supporter in an earlier story. He's apparently still hoping to thread the needle; he'd clearly like to back the brother of the man who made him ambassador to The Netherlands and then to Brazil without angering his home-state governor too egregiously. To that end, Mr. Sobel declined to appear on the invitation itself—his son Scott Sobel was listed—but the Observer has confirmed that Cliff did indeed attend.
After the well-publicized Sheraton event with dozens of co-chairs, Mr. Bush headed to an equally impressive although quieter—and thus far unreported—event. Mr. Bush's cousin, George Herbert Walker IV, is the chairman and CEO of Neuberger Berman, the largest private, investment management firm. Mr. Walker hosted Jeb for lunch yesterday, again flexing the kind of reach that has made Mr. Bush the clear finance frontrunner among the large GOP field, if not necessarily the political frontrunner.
According to Ms. Gordon and others to whom the Observer spoke, the Sheraton was packed. "I was a co-chair, which means the buy-in was $27,000 by the end of the month," explained Ms. Gordon, referring to the requirement to find 10 "max out donations" of $2700 each. "It was a vigorous, well-attended event and the enthusiasm was so strong we're parlaying it into two more events." Ms. Gordon is referring to a pair of July 23 fundraisers in New Jersey itself, the very existence of which is a shock, given the totality with which Mr. Christie shut down Jersey support for all contenders in 2012 until he decided to endorse Mitt Romney and brought all 21 county chairmen with him.
The July fundraising twilight-doubleheader begins in Monmouth County, where Mr. Kyrillos and Larry Bathgate, a power lawyer who served as the Republican National Committee's finance chairman, are establishing a large committee. According to an email obtained by the Observer, anyone "joining us as an Event Co-Chair with a pledge to raise $10,000" can be listed on the invitation. According to one source close to the event, expectations are high—"1-2 million is not out of the question—for the event, which will take place at the tony Navesink Country Club, right in the heart of popular State Senator Kyrillos' district.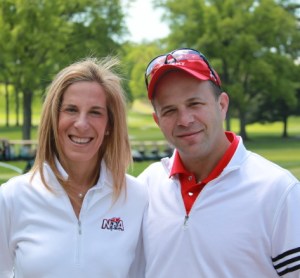 Determining which New Jersey Republicans would break ranks with the powerful home state governor has become a parlor game in the Garden State. The Observer was the first to report many of the GOP names supporting Jeb listed in this February story, and also detailed surprising support for Scott Walker. On Monday, the Star-Ledger revealed that Marco Rubio would be coming to Colts Neck in August for a fundraiser at the home of Juan and Marta Gutierrez, Cuban exiles who supported President Bush. The Observer is now the first to reveal that the second event on July 23rd will be hosted by Bill Cohen and Larry Wieseneck in Mr. Cohen's Short Hills home.
While it's long been known that Mr. Bathgate, Ms. Gordon, Mr. Kozlov and Mr. Kyrillos would be supporting Jeb Bush, the names Cohen and Wieseneck are new to Jersey politicos, a further sign of Jeb's ability not just to win over experienced fundraisers but to cultivate new ones. Both men were colleagues of Jeb's at Barclays, where Mr. Cohen is the vice chairman of investment banking and Mr. Wieseneck, who lives in West Orange, used to be the head of structuring. A search of public records (which are imperfect, especially with a relatively common name like Cohen) revealed no federal donations from Short Hills and Larry Wieseneck, who lives in West Orange, was also not previously on any political radar; he gave to no federal candidates in 2014, though he did reliably contribute a couple hundred bucks a month to Barclay's PAC and gave $3500 to Romney and $1000 to Scott Brown in 2012.
With Chris Christie expected to announce his candidacy on Tuesday, there is every chance that the brawler-in-chief will re-exert the discipline that saw him leading a state party that spoke with one voice in 2012. But so far Jeb Bush has proven—and Marco Rubio and Scott Walker are adding their voices—that New York and New Jersey are wide open for political business.