When one is the founder and president of an investment firm with some $850 million under management, there's no sense in playing the pauper when it comes to one's personal real estate. Four bedrooms? The more mattresses to hide money in, the better! Wood paneled library? What else would you panel the library with? A frescoed dining room? But of course.
Naturally, Brian P. Friedman, the founder and president of Jefferies Capital Partners, may want to freshen up the palatial co-op he just picked up at 910 Fifth Avenue (we hear he's planning a gut renovation), but we're certain his modifications will be of the same standard, if not the same taste, as the stylings preferred by the co-op's former owner, the late Mexican cement tycoon Lorenzo Zambrano.
Zambrano, who built his family's cement company Cemex into an international behemoth spanning five continents before he died last May, had an obvious love of marble, porticoed vestibules, columns, ornate rugs, elaborate Elizabethan murals and tufted furniture. None of which dissuaded Mr. Friedman from paying the full $16.5 million ask for the apartment, according to city records.
Mr. Friedman has been the pad's rumored buyer since February, when PageSix reported that Mr. Friedman was in the midst of negotiations—not a bad pick-me-up in the wake of the Sage Kelly fiasco, a scandal involving a banker at the firm whose soon-to-be ex-wife lobbed splashy accusations of drug use and sexual escapades at her spouse during divorce proceedings.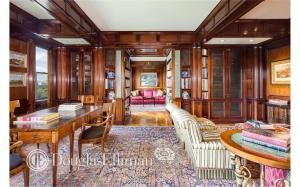 Even given Mr. Friedman's remove from all accusations, perhaps a somewhat dowdy apartment is not a bad way to go. And while the decor may be a bit fussy for many tastes, the 12th-floor apartment has much to recommend it, according to the listing held by Douglas Elliman's Frances Katzen and Nicole Krinick. There is, for example, more than 45 feet of Fifth Avenue frontage overlooking the Park, a sun-filled library, 11.5-foot ceilings throughout, a capacious kitchen and plenty of marbled baths.
Ms. Katzen, who declined to comment on the buyer, nonetheless pronounced him "the perfect candidate for the building" and confirmed that a total overhaul was in the works. Nonetheless, she said, the apartment's condition "was excellent" and "the viewline superb."
It is, in other words, an ideal master of the universe perch. Master of the universe, though not any canines of cats: the white glove co-op has a no pets policy.