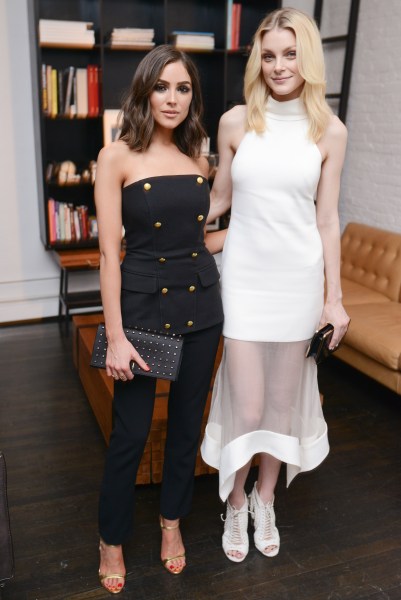 Last night Camilla and Marc marked the arrival of their Resort 2016 collection with an intimate supper party. Among Marc Freeman and Camilla Freeman-Topper's list of important dinner guests was co-host Jessica Stam and petite starlet Olivia Culpo, who are offering up pristine examples of dressing for the occasion. Both in crisp silhouettes from Camilla and Marc, these two are on opposite spectrums of summer dressing, pitting a sharp black ensemble against a flowing white shift.
Mock-neck detail? Check. Sheer, playful panel? Absolutely. Tasteful handkerchief hem? Present. Hitting a trifecta of summery trends, Ms. Stam looked cool, chic and collected in her little white dress from the brand's Resort 2016 lineup. This is the kind of frock that could be worn a handful of times to number of different events, each featuring a slightly different dress code. Here, the model opted for a polished look with a tousled blowout and a pair of peep-toe booties, but for a casual evening at the Surf Lodge in Montauk, a shrunken denim jacket and some smart sandals would delightfully dress down this number.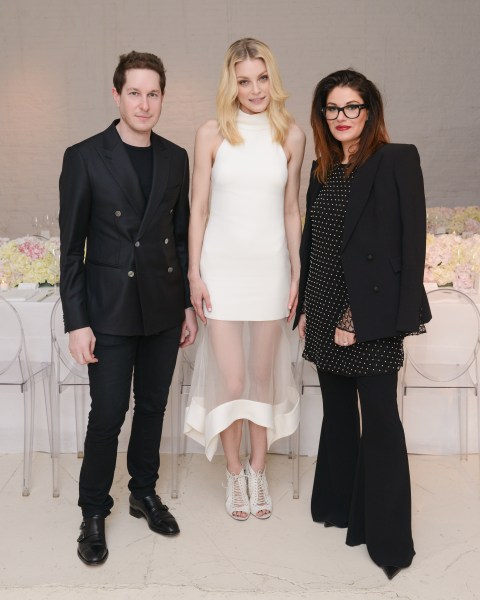 Meanwhile, Ms. Culpo, who is not well-known for a being a style icon, certainly rose to the occasion. Her modern pantsuit was pristinely tailored and a welcome interruption from summer's usual barrage of sundresses. This strapless jacket with a double row of gold buttons is relatively modest for the young starlet, whose main claim to fame at the moment seems to be her relationship with a Jonas brother. But her strappy gold sandals added a necessary pop of skin to keep this outfit more attune to a stylish dinner soirée rather than a Wall Street get-together. So whether you're team dress or team pantsuit this summer, there are plenty of stylish lessons to learn here.