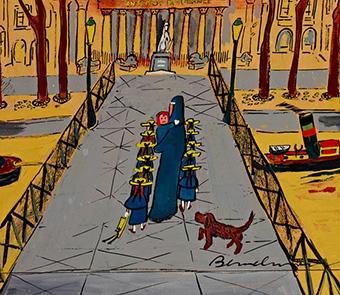 All aboard the Hogwarts Express!
Tomorrow, June 4, Sotheby's will feature a unique sale that includes a wide selection of children's books and illustrated works. Among the highlights — check your bookshelf — is a first edition of the 18-year-old book by J.K. Rowling, Harry Potter and the Philosopher's Stone. One of only 500 original hardbacks printed in 1997, it is expected to sell for anywhere from $29,000 to $45,000.
These days, most people cannot afford to collect masterpieces. But even as the booming "famous-name" fine art market excludes a wider and wider percentage of the population, rare book collecting is increasingly seen as a tempting and a fairly accessible field, at least according to Philip W. Errington, director and specialist of Books & Manuscripts at Sotheby's.
During a recent Sotheby's book auction, for example, a first issue of Sir Arthur Conan Doyle's The Hound of the Baskervilles (1902) sold for just $5,347, and this June, buyers can snag a first edition copy of The Gremlins (1943) by beloved British children's author Roald Dahl for an estimated $2,234. Too expensive? Sotheby's is offering a first American edition of Little Men (1871) by Louisa May Alcott for around $300.
But if your interest is more as a seller than a buyer, you might want to know that Dr. Seuss' Green Eggs and Ham, a Beginner Books/Random House first printing of 1960, has sold for $5,400 at a San Francisco auction, though most early Seusses trade below $1,000. Other highly collectible authors are E.B. White and Christopher Milne, and there's even solid demand — particularly on eBay — for the early works of Carolyn Keene, better known as the author of the "Nancy Drew" series.
There's also opportunities if this phrase rings a bell: "In an old house in Paris that was covered in vines, lived twelve little girls in two straight lines …" Those are the opening words of Ludwig Bemelmans' beloved children's classic Madeline, and a first edition of the circa-1939 book goes on the block tomorrow with suggested bids starting at about $1,700.
The books in the Sotheby's auction are from from the library of a single, anonymous consigner simply described as an "English Bibliophile." The assemblage of his works is so extensive that beginning in October 2010, Sotheby's began dividing the sale of his library into several parts, with future sales from the mystery man still to come.
The June auction, Part IV of the Library of an English Bibliophile, will focus exclusively on works from the collecting category of children's literature, a class that is particularly global and accessible to the public. After all, who hasn't heard of Winnie-the-Pooh or Paddington Bear, Harry Potter or Lassie? These classic collectible books have infiltrated our culture, spanning far and wide into other mediums, including film and consumer products.
"There is something very lovely about the collecting of children's books," said Mr. Errington. "As children, we often read a vast number of books and those books can actually go on to form the type of character we become. People collect titles that they remember from childhood and have an obvious, immediate connection to books that they may not have read for 30 or 40 years."
Also featured is a first edition of Kenneth Graham's The Wind in the Willows (1908), complete with a dust jacket and autograph letter, anticipated to bring in upwards of $89,000.
How are these prices set? Even as the market for rare books may sound ever-so appealing, it can be hard for beginners to figure out and navigate. (A leading reference guide to book collecting, John Carter's ABC for Book Collectors, is available for free download on the website of the International League of Antiquarian Booksellers.) Auctioneers typically begin valuation by assessing the book's value at auction by records of past performances, as well as the book's value in the book trade. The book market is a very old and established market, with a long history that can be readily gauged. In fact, Sotheby's started out in 1774 as a book auctioneer.
After analyzing databases and auction records, auctioneers then turn their attention to the more specific, "special" qualities of the individual item for sale. Features like condition, rarity, whether the book is signed or inscribed to someone, the notoriety of the book or author, whether it has its original dust jacket, whether it has been restored and how well, and other touchstones are considered important metrics to collectors.  For example, the June auction at Sotheby's spotlights an inscribed first edition copy of J.R.R. Tolkien's The Hobbit for an estimated $74,480 to $104,272. The book, which comes in an original dust jacket, features four lines in Elvish from Mr. Tolkien to a friend.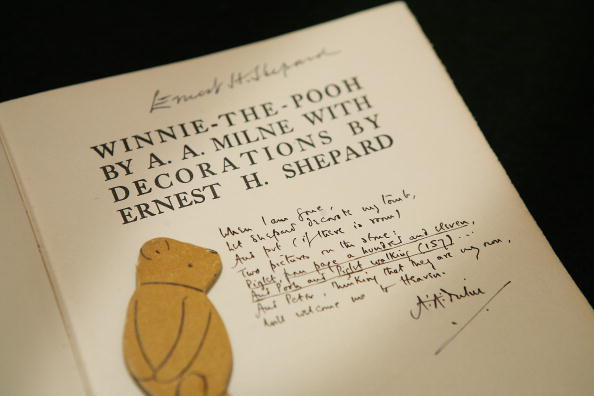 One huge "Buyer Beware": When it comes to children's books, condition tends to be an all-important issue, as it is harder to find older copies of childhood texts in very fine condition—due to wear by child readers.