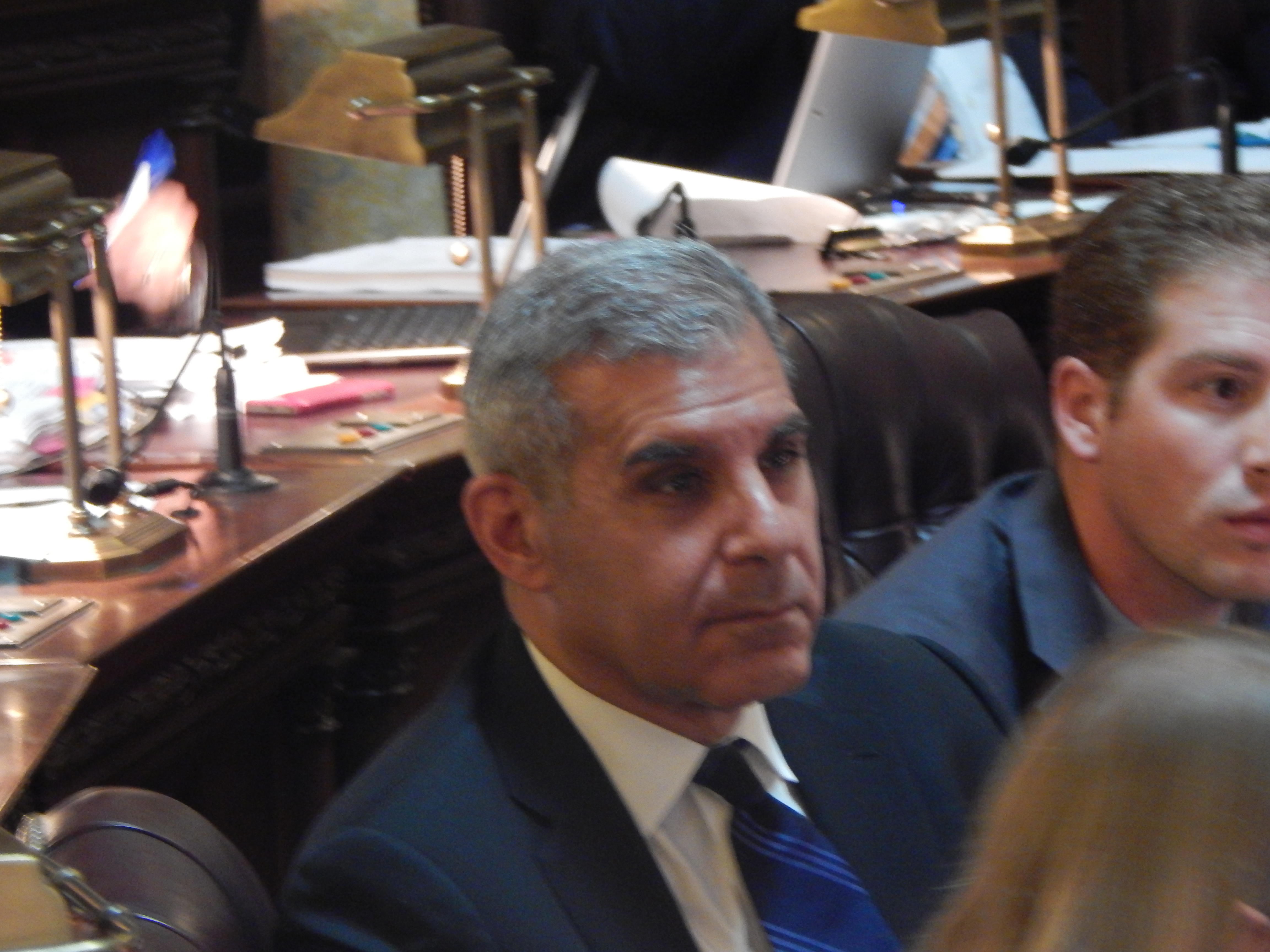 TRENTON – Moments after voting on budget matters on the Senate floor, state Senator Joe Kyrillos (R-13) made it plain where his vote lies on a matter close to the bone: New Jersey Governor Chris Christie, his fellow Republican and former close ally who will reportedly announce his 2016 presidential bid next Tuesday.
Kyrillos, whose erstwhile strong bond with Christie was both political and personal, has emerged in recent months as one of the prime defectors of leading New Jersey Republicans who have turned against Christie as the wheels began to fall off the governor's nascent photo-campaign. Kyrillos' very public volte-face includes his lead organizing role in a fundraiser scheduled next month in the state Senator's native Monmouth County for former Florida Governor Jeb Bush, son of former U.S. President George H.W. Bush and one of the most prominent of Christie's 2016 GOP primary rivals.
When asked point-blank by PolitickerNJ if he is either going to the Christie presidential bid announcement event, purportedly to take place next week at Livingston High School, Christie's alma mater, or whether he is backing the Garden State governor's 2016 run, Kyrillos was politely blunt.
"You know what? My actions have spoken for themselves until now. Read the clips on PolitickerNJ," Kyrillos said with a smile.
But then in an instant, Kyrillos' tone about Christie was tinged with resignation, even a degree of pathos, after acknowledging that he had crossed his own Republican Rubicon by turning toward Bush and away from Christie in the 2016 presidential primary sweepstakes.
"He's my friend," Kyrillos said about Christie, who played matchmaker between the state Senator and his wife, Susan, in the early 1990s. "I'm going to be thinking about him that day. I wish him all the best."
Steps away from Kyrillos on the Senate floor was state Senator Tom Kean Jr. (R-21), another prominent New Jersey Republican who is also reportedly supporting Bush.
Kean, whose relationship with Christie has been more rough than rosy in recent years, deflected any questions about defection on Thursday with regards to Christie's reported 2016 presidential candidacy announcement next week.
"I'm focusing right now on my Monday votes here," said Kean, who grew up in Livingston just like Christie, who as a Livingston High School student notably volunteered for former New Jersey Governor Tom Kean, the state senator's father, for Governor Kean's first gubernatorial campaign in 1977. "I have no further comment."