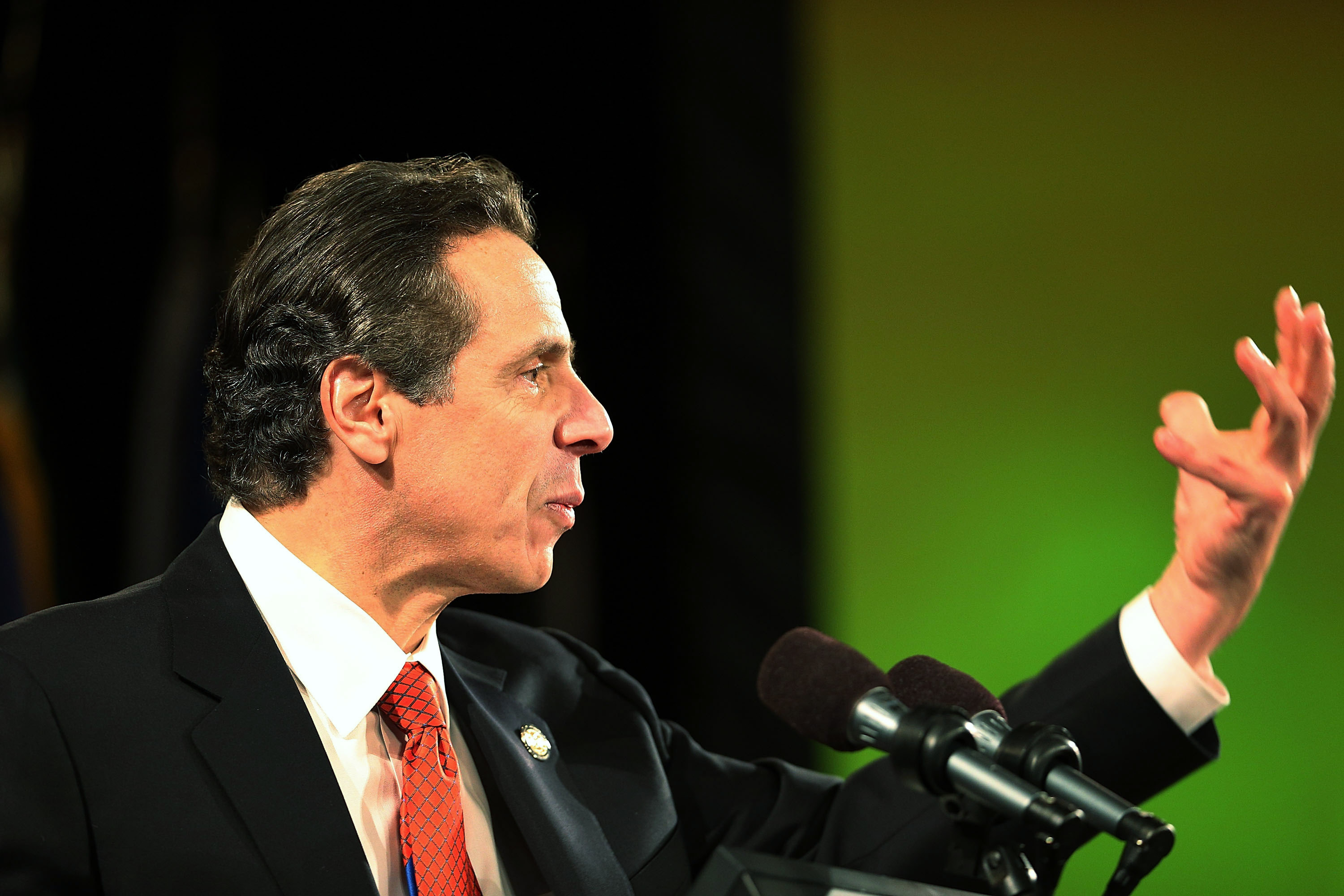 A cadre of state and city lawmakers were arrested today when they staged a "sit-in" in front of Gov. Andrew Cuomo's Albany office today to call for stronger tenant protections and rent regulations.
"The rent regulations are the last standing trenches of what gets tenants some level of recourse, some level of protection. Not to pay attention to that is a grave mistake," State Senator Adriano Espaillat told the Observer by phone after he was arrested as part of the protest.
The renewal of expiring rent regulations that govern rent-controlled and regulated apartments that are home to 2.5 million New York City residents is just one of several loose threads in Albany as the State Legislature rapidly nears the end of its annual session. But city lawmakers want Albany to do more than just extend the legislation—those at today's protests were also calling for changes to the laws that they say would ensure more units remain rent regulation.
Mr. Espaillat was not the only lawmaker to patiently await arrest from zip-tie-wielding state police this afternoon. Among others also arrested were City Council members Jumaane Williams, Corey Johnson and Laurie Cumbo, Assembly members Dick Gottfried, Walter Mosley, Diana Richardson and Rodneyse Bichotte, and State Senators Bill Perkins, Adriano Espaillat and Brad Hoylman, according to a social media reports and people on hand during the protest.
Among the changes tenants advocates and the lawmakers are pushing for is a repeal of vacancy decontrol, which can allow landlords to deregulate an apartment's rent if the tenant moves out. Current laws also allow landlords to deregulate an apartment if the rent is $2,500 a month, and the tenants earn more than $200,000. Tenant advocates want to remove that option for landlords altogether, Gov. Andrew Cuomo has proposed raising the threshold for deregulation to $2,700.
"We're losing too many affordable housing units by the current rent regulations," Mr. Cuomo said today, calling the plan to bump the deregulation threshold up "the most notable" way to stem the tide.
But Mr. Espaillat, among those who think Mr. Cuomo should go further than simply raising the threshold, said the issue of rent-regulation has been on the back-burner given the attention that extending 421a, a controversial tax break for luxury real estate developers who also build affordable housing, has gotten.
"421a is sucking up all the oxygen," Mr. Espaillat said.
But even with changes proposed to the tax break by Mayor Bill de Blasio, Mr. Espaillat said the development of luxury towers can still be enough to hike rents and force people out of their neighborhoods, making tenant protections key.
"I think it was important that we showed the urgency of this matter, that in fact this is something that could define the next decade of the city of New York. If people cannot pay the rent, if people cannot make ends meet, they will have to move, they will have to double up in their apartments, they will have to triple up in their apartments," Mr, Espaillat said.
Mr. Johnson, a councilman who was arrested, said he believed rent regulations should be at the top of the state government's agenda.
"It's my belief that the most important issue that Albany is considering in the last remaining eight days of the legislative session is the renewal of the rent laws, and they must be strengthened," Mr. Johnson told the Observer. "And so today's protest was to tell the governor that 2.5 million New Yorkers are counting on him, to use his considerable influence and strengthen the rent laws. Tinkering around the edges is not good enough."
While protesters made plenty of noise outside the Albany governor's office, Mr. Cuomo was in Long Island holding press events. But Mr. Johnson said he thought the governor would get the message anyway.
"Hopefully he will: 55 people were arrested, which is a significant number, and 12 of those people were elected officials from New York City, members of the Council, members of the Senate, members in the Assembly," Mr. Johnson said.
But he wasn't willing to take a guess as to what Albany would do as the days on its legislative calendar tick down.
"Anyone who would try to predict the remaining days of the legislative session in Albany would probably lose their jacket in a bet," Mr. Johnson said.