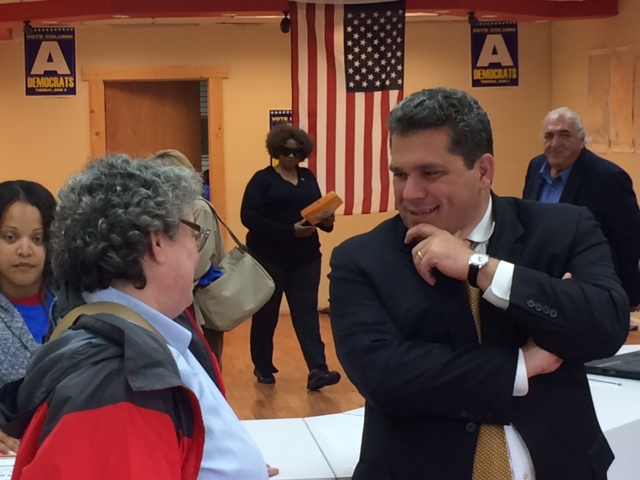 BAYONNE – Democratic 31st Legislative District Assembly candidate Nicholas Chiaravalloti expressed his belief that he would take a seat in Trenton soon during the waning hours of his primary campaign on Tuesday.
"I'm feeling good. It's obviously been a chilly and damp day, but we have our troops out," said Chiaravalloti, an attorney from Bayonne who is backed by the Hudson County Democratic Organization (HCDO), as he looked out the rain-streaked window of his campaign headquarters on Broadway. "Everything is going well."
Numerous politicos and voters have contacted PolitickerNJ through the day to report significantly low voter turnout throughout LD 31, which includes all of Bayonne and parts of Jersey City.
But Chairavalloti pointed to another set of numbers that he believes augurs well for his chances.
"We've had more than 100 volunteers in the street starting at 6 a.m.," said Chiaravalloti. "It's probably a lot colder than most people expect in June, but we're doing our thing. We just need to finish up strong. Would we like there to be more voters out there? Yes. But we went in to this election understanding that turnout would probably be somewhere around 13 to 15 percent, and we've put that game plan in place. I think we're in pretty good shape."