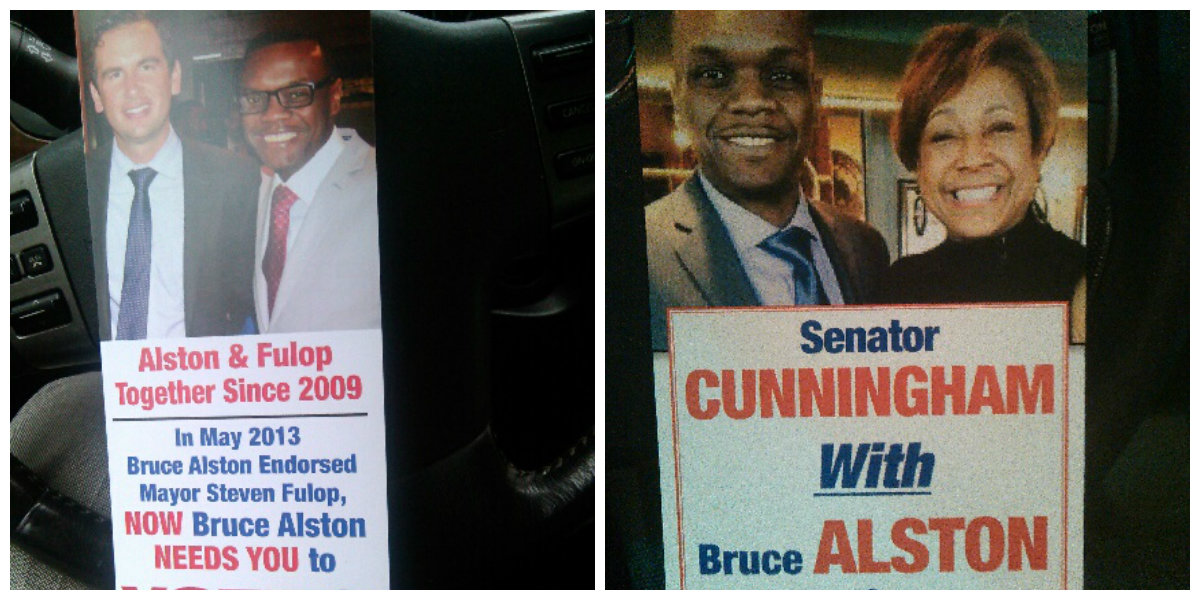 BAYONNE and JERSEY CITY – A true sign that Election Day has arrived in Hudson County is the infamous tradition of "midnight mail," the kind of anonymous, unattributed pamphleteering common to Hudson residents during contentious mayoral and council races. A form of this political practice has apparently emerged on the streets of Bayonne and Jersey City in the daytime on Tuesday, involving one of the prime competitive slates in the 31st Legislative District Democratic Assembly primary.
Two flyers, images of which have been sent to PolitickerNJ, have appeared in Jersey City, parts of which are in LD 31, as well as Bayonne, which is completely in the district, on Tuesday, according to sources.
One flyer depicts Bruce Alston, a Democratic Assembly candidate from Jersey City, running without the support of the Hudson County Democratic Organization (HCDO) in today's LD 31 Democratic primary, with Jersey City Mayor Steve Fulop. The flyer reads, in part, "Alston & Fulop Together Since 2009." Fulop has previously declared his support for the HCDO-backed ticket of Alston's Democratic primary rivals, Nicholas Chiaravalloti, of Bayonne, and Angela McKnight, of Jersey City.
Another flyer shows Alston with state Senator Sandra Cunningham (D-31), also of Jersey City. The flyer reads, in part, "Senator Cunningham with Bruce Alston & Washington Flores." Flores, of Bayonne, is Alston's running mate for Assembly.
Sources close to Fulop who are working on behalf of Chiaravalloti and McKnight told PolitickerNJ that they "will pursue legal action against Bruce personally."
Cunningham responded to the flyer depicting her and Alston together in an Facebook post on Tuesday.
"As today is Election Day here in Jersey City and Bayonne, I am reminded of how politics can sometimes be misleading," Cunningham wrote. "There is a piece of campaign literature bearing my photo and my name stating I am 'with' a candidate who is running for Assembly in the 31st Legislative District; however, I remained neutral and HAVE NOT endorsed anyone during this election."
Chiaravalloti responded to the flyers during a brief stop at his campaign headquarters in Bayonne.
"Today is desperation day, and desperate candidates sometimes do things that are completely inappropriate," Chiaravalloti said. "Personally, I would never use the image of any of those people without their permission. But I guess their campaign operates by a different set of rules."
In an interview with PolitickerNJ, Alston had a mixed response to the LD flyer controversy.
"The Fulop piece was put out by my campaign. I signed off [on it] myself," Alston said, noting times during 2009 when he and then-Jersey City Councilman Fulop stood together publicly regarding several issues. I endorsed him when he ran for mayor in 2013, which is also on that flyer. If Steve is mad at me now, you have to ask him why."
As for the Cunningham flyer, Alston stated that "some rogue person did that."
"I don't understand who put that out. That makes no sense," Alston said. "I'm officially denying that I had any knowledge of my campaign putting out the Sandra Cunningham flyer."