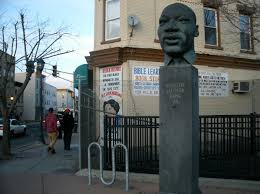 JERSEY CITY – If Jersey City Mayor Steve Fulop is going to move smoothly one day into the heart of New Jersey power in Trenton, he has to travel unblocked down Martin Luther King Jr. Drive, the main artery of Jersey City's Ward F, in the 31st Legislative District Democratic state Assembly primary on Tuesday.
Fulop, along with the rest of the Hudson County Democratic Organization (HCDO), stands behind the ticket of candidates Nicholas Chiaravalloti, of Bayonne, and Angela McKnight, of Jersey City, who are arrayed against the slate of Democrats Bruce Alston, of Jersey City, and Washington Flores, of Bayonne, among others.
The 31st Legislative District is split between two Hudson County cities, with all of Bayonne and parts of Jersey City included in the district. The mayors of the two cities traditionally pick one Assembly slot each, according to the district's unwritten rules.
Bayonne Mayor Jimmy Davis decisively moved behind Chiaravalloti several months after Davis's upset victory over former Mayor Mark Smith in last year's mayoral election, acknowledging the Bayonne attorney's behind-the-scenes role in support of his campaign. Incumbent state Assemblyman Jason O'Donnell (D-31), an ally of Smith, declared that he would not seek reelection, indicating an interest in a potential 2018 Bayonne mayoral bid.
Fulop's pick for the Jersey City half of the slate proved to be far less fluid. McKnight, who runs a non-profit organization in her Jersey City hometown, was ultimately selected to be the Jersey City Assembly candidate pick after several potential candidates, including incumbent state Assemblyman Charles Mainor (D-31), Jersey City Councilwoman-at-Large Joyce Watterman and Denise Ridley all fell by the wayside.
Alston sees the largely African-African Ward F, where he grew up and has deep family roots, as an Achilles' heel for Fulop, a potential 2017 Democratic gubernatorial candidate.
"The HCDO has lost several races in Ward F, which is independently minded," said Alston, 44. "Fred Martin was the first African-American Ward F councilman elected in the early 1960s. He beat the HCDO machine, and he was one of the best friends of my grandfather, who was the president of the Jersey City chapter of the NAACP. It's hard to convince people to vote against their son. We've identified our voters, and there's a huge anti-machine vote out there. I am Ward F, and that's going to be a problem for any machine that comes in here. You can either be anointed by the machine, or be appointed by the people."
Many observers of the Jersey City political scene would name the late Glenn Cunningham as the greatest local politician to emerge out of Ward F. But Alston believes that the support of state Senator Sandra Cunningham (D-31), the mayor's widow, for the HCDO-backed slate is not strong.
"She may not have supported Charlie Mainor, but I don't see her out there supporting HCDO candidates," Alston said. "Her picture is not even on their flyer."
Alston feels the same way about Ward F's support for Fulop and the Assembly candidates he is supporting in the June 2 Democratic primary.
"Ward F has always been Steve Fulop's weakest link," Alston said. "It's going to be a close race. Nobody is blowing anybody out. This is going to be Steve Fulop's first real test of what type of overall influence he has in the African-American community."
But according to an African-American Democratic operative from Ward F who will be on the ground on Tuesday, Fulop's troops will be ready.
"The Ward F Democratic leadership and committee people that work with the HCDO have proven street soldiers," said the operative, a Fulop ally who requested anonymity. "You need to look deeper into who these soldiers are, including Eugene McKnight. McKnight is the Ward F Democratic organization leader, and he is related to Angela McKnight by marriage. He has shown that he can win elections in Ward F, and he will continue to do so as a Fulop ally on Tuesday."
The Ward F operative also questioned the idea of Alston taking on the mantle of black leadership in Jersey City.
"The African-American community, like most communities, does not have one leader," said the operative. "Alston is pitting blacks against each other, trying to make them think that only one person can speak for them. Glenn Cunningham was a coalition builder who understood many people were at the table to help the black community and all Jersey City residents. This suggested narrative that we have no leaders left because [Angela McKnight] is a woman is insulting."
The operative attributed Sandra Cunningham's seemingly tepid support for the HCDO-backed LD 31 ticket to the vagaries of Hudson County politics.
"The years of fighting may have taken their toll on her," the operative said. "She's picking her battles more."
Many outside eyes will be on LD 31 on Tuesday, looking at the Hudson County-based contest through the lens of the 2017 Democratic gubernatorial nomination race. The friends of other potential Democratic candidates, including former U.S. Ambassador to Germany Phil Murphy, state Senate President Steve Sweeney (D-3) and state Senator Ray Lesniak (D-20), will watch the results closely, looking for a loss, a split or a closer-than-expected win for the Fulop-supported slate.
But the Ward F Fulop operative, expecting low turnout from voters in a part of Jersey City beleaguered by high unemployment, violent crime and tired of politicians' promises, explained why he thinks Fulop will emerge unscathed from the latest Hudson County primary clash.
"The mayor is always the first person people look to blame, but gentrification has been happening in Jersey City for a while. The question needs to be asked if there is balance and if urban renewal is benefiting everyone," the operative said. "In the end, tomorrow's vote is more about saving Jersey City than who is going to be governor. And it takes time to unify a city."