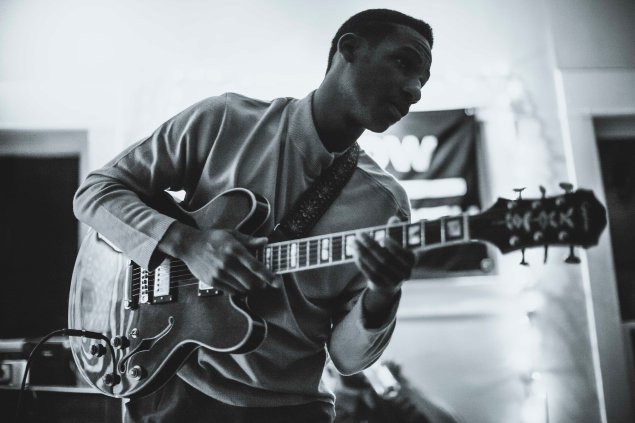 After performing more than half a dozen showcases at this year's SXSW Music conference in Austin, Leon Bridges landed the 2015 Grulke Prize for Developing US Act. He followed that with a U.S. tour, which included sold-out shows in New York City, and a European tour with similar enthusiastic attendance. And then there was his invitation to this year's Met Gala, too. That was all before the Fort Worth, Texas, native's debut album, Coming Home, was released on Columbia Records in June.
'I want the listener, when they hear the first words that come out of my mouth, I want them to be automatically in awe.'
Bridges' songs are steeped in classic Southern soul and, in turn, rooted in gospel and blues, but the sound is filtered through the wide, dry Texas landscape, and its tradition of elegant, raw folk songwriting. It's a record of young love ("Brown Skin Girl"), aspiration ("Better Man"), family ("Lisa Sawyer," honoring Bridges' mother), and his roots (the title track). Two weeks before the album's release, the Observer chatted with Bridges as he "relaxed" at home for a few days, just before he returned to the road and a tour that includes two more shows in New York City this month.
You've had quite a year, even before the album is released, how does that feel?
I'm very humbled, I'm nothing but a Fort Worth kid and I never expected this to happen. I got into this type of music because I felt I was destined to do it, and not to be successful or anything. I feel really connected to the songs.
Seems many other people are finding a connection, too. Why do you think that is?
People are hungry for that sound and for that voice. It's a sound that crosses generations. So to see a young man bringing that certain sound, and not just a young man, but a young black man bringing back that sound, they instantly connected with it.
What with Sam Smith being such a huge white soul icon, do you feel in competition at all?
Not at all. I feel like I'm part of that, but I'm on my own path. Oh man, there are some amazing musicians and I feel like we all have our own styles. It's great that he's doing it; he's amazing. It's good that young people are bringing it back.
[youtube https://www.youtube.com/watch?v=HYplnRjMVhM&w=560&h=315]
What inspires your songwriting?
A whole bunch of different things. A lot of the songs come from personal experience. But when I write I think of the listeners; I want the listener, when they hear the first words that come out of my mouth, I want them to be automatically in awe.
That's a tough standard you've set yourself there.
Yeah, I often do this for myself, but it's not too much of a barrier or anything.
What did you learn from making this record?
It helped me be aware. I definitely grew as a singer during those takes. Of course, we were recording it live and doing it over and over again. We were all doing it live, playing at the same time. There's a groove to that: It's so cool being in the booth with the backup singers and you look out at all the musicians with big smiles on their faces, and we're all just feeling it. It's a feeling you can't replace.
Especially with soul music, which, at its best, is not overproduced and has a rawness about it.
Indeed, you could hear it in some of the takes. There's a part in "Brown Skin Girl" where I was strumming the guitar and got off beat. We did another take, but I thought we should use the first one. It's cool to see imperfections. There's a beauty and a realness to imperfections.
'I felt I was destined to do [this type of music], and not to be successful or anything. I feel really connected to the songs.'
What are your favorite classic soul songs?
One of my favorite songs is "That's Where It's At" by Sam Cooke; and also "It's All Over Now" by The Valentinos. That's the group Bobby Womack had with his brothers when he was a teenager, and they wrote that song, which got covered by the Rolling Stones.
The Met Ball is such a prestigious party in New York City. How did you land an invitation?
That was crazy. I had done a shoot with Vogue. [They] saw my songs and style and said, "Man, we have to have him at the Met Gala." But I had to go by myself… But it was nice meeting Tory Burch, Dylan McDermott and John Legend, who was really nice.
Are you interested in fashion and style?
Yes, it would be great to recreate certain pieces; there are some awesome jackets, shirts and pants from the '50s. They had so much detail to them compared to modern clothes. It would be cool to recreate them.
Will we see a Leon Bridges fashion line?
Yeah, maybe, just in case this music thing doesn't work out, you know?
Leon Bridges performs at the Bowery Ballroom in Manhattan tonight and the Music Hall of Williamsburg in Brooklyn, June 24. Coming Home is out now on Columbia Records.
[youtube https://www.youtube.com/watch?v=MTrKkqE9p1o&w=560&h=315]