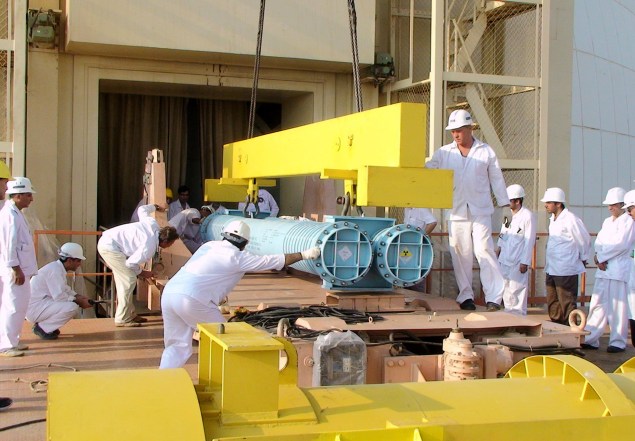 Whatever deal Iran gets, Saudi Arabia and the other Gulf States will get the deal, too. Actually, Saudi Arabia and friends may actually get an even better deal.
France recently signed a $12 billion deal with Saudi Arabia. France will provide Saudi Arabia with two new generation nuclear reactors.That's just for starters. In addition to the reactors, France will supply Saudi Arabia with 23 helicopters, 50 Airbus planes and a number of patrol boats. Safety and operational training for the nuclear reactors will, of course, be part of the deal.
The deal making came to light in a joint press conference held in Saudi Arabia with French Foreign Minister Laurent Fabius and Saudi Foreign Minister Adel al-Jubeir. In Fabius' official statement he said that his country wanted "to enhance the capability of the Saudi Coast Guard, which is today facing growing threats."
Mr. Fabius was, of course, referring to tensions in Yemen and indirectly with Iran. As if there was any question about it, the Iranian Grand Ayatollah, the Supreme Leader Khameinei, came out with his own statement making it perfectly clear that Iran is not giving up its nuclear development program and that the sanctions against his country must be lifted.
France, at least publicly, is still hopeful that a proper deal will be worked out with Iran. According to the foreign minister, "France wants a deal but wants the deal to be robust, a good deal, but not a bad deal."  But Mr. Fabius is still being cautious. "A certain number of statements do not seem to go in that direction. France reaffirms that it wants a solid accord, but at the same time must stress the firmness of its positions." Saudi Foreign Minister Jubier echoed France's comments.
The crazy reality here is that while the original intention of the Iranian nuclear deal was to curb nuclear advancements it is, instead, laying the ground work for what will soon be a nuclear race in the Middle East.  Iran is getting it.  Saudi Arabia just ordered it and all the other Gulfs States are just waiting not so patiently in line.  Qatar, United Arab Emirates, Bahrain, Oman, Egypt and anyone else who can pay wants nuclear capability.
And they want it now.
Instead of creating a controlled nuclear Middle East, the exact opposite is now under construction.
We all know about the original blueprint for the nuclear deal with Iran. That plan was to keep nukes away from them. But as soon as the West capitulated and decided to permit Iran any nuclear capabilities the entire paradigm shifted. Now, instead of no one getting nuclear capability—everyone gets it. This is not an example of the rule of unintended consequences. Anyone who thought about it, knew this would happen. They knew this would be happening for nearly a decade. The question is, why weren't the people making the deal thinking about this?  Why did they not anticipate the damage they would be doing in the name of good faith?    .
Now there is no way out. And there is no way to properly monitor the nukes that will be entering the Middle East.
When talking about Iran's nuclear plan, the Grand Ayatollah also included a a strong hint that the talks between the P5+1 and Iran will be extended beyond the deadline.  Well, duh, of course the deadline will be extended.
The deadline, just like the agreement, is nothing more than an American goal and ideal. Iran benefits by dragging out the talks and indefinitely extending deadlines.  That's their goal.  Iran only gains more by continuing the talks. This way, they give nothing and cannot be blamed for not cooperating. For them, it's a win-win.
Iran is slowly getting everything they want. The talks are continuing and the United States is extending the deadline. And all the while, sanctions against them are slowly, but surely, being lifted. Not only that. Associated Press is publishing reports that the United States has agreed to help Iran develop its nuclear technology, high tech reactor equipment.
Iran is becoming a respected member of the international community. The United States is seeing to that. Don't believe me? Get this—Iran just recently hosted the FIVB (International Federation of Volleyball) competition. The United States, of course, attended. That would never have happened before. Never.
Bottom line: Iran has a plan. One part of that plan is to extend the deadlines and another part of that plan is to lift the sanctions. The problem is that the United States and the West have no plan other than to agree with Iran. Saudi Arabia and the Gulf States and other countries in the Middle East, they also have a plan. Their plan is not to let Iran get the upper hand.