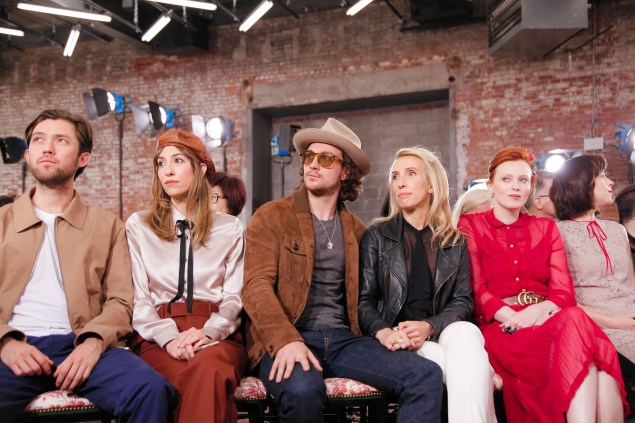 Gucci has never been a brand renowned for a sense of minimalism and Alessandro Michele's very first Resort collection for the house was no exception to that. So how did they amp up the drama for today's fashion show? They shut down 22nd Street between 10th and 11th Avenue, just so the models could saunter across the street and into the show space. Then Mr. Michele whipped up a custom fabric that covered each of the seats. And of course the show's front row boasted a who's who of today's most stylish flashbulb bait.
Attendees including Gia Coppola, Karen Elson, and Dakota Johnson, all sporting Gucci getups. Collectively the outcome was absolutely spectacular. Let's break down the most stunning looks of all…
Gia Coppola and Laura Love absolutely rocked the tomboy chic vibe at today's show. Ms. Coppola's take on the look included a pussy-bow satin blouse and '70s style pants. She looks as dainty as usual, despite the masculine edge to her ensemble.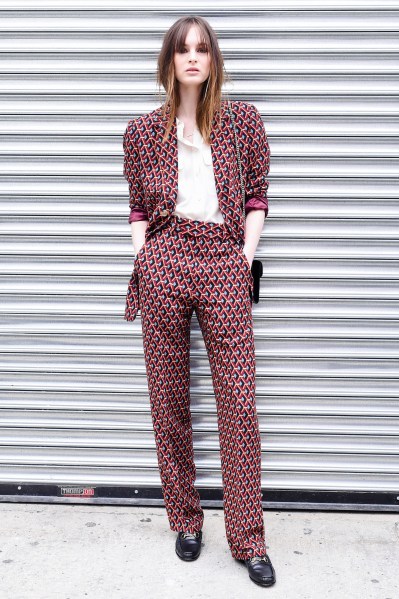 We love that Laura Love opted for this printed two-piece suit and pared it down with some black loafers. With a flawless waistline and her hair down, the young daughter of Vogue's West Coast Director Lisa Love is clearly a force to be reckoned with.
Sam Taylor-Johnson embellished her cream wool trousers with a black leather belt, featuring a signature double G belt buckle. She looked excellent coordinating her tortoiseshell glasses with husband Aaron Taylor-Johnson.
Fearless redheaded Karen Elson is a fitting poster child for the new Gucci line in a fiery red hue. Not to mention, the contrast of those purple shoes is absolutely stunning.
Dakota Johnson is the picture of innocent elegance in a nude lace dress from the Italian designer, with just enough red between her bow and her vibrant lipstick to keep things interesting.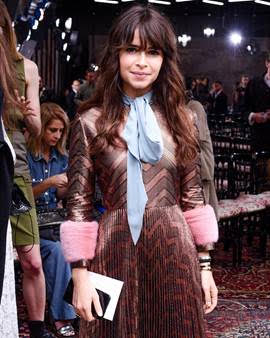 Miroslava Duma wore the an iridescent peach dress from Gucci's Fall 2015 collection, featuring some excellent pink fur cuffs – an addition we don't see often enough. As a finishing touch, she added a classic blue bow around her neck.
A-listers aside, a healthy crowd of designers who also fall under the Kering umbrella were on hand to support Mr. Michele. Alexander Wang and Joseph Altuzarra were included in that mix, as was Gucci's CEO, Marco Bizzarri.
And of course Anna Wintour was stationed front row, accessorizing with her signature black shades and her loyal Vogue crew.