"Last year, when I wrote something on Tumblr about identifying as genderfluid, my father disowned me. I later forgave him of my own accord, but we haven't spoken since."
---

Escape's spacious drums, lithe synths, watery guitars, and Hunter's husky croon make it ripe for nearly any environment.


---
Two sentences. In them, in a breath, Lower Dens' Jana Hunter conveyed an ocean. Mired and writhing on its pitch-black floor, our inability to accept—fear cloaked in righteousness. Just above the waves, though, clouds unfurl like disintegrating scrolls, trade winds calm, surf laps the body, a Monet horizon eases a battered soul—forgiveness becomes possible despite the odds. Even so, Hunter and father still aren't talking.
Escape From Evil, Lower Dens' fine new album, is brimming with this tension. Driven by Hunter's smoky, yearning voice, it is most often warm and expansive, a reflection of the quartet's new interest in connection. It turns from the sonic and lyrical obscurity that defined their first two records toward brazen vulnerability, toward love—familial, friendly, romantic, undefined—and the glories and messes and fatalism in between.
It has an idyllic point-of-view—empathy is the answer—but Escape is brutally honest about how difficult it can be to pay it fealty in the murk of everyday life. Because we fail ourselves just as often as those we love fail us, each other, and themselves; it's a tragic cycle, irrevocably bound to a broken human race, and Escape is painfully aware of this truth. Yet acceptance is transcendence.
"… When I was working on the record, I was looking for the way to write songs that were about these things but then to fucking enjoy them, to have songs that were danceable, to write things that the band enjoyed playing, that we could share with people, that we could lose ourselves in," Hunter told Impose in April.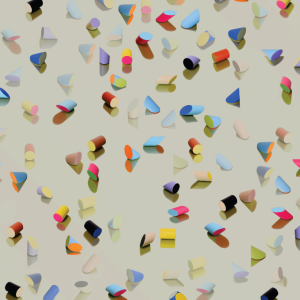 Drawing spiritual energy from New Wave totems like The Smiths, The Cure, Joy Division and Madonna, Lower Dens muted their left-field tendencies and wrote a lush, invigorating pop record, a pivot cemented by Chris Coady and John Congleton's handsome production. "Sucker's Shangri-La," "To Die in L.A." and "Société Anonyme," in particular, are bright, crisp and instantly memorable, as effervescent as anything still worth spinning from the previous decade's bounty of dance-punk revisionism.
Girded by palatial mastering and a tight mix, Escape's spacious drums, lithe synths, watery guitars, and Hunter's husky croon make it ripe for nearly any environment where distinct tastes need to be accommodated simultaneously—context or no. But, as Pitchfork's Sasha Geffen wisely points out, Escape's nod to Reagan-era sounds and textures goes deeper than surface considerations of genre.
"Like a lot of current music," she wrote, "Escape From Evil siphons its aesthetic from the storied pop of the '80s, but it's not content to stop at homage. Lower Dens use the past—its clichés and its innocence—as a lens through which to imagine a queer and open future."
Indeed, pop subversion looks good on Lower Dens, and one gets the sense from interviews that it's not just the band's music that's skewing more optimistically in recent years.
---

Jana Hunter knows that profound truth can be mined from stark contrast, which makes the choice to weave such tough themes through earworm-y pop music that much bolder.


---
"… The joy of being alive," Hunter told Impose, "is that we have motivation, we have the beauty of family and friendship, and to me it creates this undeniable ecstasy, this kind of range of experiences and these opportunities that we have. Even that we can feel great pain is a gift, and we can acknowledge the pain that we feel and the pain that we cause and celebrate our own opportunities and the opportunity to know other people."
Joy fused to pain. Experience, even tormented experience, as opportunity, "a gift." These aren't the sentiments of someone who's in denial about humanity's capacity for causing deep harm—they're the hopes of a person who forgives, who won't bend to desperation despite being estranged from family due to an inability to reconcile conservatism with identity, to empathize with the unfamiliar.
Still, Hunter isn't interested in platitudes and Escape isn't a vessel for empty optimism. "I Am the Earth," a minor chord dirge contemplating complete isolation, and "Non Grata," a somewhat tongue-in-cheek exploration of paralyzing depression, make this clear. Even the opener's "Space Age Love Song" warmth can't detract from the image of an addict friend writhing like a worm. But Hunter knows that profound truth can be mined from stark contrast, which makes the choice to weave such tough themes through earworm-y pop music that much bolder.
Likewise, Hunter's choice to publish a deeply intimate essay in Cosmo of all places is a nod to the power of contrast, too—after all, everyone from the Maybelline-obsessed Southern Belle to the avant garde-indebted city dweller wrestles with the inevitable pain wrought by human connection. How we face that pain says everything about whether transcending it is actually possible.
Lower Dens plays The Music Hall of Williamsburg as part of the Northside Festival on Thursday, June 11.
[youtube https://www.youtube.com/watch?v=a2iSVHh_Wn8&w=560&h=315]