Listening day in and day out to the incredibly rich repertoire of Western classical music, it's easy to come to the conclusion that this tradition produced nothing but masterpieces: Beethoven symphonies, Schumann songs, Verdi operas.
But, in fact, what we call masterpieces are outliers in the continuum, a fraction of the 99th percentile. Most classical music, like most art, fails to earn a place in that exalted "top drawer," but instead occupies a place somewhere nearer the middle: not mediocre necessarily, but also not much better than "pretty good."
A couple of these "B" pieces, relative rarities both, showed up on Manhattan stages last week, in productions respectively grandiose and spare: Arthur Honegger's oratorio Jeanne d'Arc au Bûcher at the New York Philharmonic and the "other" Il Barbiere di Siviglia, not Rossini's but rather Giovanni Paisiello's earlier version.
The Honegger, heard on Friday, is a peculiar piece, not quite opera, not quite oratorio, not quite monodrama. It's a series of vignettes of the life of Joan of Arc, which we are to imagine she is recalling in her last moments as she is burned at the stake. The simple country girl Joan (Jeanne) and her sympathetic confessor Frère Dominique are spoken roles, contrasting with Jeanne's worldly accusers and angelic comforters, who sing appropriately snarling or shimmering arias.
A large chorus accuses Jeanne of blasphemy and other sins, then switches roles to portray the heavenly host welcoming her into the afterlife. There is also a children's chorus to recall Jeanne's carefree youth.
To call the musical treatment of this religious theme "eclectic" is quite the understatement. Honegger creates a patchwork of counterpoint, jazz, folk tunes and what sounds very much like the sort of lush soundtrack that might have been provided for an Ingrid Bergman film melodrama of the 1950s. (Bergman, in fact, performed this oratorio several times back in that era.)
On Site's take on opera is immersive; when the ingénue Rosina sang from her balcony, soprano Monica Yunus leaned out of a third-story window of the mansion, her pearly sound projected perfectly into the cozy al fresco space.
At the Philharmonic, the Jeanne was French actress Marion Cotillard, who carried the evening with a performance of intense simplicity. Her girlish, slightly breathy speaking voice rang out, only lightly amplified, over the orchestral and choral thunder. In a simple white shift and very little makeup, she portrayed Jeanne as hushed and self-contained, radiating a gentle confidence. Even at her curtain call, Ms. Cotillard remained a little distant; smiling shyly as if she could hardly believe the standing ovation was for her.
Nearly as effective in less grateful parts were actors Éric Génovèse as Dominique, who made the role's series of "and what happened next" feed lines sound interested and sympathetic, and Christian Gonon, who narrated the story and enacted a series of satanic cameos as various scoffers and enemies of Jeanne. Among a large cast of solo singers, soprano Erin Morley floated silvery pianissimi as the Virgin Mary, and Simone Osborne and Faith Sherman duetted serenely as Jeanne's spiritual guides, Saints Marguerite and Catherine.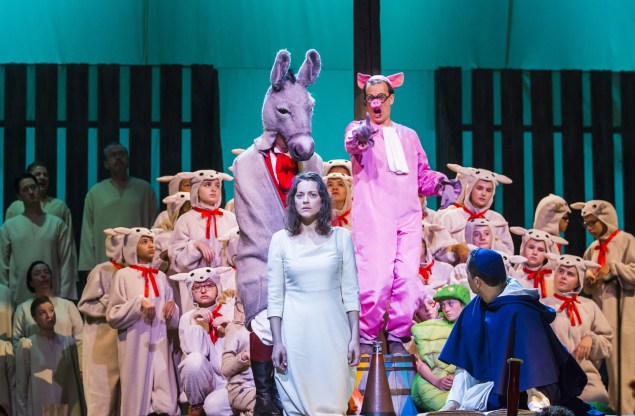 Ms. Cotillard has been performing this piece around the world for a decade now, often in the extravagant staging by director Côme de Bellescize installed in Avery Fischer Hall for these concerts. The Philharmonic and conductor Alan Gilbert were confined to a sort of improvised orchestra pit at floor level, surrounded by platforms and catwalks where the singers and actors roamed. Two banks of risers for the chorus flanked Jeanne's stake on a central platform, and a busy lighting plot provided additional spectacle, bathing the entire auditorium in scarlet light as Jeanne perished in flames.
Mr. de Bellescize's staging had the advantage of adding visual interest to the pageant-like action of the work, but it tended toward cuteness in the presentation of the children's chorus, dressed as if for "It's a Small World." For the transfigured finale, he settled for a the banal effect of everyone on stage holding up candles in the darkness, a visual that might be more at home in a cruise ship performance of "Con te partirò."
Musically and dramatically Jeanne may tend toward the syrupy, but Mr. Gilbert conducted as if it were a work of genius, with big, soaring tone from the orchestra and a glorious breadth of sound from the New York Choral Artists.
The blockbuster treatment the Philharmonic gave Jeanne may have overshadowed its quiet virtues, but On Site Opera didn't make that mistake with the Paisiello comedy. In Thursday's performance in (and around) Fabbri Mansion off Fifth Avenue, both production and musical values were minimal but always in perfect taste.
On Site's take on opera is "immersive," that is, performed in a non-traditional venue all around the audience. The setting proved most apt for the romantic comedy's first act, which takes place outdoors on a street in Seville. For this sequence, the audience of about 70 was seated on folding chairs in a handsome courtyard off a quiet side street. When, according to the story, the ingénue Rosina sang from her balcony, soprano Monica Yunus leaned out of a third-story window of the mansion, her pearly sound projected perfectly into the cozy al fresco space.
For the remainder of the opera, which transpires inside the house of Rosina's crabby guardian Dr. Bartolo, the audience dutifully climbed the stairs to the mansion's high-ceilinged library. This majestic room boasted an acoustic flattering to voices and the tiny orchestra, but as a theatrical setting, it ran short on visual possibilities long before Paisiello ran out of music.
Conductor Geoffrey McDonald repeated the miracle of nuanced coordination between orchestra and singers he recently accomplished with Orlando downtown; one of these days I would love to hear him lead a band with more than two violins in it. Ms. Yunis trilled and warbled the Mozart-like melodies with a piquant quick vibrato and David Blalock brought a bright, true tenor and a winning sense of comedy to the role of the lovesick Almaviva. Baritone Andrew Wilkowske made such a showpiece of Figaro's first act patter song that I was disappointed Paisiello left the character offstage for most of the rest of the opera.
Bass Rod Nelman (Dr. Bartolo) and bass-baritone Isaiah Musik-Ayala (Basilio) tempered their big voices with polished singing, and they, along with the rest of the cast, cavorted through director Eric Einhorn's witty staging with unflagging energy. To do so in heavy wool costumes amid an early summer heat wave was in itself quite an accomplishment—one might even call it a small masterpiece.