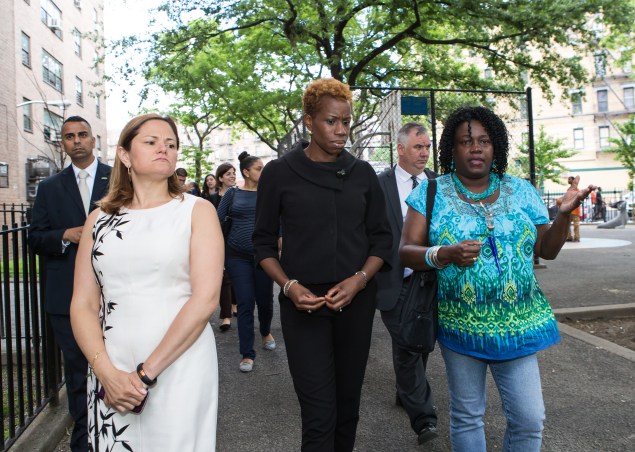 Council Speaker Melissa Mark-Viverito brushed off calls from residents of the troubled New York City Housing Authority for Chairwoman Shola Olatoye to resign her post over delayed repairs—and credited the de Blasio appointee with "great ideas" about how to revitalize the strapped organization.
Appearing on NY1's Inside City Hall, Ms. Mark-Viverito dismissed demands from tenants and faith leaders for Ms. Olatoye to step down over increasingly long waits for basic maintenance work. The speaker, who claims her South Bronx and East Harlem-based district contains the most public housing of any in the city, instead blamed the problem on systemic issues within NYCHA.
"I think that's ridiculous, to be honest," she said. "I understand frustration. And unfortunately the reality with such a bureaucratic behemoth as the NYCHA authority is is that any sort of changes are not going to happen overnight, and will be slow."
Ms. Mark-Viverito praised the "NYCHA NextGeneration" plan to overhaul the authority's bleak finances that Ms. Olatoye and her team formulated at the behest of Mayor Bill de Blasio.
"I have confidence in this chair," she said. "I think the mayor has given her a task. She is putting forth some great ideas on how to stabilize the housing authority, and how to get those repairs done much more quickly."
The speaker called for patience from residents in allowing NYCHA to implement the plan, which projects for the authority to go from running hundred million dollar deficits to equally large surpluses inside of a decade.
"I think that we, people don't want to hear this, but we have to give it time for some of those changes to take hold," she said. "But there has been a lot of thought into it, and the plan that has been laid out, with maybe some minor adjustments, is one that I've been supportive of."
Nonetheless, she acknowledged that many of the NYCHA apartments in her own district are in a "deplorable state," and that her own office has repeatedly had to pressure the authority to make repairs.
"No on should be living in substandard conditions, especially government sponsored, so to speak, so we want to make sure there's a commitment to that long-term viability of NYCHA, repairs are getting done as quickly as possible, with more resident engagement and community input in any decision that is being made," Ms. Mark-Viverito said. "Definitely the urgency, we get it."