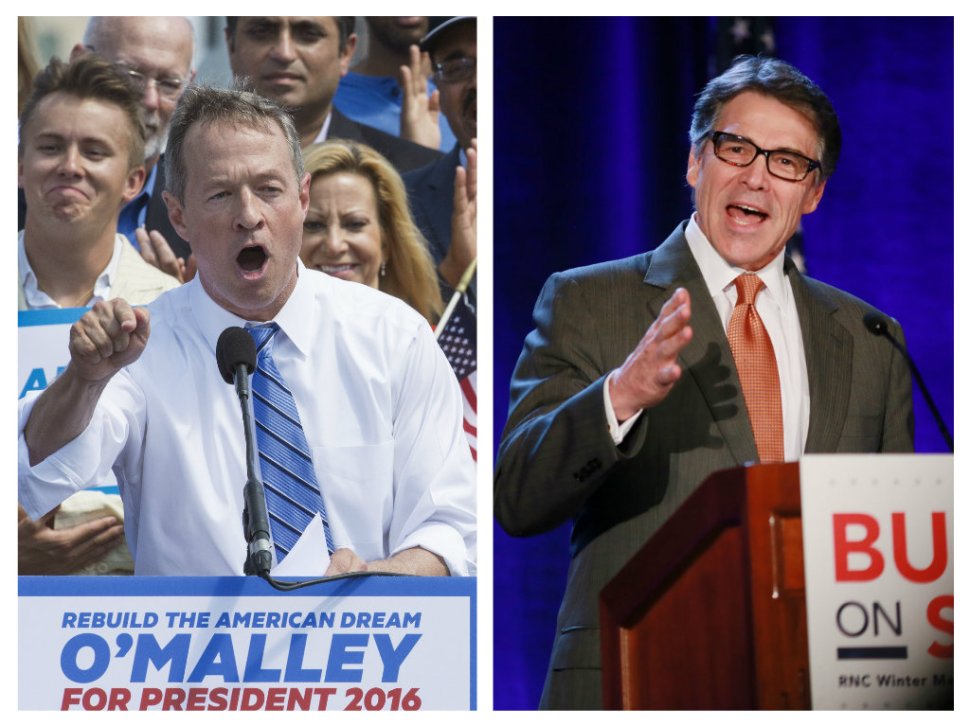 Our age today resembles those beloved by the great novelists who visualized the aging gentry still dancing at the sumptuous balls of Saint Petersburg after Napoleon had already been sighted on the distant frontier. Ours, the Royal Age of the Common Man, likewise seems about to fall from the sky. Chroniclers might in time declare that this age first came to high fashion after Kent State when revolutionary yippie leader Jerry Rubin, who early on advised campus crowds, "To steal from the rich is a sacred and religious act," suddenly took a job on Wall Street and told his adoring hippie horde instead that "Wealth creation is the real American revolution."
No one on the planet today represents that generational metamorphosis of then-to-now more so than Bill and Hillary Clinton. They hover still, archetypes of an age well passed.
Already, the race to 2016 has become strange and the strangeness comes from that; from a past which will not go away when we are at the moment of most momentous change: The beginning of the new century, the beginning of the new millennium.
It is best for us to just block our ears to the eternal, endless, robotic repetition of the old tunes in gas stations, in grocery stores, virtually everywhere, and forget about Bill and Hillary altogether. Jeb too. Let it all crash and burn in due time. Those who listened to former Governor of Maryland Martin O'Malley's this past weekend will have sensed the new paradigm. 2016 may bring us a chaotic end game, but this is the way the world ends. Then it begins again.
---

 If O'Malley is elected, Warren will have a significant role, if she doesn't enter herself in 2016. She will play a major role anyway.

---
Of all the recent entries, O'Malley's speech this past weekend, which launched his campaign for the presidency in 2016, institutes a distinct new direction and a new left political culture.
It was a powerful speech, his key moment aimed at Wall Street:
"We need to prosecute cheats, we need to reinstate Glass-Steagall, and if a bank is too big to fail without wrecking our nation's economy then it needs to be broken up before it breaks us again. Goldman Sachs is one of the biggest repeat-offending investment banks in America. Recently, the CEO of Goldman Sachs let his employees know that he'd be just fine with either Bush or Clinton. I bet he would. Well, I've got news for the bullies of Wall Street — The presidency is not a crown to be passed back and forth by you between two royal families. It is a sacred trust to be earned from the people of the United States, and exercised on behalf of the people of the United States."
His reference to the bullies of Wall Street suggests former Senator of Virginia Jim Webb's response to George W. Bush's state of the union in 2007. Webb first shocked the staid press Establishment when he referred to "the robber barons of Wall Street." Massachusetts Senator Elizabeth Warren would soon follow.
And Warren is clearly referenced in O'Malley's commentary, to comments she made in mid-December when she talked about the Dodd-Frank Wall Street Reform and Consumer Protection Act, calling it an imperfect bill. It might be considered a manifesto. Her grip tightened on Citigroup as she spoke:
"Dodd-Frank isn't perfect," she said. "It should have broken you into pieces."
If O'Malley is elected, Warren will have a significant role, if she doesn't enter herself in 2016. She will play a major role anyway. But it doesn't matter who wins in 2016, after the stables are cleaned out, the future of the left will rise here, with O'Malley, Webb, Warren and indeed, with the venerable Vermont socialist Bernie Sanders who is doing quite well. It is a formidable quaternity.
As a rule, liberals hate Wall Street and conservatives hate Washington. Conservatives constitutionally shed the light and prefer the sublime quiet of Coolidgeville. The totality of their nostalgic and angry approach to 2016 so far is this: Hillary is a bitch and Ronald Reagan, like Frodo, will rise again.
But the future of conservatism has been here all along. And more likely the future belongs to them. Post World War II demographics send it in their direction and America's future this century might be seen no so much as a classic contention between left and right, as between East and West, or the Edges against the Middle.
---

Rebellion, not revolution: Perry brings forth an actual Jeffersonian approach. It is a transformational approach to America's future.

---
That future, which has been called "western conservatism" might be best gleaned in former Texas Governor Rick Perry's remarks advanced at the Conservative Political Action Conference last year and advanced at the incarnation of his new political action group, Americans for Economic Freedom. They propose:
Rebellion, not revolution: Perry brings forth an actual Jeffersonian approach. It is a transformational approach to America's future—heart-based indigenous "natural states" rising in mature regions across the continent. Regional competition: "Among the states we see two visions for America. There's the vision common in blue states, where the state plays an increasing role in the lives of its citizens. And then there's the vision common to red state America where the freedom of the individual comes first, and the reach of government is limited." Devolution: Leaders should "devolve power to the states and not rob them of it."
This is the truly rebellious idea. Since 1913 and the passage of the 17th Amendment, power has shifted away from the states to New York and Washington, D.C. Other conservatives talk of smaller government to cut or reduce spending but retain the idea of centralization of power. Actually reformulating America by restoring power to the states is a holistic crossing of the river to a new America.
This thinking might well be signed on to by Carly Fiorina as well, who is on the advisory board of Americans for Economic Freedom. And she is likely the better spokesperson for this package of ideas as they have not as yet been fully and effectively articulated. But for at least 26 states, they have already been instituted as best practices, since Texas governor Greg Abbott, brought the most effective challenge to centralized government in more than a century in his suit against Washington RE immigration. As with O'Malley, Warren and the others, his time is ahead.
He will shake our world. And maybe the others will too.