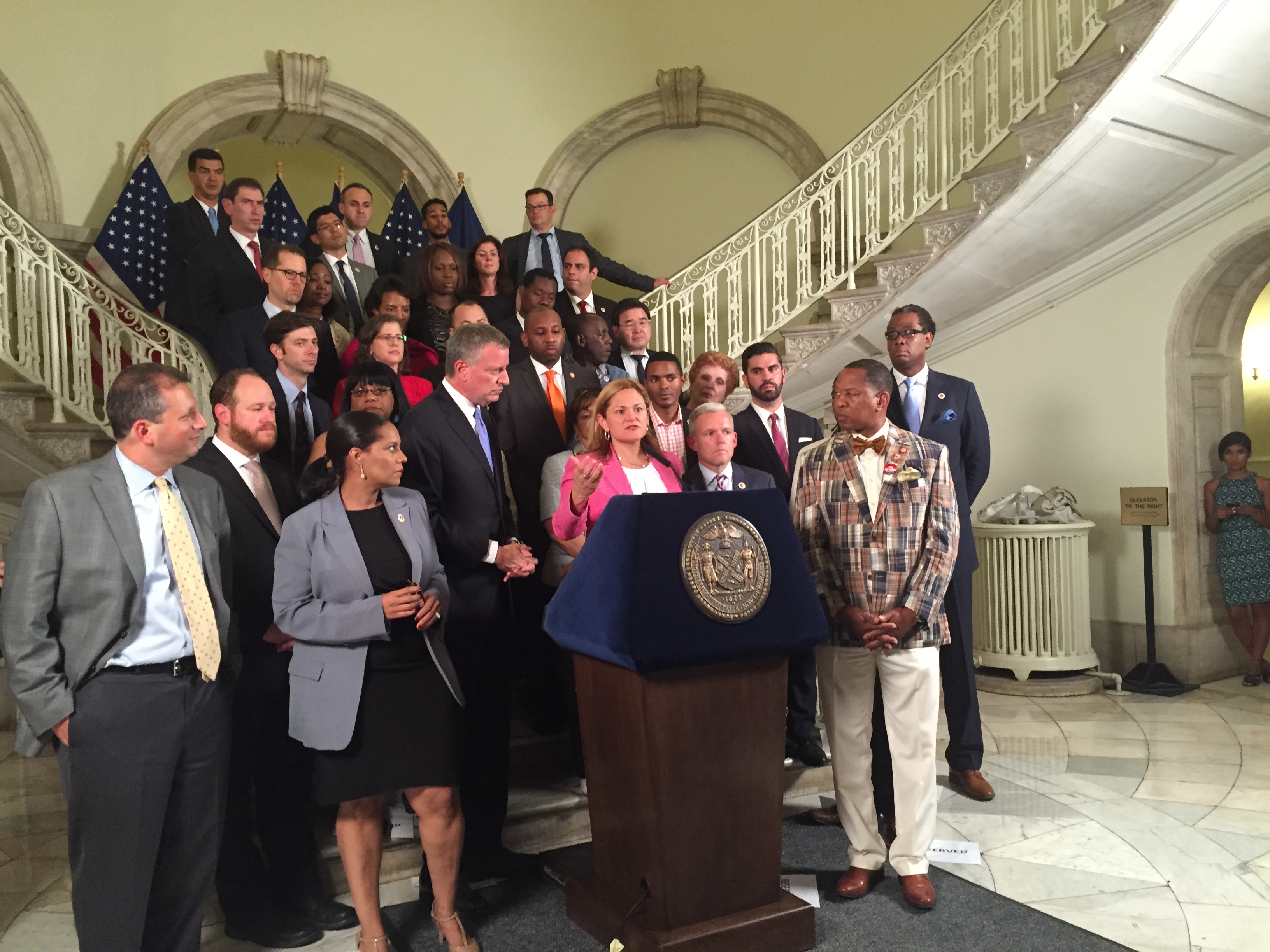 Mayor Bill de Blasio and City Council Speaker Melissa Mark-Viverito shook hands tonight on a $78.5 billion city budget deal that includes the overwhelming majority of the priorities the Council had pushed—including 1,300 new police officers, money to keep libraries open 6 days a week, and increased funding for senior citizens and veterans.
"It's a budget that defends the vulnerable, that will keep our economy on track and prioritizes public safety. And for the second year in a row we're demonstrating that government can work efficiently and effectively, just as New Yorkers expect and deserve," Ms. Mark-Viverito said.
The new police officers were the biggest win for Ms. Mark-Viverito, who first asked for 1,000 new cops last year only to see Mr. de Blasio shut down her request. This year, she did even better than the 1,000 she requested, with the mayor committing to hire 1,300 new officers—300 of whom will be devoted to counter-terror at the request of Police Commissioner Bill Bratton. Others, Mr. de Blasio vowed, will be devoted to "a pioneering neighborhood policing strategy."
The new officers will cost $170 million in fiscal year 2016, which begins on July 1, and will be on the force before the end of that fiscal year. The cost will be offset by $70 million in savings, derived largely from "creating real caps on overtime," Mr. de Blasio said, and civilianization of some jobs. Because those caps will take time to ramp up, in fiscal year 2016 the savings will be just $20 million, before ramping up to $70 million in fiscal year 2017, city officials said.
The addition of the extra officers represents a significant about-face for the mayor, who for the last year and as recently as this month has been arguing that the NYPD's headcount was just fine, citing record low crime. Today, Mr. de Blasio said he had changed his mind thanks to both the overtime savings and an "re-engineering" analysis of the department done by Mr. Bratton.
"This is about some historic and crucial fiscal reforms as we say they will save us upwards of about $70 million a year as this plan is fully phased in," Mr. de Blasio said. "And lastly, I think the vision for a different relationship and a better relationship between police and community that Commissioner Bratton has been working with us on."
Mr. de Blasio and his administration provided few details tonight about how the overtime cap would work, saying the plan would be fleshed out in the coming days.
While headlines in recent weeks have focused on a spike in shootings and murders as the city heads into the summer, traditionally a more violent season, Mr. de Blasio emphasized yet again today that crime is down compared to last year.
"I think the tide is being turned right now. The plan we're talking about here is about the long-term, we're really talking about the long-term vision for this city," Mr. de Blasio said.
The mayor's office could not say how much the new officers would cost of their lifetime of service. One issue still undecided is what will happen to the pensions awarded to police officers (and other uniformed workers) who are injured on the job—with Albany considering restoring 75 percent disability benefits that were lowered several years ago, a proposal Mr. de Blasio says is too costly.
"I think Albany should recognize that we have to really put a high priority on our long-term fiscal health," Mr. de Blasio said, urging the State Legislature to pass a law mirroring his own proposal for fixing the pensions, which uniformed unions say doesn't go far enough.
The Council also scored significant victories in other areas, amounting to some $280 million in Council initiatives. After a slew of budget hearings focused on smaller allocations for libraries, the budget deal tonight includes an extra $39 million for libraries—which will mean universal six-day library service and extended hours at some branches.
The budget also includes additional money for senior citizens, a fast-growing segment of the city's population who advocates said would be faced with service reductions if the city's budget did not increase. The Department for the Aging will get $4.3 million to eliminate waitlists for its home care program, $2 million to expand elder abuse prevention, and $750,000 to fund support services through the Seniors in Affordable Rental Apartments program.
Among other Council priorities in the budget are a doubling of the small budget for the Mayor's Office for Veterans Affairs, and funding for 50,000 summer youth jobs and 6,000 year-round youth jobs.
As for the $1.4 million bail fund Ms. Mark-Viverito proposed in her State of the City address but which the mayor has been reluctant to back, it too is in the budget—but is funded entirely with Council money.
Despite the fact that earlier this month Council members were griping over potential cuts to senior services and libraries, and the mayor was still saying he thought the NYPD needed no increase in officers, both sides of today's handshake insisted the process had not been reminiscent of the derided "budget dance."
"I was here for the golden years of the budget dance," Mr. de Blasio said. "My experience of it was that  it was a game everyone understood—where every year, firehouses were going to be closed and then they weren't, teachers were going to be laid off and then they weren't. People's direction were directed towards fake cuts, and that's where the energy went, while this process was about real additions and real improvements."
Ms. Mark-Viverito said the Council's policies were seriously considered. "This is a serious engagement that we're in," she said. "It's definitely not the budget dance as we've seen in prior iterations."