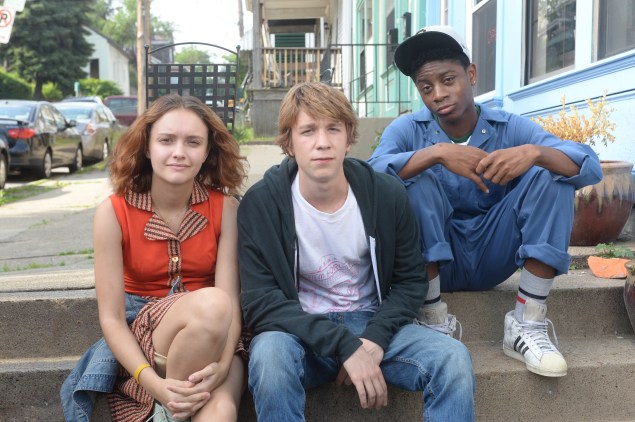 From a popular novel embraced by the teenage market, Me and Earl and the Dying Girl is a sweet, affectionate coming-of-age story about kids living with the cruel vicissitudes of death that makes crying heart-healthy. Think The Fault in Our Stars and reach for the Kleenex.
---

ME AND EARL AND THE DYING GIRL ★★★
(3/4 stars)

Written by: Jesse Andrews
Directed by: Alfonso Gomez-Rejon
Starring: Thomas Mann, RJ Cyler and Olivia Cooke
Running time: 105 min.

---
This one is about an unconventional high school senior in Pittsburgh named Greg Gaines (played by the remarkable Thomas Mann), a movie junkie who eschews everything about organized school activities from sports to proms to hanging out in the cafeteria, preferring instead to spend all of his time with his friend Earl (RJ Cyler), a black boy from a poor neighborhood, making their own cheap, offbeat, re-titled versions of classic films. Instead of the latest date flick, Greg, whose room is decorated with posters of The 400 Blows, likes foreign films that are "confusing and pointless, like life." Some of his favorite homemade parodies are "Pooping Tom" and "Death in Tennis." These are the years when kids just mark time trying to survive without drawing too much attention to themselves.
Greg is smart and appealing to everyone but himself, and suffers from a punishing lack of self-esteem. Instead of hero-worshiping Justin Bieber, he imitates Werner Herzog. Movies are a way to escape the touchy-feely benevolence of his doting parents—a mom who is "basically like the LeBron James of nagging" and a bewildering dad who is home a lot, barefoot and eating cereal. One day Greg finds out a pretty classmate named Rachel (Olivia Cooke) has been diagnosed with fatal leukemia and his worst fear of getting close to a member of the opposite sex is realized when his mother forces him to befriend her. Reluctantly, he pays her a visit. She's just as frightened of a different gender as he is, but he tries to cheer her up—with fear, dread and resentment at first, then a sympathy that turns to genuine concern.
She's unresponsive, until he shares his movie library of 42 films. She's particularly fond of a takeoff on Rashomon he calls "Monorash" and an outrageous take on Midnight Cowboy titled "2:48 P.M. Cowboy." Greg and Earl go through the usual fights, jealous epiphanies and growing pains, but the thing that keeps them bonded is a movie they're making about Rachel as an alternative to the way everyone else treats her, like a Hallmark card. To their surprise, this unlikely trio of misfits, with their special language and a vocabulary that has a rhythm of its own, forms a tender relationship based on honesty, trust and something like love. When Rachel's condition inevitably deteriorates, the boys are changed forever.
The three leads are unknown but wonderful. Jesse Andrews' screenplay (adapted from his book) and Alfonso Gomez-Rejon's direction try to avoid all of the inherent sentimentality, but hell, it's a movie about dying of leukemia and showing a brave face when your heart is breaking. You can do just so much without a small pack of Kleenex. Me and Earl and the Dying Girl treats a serious subject with wackadoodle humor that is endearingly contagious. It's tender, clever, wise and highly recommended.