If you have ever hit the city party circuit, you have undoubtedly tasted a Flour Shop delight. From the chocolate Medusa coins at Versus Versace's New York Fashion Week show to the Brooklyn Museum's celebration of Takashi Murakami, where Amirah Kassem debuted a gumball interpretation of the Murakami flower. Flour Shop, the name of Ms. Kassem's business, has taken off.
Ms. Kassem is the embodiment of vibrancy. When she speaks, imaginary exclamation marks pop above her head. This unbridled enthusiasm has paid off, bringing clients from fashion, finance and entertainment to her door. Sarah Jessica Parker regularly calls upon her expertise. "The first time I met Sarah Jessica Parker, I was just in awe that I met Carrie Bradshaw," Ms. Kassem told the Observer. "It was a really surreal moment. I don't see it as who you bake for, but the experience of creating something with someone. Another fun one was Katy Perry. She announced her VMA nomination with a Flour Shop cake. I'm such a fan of everyone I bake for!" Even Beyoncé gave her stamp of approval to Ms. Kassem on Instagram, through an uncaptioned photo of daughter Blue Ivy's third birthday cake.
"It's like having a favorite song each week," Ms. Kassem said when asked to pick a favorite creation. "Until the next one comes out. I bake what I think is the coolest thing ever, and then I make something new." Instead of following the conventional path to a cakes and confectionery business through years of pastry training, she turned her passion for baking and appetite for creativity into a job. Her career in fashion, working with Johan Lindeberg while he was launching BLK DNM, was all smooth sailing until she got the urge to work in her kitchen. "One day I woke up, and I wanted to bake before going to work," she remembered. "I kept doing it more and more, and I thought, if this is what I feel like doing, I should just go for it. So I jumped out! I didn't know [the Flour Shop] would end up being what it is now. Luckily the fashion industry is very supportive of what I'm doing in the creative food space. I'm happy my background is fashion because it keeps me creative. Instead of which technique I want to use, it's more about, 'I want to make this, so how do I make it?' It's a like a game of figure it out. I don't make anything look too perfect with fondant. I love the cartoon vibe that my cakes give. You feel like you could stick your finger in it and eat it, maybe that's not possible with some perfect wedding cake. I'm thankful for the route I took, trying everything at home and on my friends, without that I wouldn't be doing this."
The Flour Shop formally started in 2013 without the help of backers. "It's just me," said Ms. Kassem without reservation. "Figuring out how to expand, and fill a demand is becoming a new challenge. It's crazy how you can grow. There are key factors needed to grow a business, but Flour Shop has proven to be completely opposite of all of that. It's this organic word of mouth situation for me. I couldn't even afford a website, but thankfully I could get a free Instagram account. So I made a few cakes and took that money to buy another pan, then made a bit more and bought a mixer."
She continues to be her own independent state of Amirah. "The more I have on my plate the better I do at all times, just like in high school," said Ms. Kassem, where she was a standout student, spreading herself thin between studies, student council, tennis, and of course, cheerleading.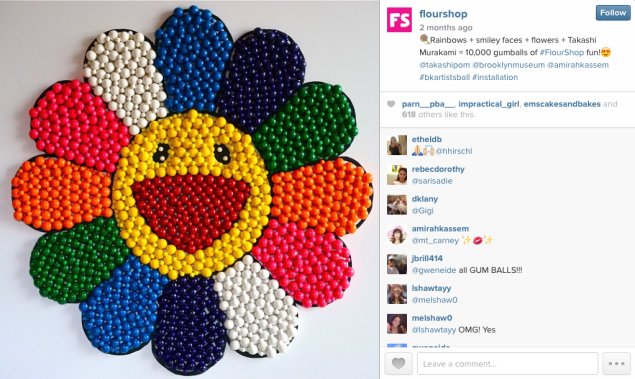 "I don't have an assistant, a PR or even a delivery person!" She continued, "It's part of the fun for me! As long as I continue to it, I probably will do it. I always run around with a backpack, because one minute I'm covered with flour, then the next I'm sitting at some fancy party."
On the front burner, Ms. Kassem will be forging a partnership with Topshop from June 11-14. "I'm building a mini installation at the Fifth Avenue Topshop," she said of her partnership with the British fast fashion powerhouse. "Each day I'll be there giving treats to the best Instagrammers and doing other fun things." Within the year, she also intends to expand with a brick and mortar space, creating a sweet shop with a line snaking out the door. "A storefront is on my radar," she admitted. "I hear New Yorkers complaining about apartments, but don't even try looking for retail space! It's a crazy roller coaster, but I love roller coasters so I'll get through this one. Hopefully at the end of this year, there will be plenty of cake balls and rainbow cakes to go around."
"My dad is Arabic, and my mom is Mexican, so food was always a big part of my life," she added. "I've always loved baking with my mom, and I loved decorating cookies and messing around in the kitchen. I never thought of it as a business or a career, just a fun hobby. Ironically, I went to back to that a million years later." The "million years" she speaks of began after she went off to FIDM in Los Angeles, and emerged with her sights set on a career in fashion. "I wanted to do high-end so I moved to N.Y., and realized it was so different than what I thought it would be," Ms. Kassem said. "I pretty much just showed up to a magazine and was like, 'Where do I apply for a job?' I ended up at BLK DNM, where Johan Lindeberg was so inspiring to me. He really encourages the idea of creative freedom."
As her own creativity continues to spill over, Ms. Kassem has business decisions to make. She is likely to remain one of the modern breed of craftsmen entrepreneurs who prefer to carry on with the making and the doing, trusting others to work the computer screens. Sweet!