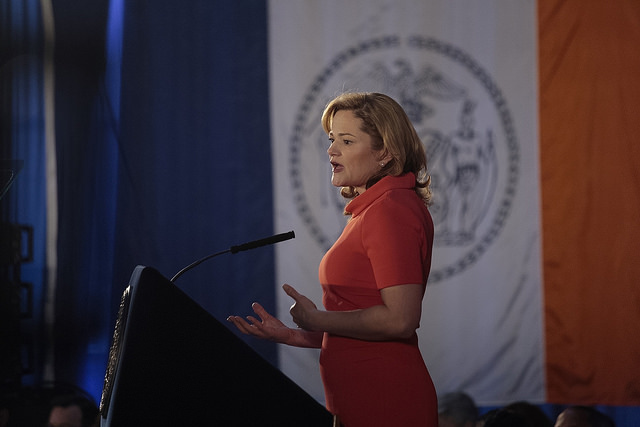 Mayor Bill de Blasio has been decidedly noncommittal about Council Speaker Melissa Mark-Viverito's proposal for a $1.4 million bail fund—but said today she'd set one up with or without his support.
"If the administration is not open to it, we're open to it, and that's what matters here," Ms. Mark-Viverito told reporters today after a Council hearing on bail reform. "We can get it done without the administration's support."
The speaker proposed the fund in her State of the City address. It would pay bails of less than $2,000 for qualifying defendants charged with certain misdemeanor crimes. Advocates for bail reform have said they see momentum for major change in the wake of the death of Kalief Browder, who was held for three years at Rikers Island because he could not afford the $3,000 bail set after he was charged with stealing a backpack. The charges were dismissed, and Browder was released—but he hanged himself this month.
After Browder's death, Mr. de Blasio said he believed there needed to be some kind of bail reform—but declined to specifically get behind the bail fund.
"The speaker and I certainly agree that we need some type of bail reform," Mr. de Blasio said earlier this month. "For the very lowest levels of bail, we have several reforms that we're working on that would address that."
Elected officials and legal experts have railed against the bail system, which is not designed to punish but to ensure someone shows up to court, in recent weeks—saying people who are poor often sit in jail ahead of trial, while people with money charged with the same crimes go free. New York State Chief Judge Jonathan Lippman telling the Observer the state's bail system is "totally ass-backwards in every respect."
"Until we are able to directly change this broken system, we are going to work within it to limit its injustices, and that is why we are in the process of creating a citywide bail fund to post bail for those charged with misdemeanors," Ms. Mark-Viverito said.
Ms. Mark-Viverito declined to say specifically whether she would fund the initiative with Council money if the mayor declined to include it in his budget. But she noted the city didn't need any new legislation to set up a fund—a 2012 state law already allows non-profits to post bail in certain situations.
"The state statute, since 2012, allows the city to set up these bail funds and we have two in existence, so we can work with the nonprofits, and you could work with other individuals and agencies that have organizations that have experience running this, and be able to implement it," Ms. Mark-Viverito said. "We're looking at multiple options. Ultimately, we are committed to making this happen and we will find a way to do that."
At the hearing today, Councilman Rory Lancman, chair of the committee on courts and legal services, said that while bail is set by state statute, the city should begin to change the way it applies the statute. He argued more could be done to take into consideration a defendant's finances—something the law allows for—and that the city could use different more flexible kinds of bail more often, instead of monetary bail.
While Albany has yet to take a serious swing at bail reform, lawmakers today submitted legislation aimed at solving another criminal justice problem Browder encountered at Rikers Island—court delays allowed by the intricacies of the state's "speedy trial" laws. Browder was made to wait three years for a trial that never happened, without his speedy trial rights ever being violated.
Today, as the State Legislature scrambles to deal with expiring rent laws, State Senator Daniel Squadron and Assemblymember Jeffrion Aubry introduced "Kalief's Law," aimed at speeding up a speedy trial. It is highly unlikely the legislation will move, as the Legislature is already in an extension of its normal session and has been incapable of even renewing expiring laws like rent regulations and mayoral control of city schools.
"Any system that jails the innocent for years at a time is both unjust and un-American," Mr. Squadron said in a statement.  "New York failed Kalief Browder. Nothing we do will undo the tragedy of his death, but his experience has to be a call to action. Kalief's incarceration was an outrage and the state law meant to guarantee his right to a speedy trial failed. We are introducing Kalief's Law to reform the broken process that kept him in jail."
Mr. Aubry said the time for rhetoric had passed.
"Every moment we sit in silence, every moment we surrender to complacency thousands of Kalief Browders are being churned through this broken system – thousands of inmates continue to sit in jail without Due Process – thousands of inmates fall victim to the inadequacies of the criminal justice system – many pay with their lives; this is unacceptable," he said.