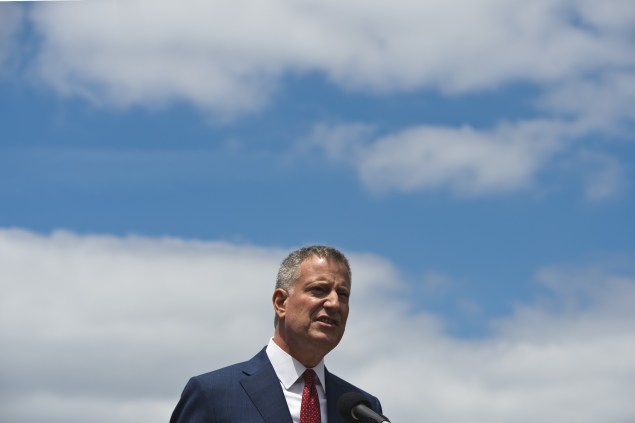 10 members of the city's congressional delegation–including Republican Daniel Donovan–are urging Albany to renew mayoral control of public schools before it expires by the end of June.
In a letter addressed to Gov. Andrew Cuomo, Senate Majority Leader John Flanagan and Assembly Speaker Carl Heastie, the members of Congress argue that keeping the Department of Education in Mayor Bill de Blasio's hands is "essential" to the well-being of the city's schools.
The letter, obtained by the Observer, comes a day after Mr. de Blasio, a Democrat, marshaled top business leaders to pressure Albany–and particularly the GOP-controlled State Senate–to extend mayoral control.
"Mayoral control of New York City's public education system is essential to the continued growth and success of its students," the members of Congress wrote. "As Members of Congress with constituents vested in the future outcomes of our public schools citywide, we urge the State to extend mayoral control."
In addition to Mr. Donovan, who was elected last month without Mr. de Blasio's support, the letter is signed by Democrats Yvette Clarke, Eliot Engel, Carolyn Maloney, Steve Israel, Gregory Meeks, Charles Rangel, Jerrold Nadler, José Serrano and Nydia Velázquez.
Missing from the letter are Queens Democrats Grace Meng and Joseph Crowley. Brooklyn Congressman Hakeem Jeffries, a Democrat and occasional critic of the mayor, also did not sign on.
But the sheer amount of signatories, coupled with another letter sent from the pro-business Partnership for New York City last week, is evidence that there is a bipartisan consensus that the DOE should remain in Mr. de Blasio's purview. Since Mr. de Blasio's predecessor, Republican-turned-independent Michael Bloomberg, secured mayoral control in 2002 and centralized the educational system, Albany has readily and repeatedly granted the mayor that authority.
Earlier this year, Mr. de Blasio sought to make mayoral control permanent. This effort failed, partly due to Senate Republicans' dislike of the liberal Mr. de Blasio. Last year, he campaigned for Democrats, hoping to oust the GOP from the majority.
Mr. de Blasio was angered when the Senate recently passed a bill extending mayoral control for a single year and tied it to a boost in the charter school cap. The Senate also sought to give Albany oversight of the DOE, adding insult to injury for Mr. de Blasio. (The Democrat-controlled Assembly already passed a three-year extension, which Gov. Andrew Cuomo, a Democrat, endorsed.)
In their letter, the members of Congress echoed many of Mr. de Blasio's arguments yesterday, pointing to his expansion of universal prekindergarten and increased funding for under-performing schools as evidence of what is possible under mayoral control. A return to a decentralized educational system, the mayor claimed, would mean "chaos" and corruption.
View the full letter below:
Mayoral control of New York City's public education system is essential to the continued growth and success of its students. As Members of Congress with constituents vested in the future outcomes of our public schools citywide, we urge the State to extend mayoral control.

Home to the largest school district in the nation, the City requires flexibility in order to effectively respond to the nuanced challenges of elementary and secondary education citywide. Mayoral Control has more than a decade of results improving NYC school system. Since its implementation, the City has seen improved school outcomes in graduation and attendance as well as a continued commitment to identify and improve low performing institutions.

Innovation and efficiency is the centerpiece of mayoral control. Under Mayor de Blasio, the City embarked on historic rapid, at-scale public education reforms including, but not limited to, providing free high-quality pre-Kindergarten to over 53,000 children this past school year.

The Administration is also embarking on a program to correct its lowperforming schools. The efficiency and authority needed to execute its ambitious Renewal Schools program is critical to assuring accountability among educators and ultimately success among students. And, most importantly, mayoral control provides proven accountability.

Mayoral control has the support of parents and educators alike. Their continued support is, in part, due to the nimble management it fosters. We urge the State to extend mayoral control of schools. If the State allows this authority to sunset our school system will suffer as a result.

Sincerely,
Yvette D. Clarke Member of Congress
Daniel M. Donovan, Jr. Member of Congress
Eliot L. Engel Member of Congress
Steve Israel Member of Congress
Carolyn B. Maloney Member of Congress
Gregory W. Meeks Member of Congress
Jerrold Nadler Member of Congress
Charles B. Rangel Member of Congress
José E. Serrano Member of Congress
Nydia M. Velázquez Member of Congress