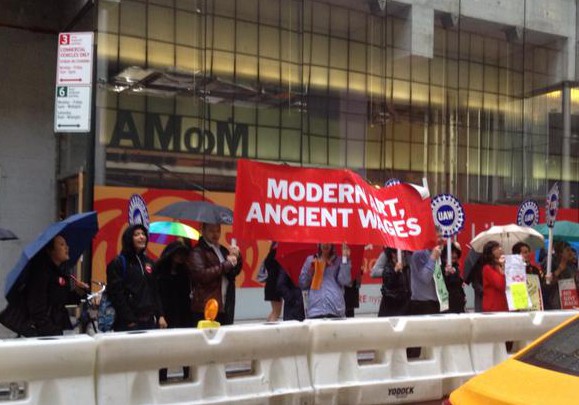 Chanting slogans like "Modern Art, Ancient Wages," dozens of protestors gathered in front of the Museum of Modern Art tonight in the rain to protest proposed cuts in employee health care at the institution.
The protest, entitled "Party Outside the Garden" was concurrent with one the Modern's biggest annual fundraising galas, the Party in the Garden. This year, it honors sculptor Richard Serra and Kara Walker and is set to include a 100th birthday salute to David Rockefeller, a major benefactor of the institution. Artists Robert Gober and Brice Marden were among those arriving early to the event tonight.
In the hours leading up to the protest, members of United Auto Workers Local 2110 and its MoMA employees had contacted or tweeted at members of the media to encourage coverage of their protest.
In choosing this evening, they were ensured a bold-face-name audience: last year's guests included Daniel Craig, Steve Mcqueen, Madonna, Maggie Gyllenhaal, Chloe Sevigny, Andy Cohen, Vera Wang, Cindy Sherman and Ellen Barkin, Individual tickets to the gala dinner are $2,500, with after-party tickets available at $225.
The employees' collective bargaining agreement with MoMA expired May 20, 2015. At issue, according to the protestors, who are the administrative, curatorial and white-collar members of the institution, are changes which would, for example, require workers to pay up to 15% of the cost of surgery or hospitalization plus higher health care premiums for family coverage.
In 2000, MoMA employees went on strike.