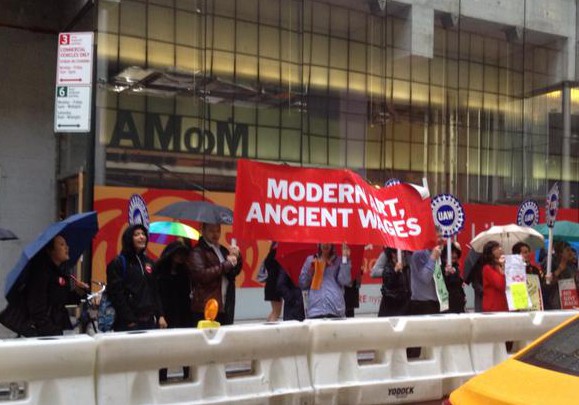 Invoking the words of Yoko Ono, the union representing MoMA's administrative, curatorial and retail staffs declared an end to their nearly two-month dispute over compensation with the institution's management.
"War is over if you want it," read the union's Twitter and Instagram Friday, with a caption explaining that a tentative deal has been struck.
Workers have to approve the contract today but the union seems confident all will go well. A union spokesperson wouldn't elaborate on the particulars of the contract, but said it was "unanimously recommend by the union negotiating committee." Thus, another MoMA museum strike has likely been averted.
Earlier this month, union workers picketed the museum's annual fundraising gala, the Party in the Garden, holding signs that read "Modern Art, Ancient Wages."
The union was reacting to management's low-ball proposal: to give employees raises of 3 percent or $2,500, whichever is higher, for the lower wage workers, and to partially pass on costs for certain medical procedures and hospitalization to employees.
On top of that were proposed changes to employees' healthcare that union leaders staunchly opposed. Under the contract that just expired, MoMA employees didn't contribute to their healthcare, which might sound like a sweet deal, but consider that the average wage for a MoMA employee is $49,000 per year, per the union, and some employees make as little as $30,000.
A review of the current MoMA collective bargaining agreement, posted on the website of UAW Local 2110, showed that employees got 3.5 percent bumps in 2013 and 2014.
But how much will they get now? MoMA wouldn't comment on how things worked out in the end, since the contract is still pending approval. But Local 2110 representative Danny Fermon has told Artnet News that MoMA had already "come up a bit." He said other items on the table included longer maternity leave for the heavily female MoMA staff.