USA's Mr. Robot probably should have been, at the worst, very bad and at the minimum, very boring.
Because what's more exciting than coding? Or data? Because Mr. Robot has those things in spades. If this show had a soundtrack, it would just be an hour of keyboards clicking. The word "server" is used, roughly, 1,000 times. There are lots and lots of shots that look exactly like this one: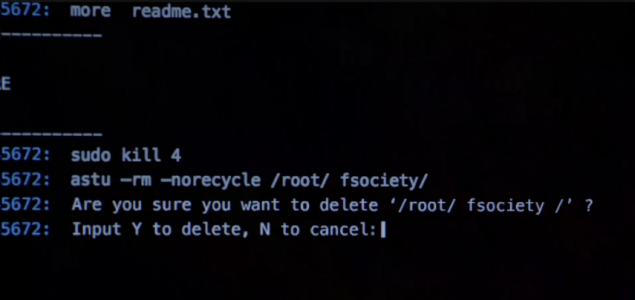 On top of all this, the name of the show is Mr. Robot and features exactly zero actual robots. Come on, now. One would think, honestly, all this would work against it. But here's the secret underneath all the coding, a secret that wouldn't take that skilled of a hacker to unearth: Mr. Robot is a tight, surprisingly great show, at least based on the pilot.
Here's the plot deets, because deets is a word I feel like they'll eventually use on this show (a character already unironically said "IRL" out loud.) Rami Malek stars as Elliot, who works at a cyber-security company by day, and is a hooded hacking vigilante by night. Elliot is like the Batman of computer hacking, if Batman never actually left his house and did all of his crime-stopping online with minimal physical contact. Also if Batman did opium.
Shit, I'm doing it again. This is all much cooler than I'm making it sound. Despite working for the 1 percent, Elliott despises big business, especially the juggernaut conglomerate E Corp ("The E might as well stand for evil," Elliott says in his Fight Club-esque deadpan voice-over).
After stopping a major cyber attack on E Corp, Elliott is courted by a group of anarchist hackers led by the eponymous Mr. Robot, who I repeat is NOT a robot but is Christian Slater. At the same time, Elliott may have a group of suited, shady people following him everywhere. Or he might not. Dude does a lot of opium, and seems pretty high strung in general.
A lot of the heavy lifting is done by Mr. Malek, who is perfect in his role of a person who hates your Facebook profile, your choice in Top 40 pop music and big-brand clothing but is too socially awkward to tell that to you. There's a subtle, quiet intensity to the whole thing. It's an easy thing to show anger, and to show hatred, but it's not so easy to show it without actually showing any of it.
But the biggest thing here is, Mr. Robot is a USA show that insists on not feeling like a USA show. Things get dark, man. There's child pornographers, drug addiction, a dude lifts a puppy by its leash. It challenges everything from the idea that the late Steve Jobs was a great man to the "running commentary of bullshit" that is Twitter. There's butts!
Just plain darkness isn't enough to make a show great, but Mr. Robot combines a certain earnestness with the dark that keeps this feeling raw. It feels street-level. This isn't the ridiculousness of, say, a CSI: Cyber. No one is stopping a roller coaster here. So yes, there's many shots of coding text, and you have to listen to keyboards clacking quite frequently.
And hey, look. You don't even have to worry about a season two. Now let's work on getting some actual robots.